Inpatient Coder (Telecommute)
HEALTH INFORMATION MGMT (MR)
Florida-Miami-Waterford Offices
Miami, Florida
Requisition ID 19344
Job Summary
Reviews patient records in a timely manner to identify an appropriate selection of codes to accurately reflect the reason for admission, extent of care received, and level of severity of illness. Ensures all data elements required for federal and state reporting are collected and included in the patient's demographic record. Codes, sequences and abstracts diagnoses and procedures for all inpatient, ambulatory, observation, in accordance with ICD-10, CPTand Coding Clinic guidelines.
Minimum Job Requirements
Certified CCS (Coding Specialist), CIC or RHIA

2-4 years Medical coding experience
Essential Duties and Responsibilities
Assigns ICD-10-CM diagnosis and procedure codes using the 3M Encoder for all inpatient accounts & maintains a 95% accuracy rate when coding & sequencing medical records.

Assist outpatient coders with coding for  ambulatory and observation as needed.

Reviews and codes an average of 12 accounts per day as per the productivity standards as outlined in department policies & procedures and seeks supervisor assistance when such standards cannot be met.

Maintains and submits to Leader on a weekly basis required productivity logs for all assigned tasks.

Reviews unbilled accounts on a daily basis to identify those pending; maintains unbilled accounts at the expected rolling average within the assigned financial goal & within 4 days of discharge.

Pull medical information from inpatient medical records for coding.
Knowledge/Skills/Abilities
High school education or equivalent preferred. 
Completion of an accredited Coding Education program preferred

Ability to communicate effectively in English both verbally and in writing.

Ability to learn appropriate software application(s).

Able to maintain confidentiality of sensitive information.

Able to relate cooperatively and constructively with customers and co-workers.

Adaptable to frequent changes in assignments.

Proficient in alphabetical and numerical filing systems.

Requires good organizational skills.
(EOE DFW)
Updated 6-17-15
HIM/Health Information Management
Florida-Miami-Waterford Offices
HEALTH INFORMATION MGMT (MR)-2100-865000
:Full Time
Apply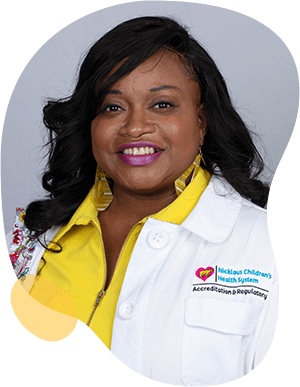 Joining a new organization can be daunting or overwhelming. But at Nicklaus, your colleagues make you feel welcomed. They taught me to celebrate our accomplishments and band together during challenging times. This is not easy to find in healthcare these days, so I'm grateful to have found an amazing place to work with people and leadership who have my well-being in mind.

Lova Renee Brunson

Manager Accreditation & Regulatory
Collaboration leads to success.
Alone we can do so little; together we can do so much. Working together, we find solutions and methods we would never find alone, and at Nicklaus Children's, we have fun doing it.
Responsibility drives us.
We all take responsibility here – for the children, their families, our work and each other. We meet our responsibilities head on and motivate each other to succeed.
Empower yourself, help others.
Nicklaus Children's encourages team members to believe in their ability to affect positive change in the world through everything they do with us.
Advocate for the right way.
Advocate for children. Advocate for families. Advocate for yourself. But most of all, advocate for getting the job done right and you will find nothing but success and support in your career here.
Transformation is growth.
At Nicklaus Children's, change is not to be feared. When you work here, you are always working with the most advanced tools and procedures available.
Empathy is everything.
We expect our team members to have empathy for the patients and families they treat, and in turn, we have empathy for them. We take care of everyone in the Nicklaus Children's family with competitive benefits and our supportive culture.
Join Our Talent Community