Jr Construction Financial Analyst
CONSTRUCTION
Florida-Miami-Nicklaus Children's Hospital - Main Hospital Campus
Miami, Florida
Requisition ID 20551
Job Summary
Assists in the preparation, coordination, review, and analysis of departmental financial activities including the development of forecasts, budgets, and process workflow of documents for authorization. Responsible for providing advice, guidance, and support to departments for matters associated with budgets and budgetary controls. Supports department leader by providing analysis for the purpose of financial management and budgetary controls. Prepares submissions and reports for leadership to support the achievement of the system's targets.
Minimum Job Requirements 
Bachelor's Degree in Accounting, Finance or related business degree required

Experience with MS office Applications with intermediate proficiency in Excel and PowerPoint
Knowledge, Skills, and Abilities
 Master's degree in Business or Finance preferred.

 Budgeting, forecasting, and financial analysis experience is desirable

 Healthcare experience (hospital, service line, physician group, etc.) strongly preferred.

 Strong computer applications and project management skills.

 Strong analytical and problem solving skills.

 Ability to assess complex situations, develop actionable plans and successfully execute under stressful conditions.

 Ability to lead multiple projects concurrently and ensuring the projects remain on track and on budget.

 Able to engage cooperatively and constructively with co-workers, medical staff, and senior leadership.

 Able to maintain confidentiality of highly sensitive information. Strong proficiency in Financial Systems.

 Strong organizational skills.

 Able to work independently, and handle multiple demands simultaneously.
Job Specific Duties
 Conducts financial and planning analysis as assigned by management.

 Monitors, reviews, & reports progress on departmental budgets; forecasts during budget cycle for completeness, accuracy in accounting allocations, & highlights departments deviating from agreed target.

 Analyzes a variety of financial data and produces relevant reports in a clear, concise, and timely manner for use by management during critical decision-making.

 Assists with the preparation of updated financial projections on a monthly, quarterly, or half-year basis as required, including the development of financial plans & incremental cost/benefit analysis.

 Routinely performs variance and historical analysis and produces trending and predictive numerical and graphical information.

 Develops automated procedures, eliminates duplication of effort, and coordinates information requirements in order to increase productivity and efficiency within the Finance Division.

 Prepares accurate financial and statistical reports for internal and external use by government agencies, financial institutions, auditors, and third-party agencies.

 Creates ad-hoc reports as needed by management.

 Makes recommendations to align policies and procedures with best practices.

Professional
Florida-Miami-Nicklaus Children's Hospital - Main Hospital Campus
CONSTRUCTION-1000-944900
:Full Time
Apply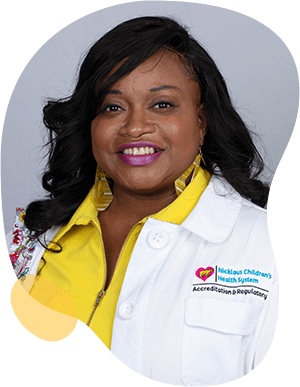 Joining a new organization can be daunting or overwhelming. But at Nicklaus, your colleagues make you feel welcomed. They taught me to celebrate our accomplishments and band together during challenging times. This is not easy to find in healthcare these days, so I'm grateful to have found an amazing place to work with people and leadership who have my well-being in mind.

Lova Renee Brunson

Manager Accreditation & Regulatory
Collaboration leads to success.
Alone we can do so little; together we can do so much. Working together, we find solutions and methods we would never find alone, and at Nicklaus Children's, we have fun doing it.
Responsibility drives us.
We all take responsibility here – for the children, their families, our work and each other. We meet our responsibilities head on and motivate each other to succeed.
Empower yourself, help others.
Nicklaus Children's encourages team members to believe in their ability to affect positive change in the world through everything they do with us.
Advocate for the right way.
Advocate for children. Advocate for families. Advocate for yourself. But most of all, advocate for getting the job done right and you will find nothing but success and support in your career here.
Transformation is growth.
At Nicklaus Children's, change is not to be feared. When you work here, you are always working with the most advanced tools and procedures available.
Empathy is everything.
We expect our team members to have empathy for the patients and families they treat, and in turn, we have empathy for them. We take care of everyone in the Nicklaus Children's family with competitive benefits and our supportive culture.
Join Our Talent Community