Lab Assistant (Full Time, Day Shift)
LAB SUPPORT AND ADMINISTRATION
Florida-Miami-Nicklaus Children's Hospital - Main Hospital Campus
Miami, Florida
Requisition ID 23701
Job Summary
Performs clerical duties and processes laboratory specimens adhering to policies and procedures of the department. Works under the supervision of the Laboratory Supervisor and Director of Operations.
Minimum Job Requirements
Prior customer service experience.
Job Specific Duties:
Ensures routine, timed, and stat specimens are delivered within specified turnaround time according to standards (stat < 5 minutes, routine < 10 min).

Sends PKU tests (newborn blood) to State lab, documents session numbers, creates packing lists, and prepares for mailing.

Contacts engineering for preventive maintenance on centrifuge equipment.

Responsible for completing temperature reports for freezers and refrigerators.

Follows all Infection Control standards and ensures proper use of Personal Protective Equipment (PPE) per hospital policy and procedures to ensure safety.

Scans all required PKU results into the Electronic Medical Record (EMR).

Contacts labs regarding pending test results. Once results are received scans patient documents into Cerner.

Answers phones promptly and takes messages as needed.

Obtains necessary supplies for specimen collections.
Common Duties:
Maintains accountability by ensuring compliance thru timely completion of licensures, certifications, all competencies, health requirements (PPD, N95, Flu, etc.), and education requirements.

Maintains accountability and timekeeping expectations as outlined by MCHS Timekeeping and Attendance policy and procedures.  Ensures behavior is compliant with communication standards.

Ensures behavior meets and/or exceeds targeted service scores as measured by the Service Index and/or the internal departmental service survey.
Knowledge/Skills/Abilities:
High school education or equivalent preferred.

One year of customer service in a high volume fast-paced environment preferred.

Two years in accredited healthcare facility office highly preferred.

Medical terminology knowledge highly preferred.

Able to adapt and react calmly under stressful conditions.

Proficiency in Cerner and Microsoft Office including: Word and Excel.
(EOE DFW)
7/28/17
Laboratory
Florida-Miami-Nicklaus Children's Hospital - Main Hospital Campus
LAB SUPPORT AND ADMINISTRATION-2100-702950
:Full Time
Apply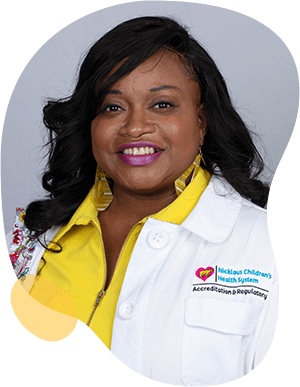 Joining a new organization can be daunting or overwhelming. But at Nicklaus, your colleagues make you feel welcomed. They taught me to celebrate our accomplishments and band together during challenging times. This is not easy to find in healthcare these days, so I'm grateful to have found an amazing place to work with people and leadership who have my well-being in mind.

Lova Renee Brunson

Manager Accreditation & Regulatory
Collaboration leads to success.
Alone we can do so little; together we can do so much. Working together, we find solutions and methods we would never find alone, and at Nicklaus Children's, we have fun doing it.
Responsibility drives us.
We all take responsibility here – for the children, their families, our work and each other. We meet our responsibilities head on and motivate each other to succeed.
Empower yourself, help others.
Nicklaus Children's encourages team members to believe in their ability to affect positive change in the world through everything they do with us.
Advocate for the right way.
Advocate for children. Advocate for families. Advocate for yourself. But most of all, advocate for getting the job done right and you will find nothing but success and support in your career here.
Transformation is growth.
At Nicklaus Children's, change is not to be feared. When you work here, you are always working with the most advanced tools and procedures available.
Empathy is everything.
We expect our team members to have empathy for the patients and families they treat, and in turn, we have empathy for them. We take care of everyone in the Nicklaus Children's family with competitive benefits and our supportive culture.
Join Our Talent Community