Cardiovascular Lab Technician - (Full Time, Day Shift)
CATHETERIZATION LAB
Florida-Miami-Nicklaus Children's Hospital - Main Hospital Campus
Miami, Florida
Requisition ID 23580
Job Summary
Assists in the preparation, performance and recording of invasive and non invasive cardiovascular testing in the cardiac catheterization laboratory. Responsible for and maintains complete and current Cath Lab inventory and ensures proper functioning of radiographic and image storage systems. Implements PI programs with Cath Lab management.
Minimum Job Requirements
Cardiovascular Technologist Certification and/or active Florida license as a Radiologic Technologist required.

CPR: Healthcare Provider

1-2 years in cardiac interventional, neuroendovascular interventional or electrophysiology experience.
Essential Duties and Responsibilities
Prepares & organizes the neuro/EP/cardiac cath lab for procedures. Selects proper technical factors for radiographic procedures and assists Physicians during procedures.

Recognizes arrhythmias that require defibrillation or synchronized cardio version and reports promptly to the clinician.

Assist Physicians with available catheters and wires to help facilitate patient care. F: daily/T: throughout each case

Assist and maintain composure while facilitating the process for emergencies.

Collaborates with Leaders and Physicians on performance improvement plans for Neurovascular/Cardiovascular Catheterization Lab. 

Responsible and maintains record of patient examination data and other pertinent Cath information.

Responsible for the neuro/cardiac catheterization records in hemodynamics system and imaging system.

Responsible for the management of procedural needs for specialized or uncommon procedures.

Complies with all hospital safety regulations and infection control policies.

Promotes and practices cost containment.

Maintains and enhances professional standards by participating in in-service programs, seminars, professional meetings, and staff meeting

Responsible for daily equipment operation verification (Toshiba, Sensis, ACT machine, AVOX, I Stat, medication refrigerator temps, linen, etc.).
Knowledge/Skills/Abilities
High school education or equivalent preferred

PALS and ACLS preferred.

RCIS preferred.

ARRT preferred.

Ability to demonstrate excellent customer service skills.

Ability to relate cooperatively and constructively with patients, families, and co-workers.

Effective oral and written communication skills.

Able to maintain confidentiality of sensitive information.

Complies with hospital safety regulations and infection control policies.

High level of clinical and technical knowledge in invasive pediatric cardiology.

Supports and upholds the pediatric bill of rights.
(EOE DFW)
11/12/15
Nursing- Support (Clinical)
Florida-Miami-Nicklaus Children's Hospital - Main Hospital Campus
CATHETERIZATION LAB-2100-702011
:Full Time
Apply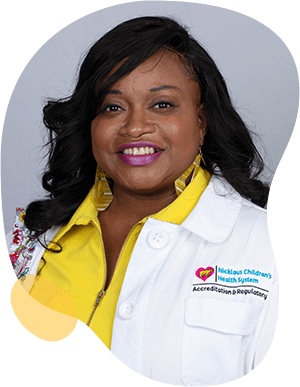 Joining a new organization can be daunting or overwhelming. But at Nicklaus, your colleagues make you feel welcomed. They taught me to celebrate our accomplishments and band together during challenging times. This is not easy to find in healthcare these days, so I'm grateful to have found an amazing place to work with people and leadership who have my well-being in mind.

Lova Renee Brunson

Manager Accreditation & Regulatory
Collaboration leads to success.
Alone we can do so little; together we can do so much. Working together, we find solutions and methods we would never find alone, and at Nicklaus Children's, we have fun doing it.
Responsibility drives us.
We all take responsibility here – for the children, their families, our work and each other. We meet our responsibilities head on and motivate each other to succeed.
Empower yourself, help others.
Nicklaus Children's encourages team members to believe in their ability to affect positive change in the world through everything they do with us.
Advocate for the right way.
Advocate for children. Advocate for families. Advocate for yourself. But most of all, advocate for getting the job done right and you will find nothing but success and support in your career here.
Transformation is growth.
At Nicklaus Children's, change is not to be feared. When you work here, you are always working with the most advanced tools and procedures available.
Empathy is everything.
We expect our team members to have empathy for the patients and families they treat, and in turn, we have empathy for them. We take care of everyone in the Nicklaus Children's family with competitive benefits and our supportive culture.
Join Our Talent Community