Lead Food Service Cafeteria (Full Time, Evening Shift)
FOOD AND NUTRITION SERVICES
Florida-Miami-Nicklaus Children's Hospital - Main Hospital Campus
Miami, Florida
Requisition ID 21167
Job Summary
Under the guidance of the Retail Supervisor assists with the successful daily operation of the cafeteria, coffee shops and customer facing food service outlets (retail areas) of the Food & Nutrition Services department. Assists with a variety of tasks to include monitoring of all food service outlets (retail areas) to report any deficiencies in production, product inventory, scheduling, sanitation, infection control, and/or overall service. Ensures employees engaged in serving food in all retail areas provide outstanding customer service as well as maintain cleanliness and sanitation of food areas, equipment and utensils.
Job Specific Duties
Coordinates and monitors that all tasks are performed by retail staff in all areas.

Assists with staff scheduling for adequate staffing in all revenue centers. Ensures coverage and attendance for assigned area are met. Supports Leader with department policies and procedures.

Monitors all retail areas and ensures that areas are kept clean, sanitized, safe and secure at all times.

Monitors to ensure that the facilities' utensils, equipment, machines, and furnishings are properly maintained.

Notifies management about damages or malfunctions and places service calls to plant operations or equipment service vendors as needed.

Assists in the delivery of quality customer service to customers at all times by assuring full menu availability during hours of operation and certifying the NCHS iCREATE Values and Behaviors are followed.

Assists with maintaining all records and reports (i.e., temperature logs, audits) in compliance with departmental guidelines and regulatory agency standards.

Accomplishes customer service work requirements by orienting, training, assigning, scheduling, and coaching employees.

Helps drive service excellence by acting as a customer service champion and reviewing the department target goals, priority questions, and sharing best practices with the staff.

Provides and establishes standards for exceptional customer service and provides training to meet expectations as measured by the inter-departmental survey results. Coaches and mentors department staff on customer service best practices.

Ensures that all infection control and safety guidelines are followed per policy and food safety and production guidelines (temperature, portion).

Maintains cafeteria food line by notifying kitchen of shortages; replenishing food at work station.

Responsible for identifying potential risk within area of responsibility and for supporting the problem resolution process.

Conducts new employee orientation sessions and coordinates and develops on-the-job training for new hires to ensure appropriate training. Trains staff in customer service, proper portioning, cashier skills, safety, and sanitation.

Uses computers to enter and access data appropriately and relay information as requested.

Provides exceptional customer service to clients and co-workers by responding in an acceptable time frame.

Maintains productivity in line with department standards.

Assists in distributing starting bank/change to cashiers, placing order for change to bank, closing out cashiers, and handling all cash deposit transactions under the supervision of the Retail Supervisor.

Ensures that departmental Petty Cash supply is regularly maintained and replenished. Responsible for daily cash reconciliation to bank.

Responsible for all cash audits, safe verification, and daily deposits reconciliation.

Monitors cashiers to ensure proper cash handling, correct use of discounts, and proper use of meal cards.
Minimum Job Requirements
Active and valid State of Florida driver's license with an approved driving record pursuant to our policy and maintained throughout employment

1-3 years of experience in a team lead, trainer or supervisory role
Knowledge, Skills, and Abilities
High school education or equivalent preferred

Experience in supervisory role preferred

Ability to communicate well in English both verbally and in writing to request supplies, make printed signs and properly label food items

Bilingual: Spanish is preferred

Ability to relate cooperatively and constructively with customers, peers, and other hospital personnel

Able to follow detailed written or verbal instructions

Able to use computers and ability to learn appropriate software application(s)

Ability to use computer to enter and access data appropriately; accurately relay information as requested

Displays positive customer service, fosters employee relations, and assures staff adheres to the Customer Service Behavioral Standards

Knowledge of  Microsoft Word, Excel, PowerPoint, and Internet

Demonstrates good time management skills with respect to scheduling, assigned duties, and meeting productivity requirements.



Food & Nutrition Services
Florida-Miami-Nicklaus Children's Hospital - Main Hospital Campus
FOOD AND NUTRITION SERVICES-2100-800000
:Full Time
Apply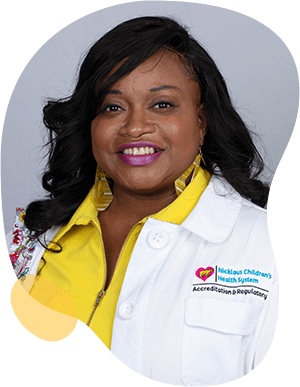 Joining a new organization can be daunting or overwhelming. But at Nicklaus, your colleagues make you feel welcomed. They taught me to celebrate our accomplishments and band together during challenging times. This is not easy to find in healthcare these days, so I'm grateful to have found an amazing place to work with people and leadership who have my well-being in mind.

Lova Renee Brunson

Manager Accreditation & Regulatory
Collaboration leads to success.
Alone we can do so little; together we can do so much. Working together, we find solutions and methods we would never find alone, and at Nicklaus Children's, we have fun doing it.
Responsibility drives us.
We all take responsibility here – for the children, their families, our work and each other. We meet our responsibilities head on and motivate each other to succeed.
Empower yourself, help others.
Nicklaus Children's encourages team members to believe in their ability to affect positive change in the world through everything they do with us.
Advocate for the right way.
Advocate for children. Advocate for families. Advocate for yourself. But most of all, advocate for getting the job done right and you will find nothing but success and support in your career here.
Transformation is growth.
At Nicklaus Children's, change is not to be feared. When you work here, you are always working with the most advanced tools and procedures available.
Empathy is everything.
We expect our team members to have empathy for the patients and families they treat, and in turn, we have empathy for them. We take care of everyone in the Nicklaus Children's family with competitive benefits and our supportive culture.
Join Our Talent Community