Licensed Athletic Trainer (Full Time, Flex shift) Sign-On Bonus Available
ORTHO - ATHLETIC TRAINER
Florida-Miami-Nicklaus Children's Hospital - Main Hospital Campus
Miami, Florida
Requisition ID 25005
Job Summary
Plays an essential role within the sports health program by assisting the physicians in orthopaedic clinics, providing game/event coverage, and ensuring injury prevention. Reports to the leader of the Ortho Sports Health program.
Job Specific Duties
Demonstrates the use of proper verbal and tactile cuing to modify technique to reduce injury risk throughout strength and conditioning programs.

Collaborates and assists with development implementation and modification of strength training and conditioning programs under the direction of the leader of the sports medicine program.

Delivers competent age appropriate patient care to patients from newborn to 21 years of age.

Integrates infection control, patient safety, body mechanics, and knowledge of growth & development into provision of patient care.

Immediately reports any mechanical or electrical equipment malfunctions, employee/patient/visitor injuries or accidents, or other safety issues to supervisor.

Delivers clinically competent, appropriate & effective service to patient's specific needs through on-field assessment and care & prevention of injuries (by taping, bracing, & preventive exercises).

Communicates with parents/guardians, coaches, and administrators regarding athletes.

Completes daily documentation, identifies patient need for services from ancillary departments, and provides follow-up and referral as necessary.

Assists Sports Medicine staff with marketing and presenting services to community.

Practices proper safety techniques in accordance with system and departmental policies and procedures.

Provides excellent service in interactions with all customers, i.e. coworkers, patients, visitors, physicians, volunteers, etc.

Effectively communicates with physicians and members of the sports medicine team.

Effectively and safely removes fiberglass cast, cleans appendage after cast removal and ensure proper disposal of soiled materials.

Safely applies basic fiberglass cast application (short arm and leg, long arm and leg) without manipulation. Ensures patient comfort and safety. Educates patient on proper cast care and gives clear and precise home instructions.
Minimum Job Requirements
Bachelor's Degree Athletic Training or related field  (Required)

AL - Athletic Trainer - current licensure by the state of Florida  - maintain active and in good standing throughout employment

CPR BLS -American Heart Association BLS  - maintain active and in good standing throughout employment

BACKGRD - Level II Background Check
Knowledge, Skills, and Abilities
Certified Strength and Conditioning Specialist preferred.

Certified by the National Athletic Trainer's Association (NATABOC) preferred.

Able to read, comprehend, and assist with implementing injury prevention and return to sport programs.

Able to develop and modify strength and conditioning programs to meet individualized needs.

Able to provide proper instructions/cuing to patients during programs.

Ability to carry out detailed written and/or oral instructions.

Ability to properly educate and/or communicate to participants in a small group setting.

Ability to effectively convert current evidenced based/best practice techniques into care of the athlete.

Ability to efficiently and effectively problem solve.

Responsible for setup and cleanup of pr

ograms.

Proficient in Microsoft Office: Word, PowerPoint, Excel.
Professional
Florida-Miami-Nicklaus Children's Hospital - Main Hospital Campus
ORTHO - ATHLETIC TRAINER-2100-725718
:Full Time
Apply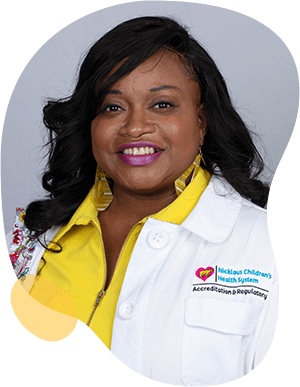 Joining a new organization can be daunting or overwhelming. But at Nicklaus, your colleagues make you feel welcomed. They taught me to celebrate our accomplishments and band together during challenging times. This is not easy to find in healthcare these days, so I'm grateful to have found an amazing place to work with people and leadership who have my well-being in mind.

Lova Renee Brunson

Manager Accreditation & Regulatory
Collaboration leads to success.
Alone we can do so little; together we can do so much. Working together, we find solutions and methods we would never find alone, and at Nicklaus Children's, we have fun doing it.
Responsibility drives us.
We all take responsibility here – for the children, their families, our work and each other. We meet our responsibilities head on and motivate each other to succeed.
Empower yourself, help others.
Nicklaus Children's encourages team members to believe in their ability to affect positive change in the world through everything they do with us.
Advocate for the right way.
Advocate for children. Advocate for families. Advocate for yourself. But most of all, advocate for getting the job done right and you will find nothing but success and support in your career here.
Transformation is growth.
At Nicklaus Children's, change is not to be feared. When you work here, you are always working with the most advanced tools and procedures available.
Empathy is everything.
We expect our team members to have empathy for the patients and families they treat, and in turn, we have empathy for them. We take care of everyone in the Nicklaus Children's family with competitive benefits and our supportive culture.
Join Our Talent Community