Manager Accounting
FINANCE AND ACCOUNTING
Florida-Miami-NCHS Corporate Headquarters
Miami, Florida
Requisition ID 21165
Job Summary
Manages the day to day accounting operations including supervise a team of Financial Analysts, supporting operations and using good judgment and discretion in applying Accounting principles and other functions of Accounting services.
Minimum Job Requirements
Bachelor's degree required.

Five years accounting/auditing experience required.

Experience with ERP Accounting system required such as Lawson/Peoplesoft, etc.

Audit or related financial reporting experience required.

Healthcare or other regulatory experience required.
Essential Duties and Responsibilities
Responsible for maintaining accurate financial statements for assigned companies including financial close and quarterly review process. Confirms accuracy of operating and financial reports.

Partner closely with department directors, managers and staff to analyze, develop and recommend changes and/or enhancements that will improve Accounting processes and internal controls. Interprets accounts and records to upper management.

Manages the day to day accounting operations including supervise a team of Financial Analysts and supporting operations. Reviews staff work to ensure accuracy and timely completion.

Coordinate information for external and internal audits.

Analyses records of present and past operations, trends and costs, estimated and realized revenues, administrative commitments and obligations incurred.

Provide direction, leadership and training to the team on processes and controls.

Responsible for performance management, coaching and development of team members.

In support of MCH's strategic initiatives leaders must effectively manage the Performance Pillar Metrics on their Monthly Scorecard. Regular rounding is critical to gathering feedback and making effective decisions that will improve leader's metrics on their Monthly Scorecard.

Must demonstrate understanding of and adhere to the Code of Business and Legal Conduct, the Ethics and Compliance Program and the no retaliation policies. Must comply with all laws regulations and company policies governing the delivery of quality health care services to include but not limited to all Joint Commission standards.

Manages accounting functions and the preparation of reports including earnings, profit/losses, cash balances and cost accounting.
Knowledge/Skills/Abilities
MBA &/or CPA preferred.

CPA preferred.

Public Accounting and Supervisory experience preferred.

Ability to supervise, direct and coordinate the work of staff.

Strong customer service skills.

Strong team player who is able to work across multiple functions.

Strong delegation skills, while at the same time be a hands on contributor.

Ability to analyze and problem solve.

Understanding of project management concepts.

Excellent time management skills.

Organized and detail orientated.

Ability to balance multiple tasks with changing priorities.

Strong communication skills, verbal and written.

Proficient in MS Office Programs.

Solid understanding of control environment.

Adaptable to change.

Ability to comprehend and interpret accounting functions and communicate to others.

Ability to implement practical solutions.

Problem solving ability.

Demonstrate knowledge of GAAP and ASCs.
(EOE DFW)
Management
Florida-Miami-NCHS Corporate Headquarters
FINANCE AND ACCOUNTING-1000-900901
:Full Time
Apply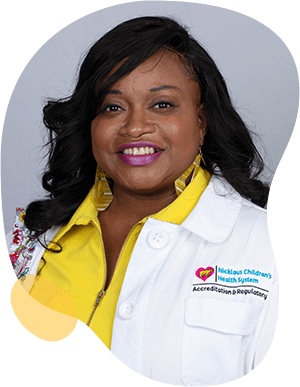 Joining a new organization can be daunting or overwhelming. But at Nicklaus, your colleagues make you feel welcomed. They taught me to celebrate our accomplishments and band together during challenging times. This is not easy to find in healthcare these days, so I'm grateful to have found an amazing place to work with people and leadership who have my well-being in mind.

Lova Renee Brunson

Manager Accreditation & Regulatory
Collaboration leads to success.
Alone we can do so little; together we can do so much. Working together, we find solutions and methods we would never find alone, and at Nicklaus Children's, we have fun doing it.
Responsibility drives us.
We all take responsibility here – for the children, their families, our work and each other. We meet our responsibilities head on and motivate each other to succeed.
Empower yourself, help others.
Nicklaus Children's encourages team members to believe in their ability to affect positive change in the world through everything they do with us.
Advocate for the right way.
Advocate for children. Advocate for families. Advocate for yourself. But most of all, advocate for getting the job done right and you will find nothing but success and support in your career here.
Transformation is growth.
At Nicklaus Children's, change is not to be feared. When you work here, you are always working with the most advanced tools and procedures available.
Empathy is everything.
We expect our team members to have empathy for the patients and families they treat, and in turn, we have empathy for them. We take care of everyone in the Nicklaus Children's family with competitive benefits and our supportive culture.
Join Our Talent Community