Manager Billing Compliance
COMPLIANCE
Florida-Miami-Nicklaus Children's Hospital - Main Hospital Campus
Miami, Florida
Requisition ID 24464
Job Summary
Responsible for the oversight and management of auditing and monitoring activities, policies and procedures, risk assessments, and development of risk-based educational materials to ensure compliance with federal/state laws and regulations, and Nicklaus Children's policies. Responsibility involves the management of three (3) billing compliance personnel, workflow analysis, productivity, auditing, quality review, problem resolution, and hands on supervision.
Job Specific Duties
Provide oversight on billing compliance auditing, monitoring, and educational activities within the compliance department.

Create audit schedules and manage workflows to adhere to the audit schedule.

Oversee and supervise billing compliance personnel, including work allocation, production expectations, training, quality of work performance, and implement corrective action plans to improve performance, if needed.

Develop methods to effectively communicate information through presentations, graphs, reports, educational materials, etc.

Develop, establish, and review policies and objectives consistent with those of the organization to ensure efficient departmental operations.

Conduct DRG validation (clinical/coding) audits to determine accuracy of billing through verification of coding and supporting clinical documentation.

Consult and seek guidance and direction from the compliance directors and/or Chief Compliance Officer as necessary.

Review, assesses, study, and analyze the overall coding, billing, documentation and reimbursement system for potential compliance problems.

Serve as a point of contact for reports of billing compliance concerns or potential issues. Respond timely and professionally.

Support the development and rollout of billing compliance educational materials and provide in-person or on-line training as needed.

Investigate billing compliance matters filed with regulatory agencies at the direction of the compliance directors and/or Chief Compliance Officer.

Conduct and/or manage special projects to include due diligence audits, government and payer audit investigations and queries, including, Recovery Audit Contractors (RAC) and Medicaid Integrity Program Contractors.

Maintain current knowledge of changes in federal and state coding and billing regulations/guidelines and ensure staff is kept informed.

Perform special audits and other duties as assigned.
Minimum Job Requirements
Bachelor's Degree in Healthcare Administration, Business, or related field 

 Certified Inpatient Coder (CIC) required upon hire

Certified in Healthcare Compliance and/or other Coder certifications – Hospital Fee and Professional Fee (e.g., CPMA, CPC, CCS, RHIT) required within one year in position.

4-7 years Experienced in billing compliance, medical coding, or other relevant experience

4-7 years Supervisor experience in compliance coding/billing audits

Healthcare provider/payer experience

Complex investigation and audit experience
Knowledge, Skills, and Abilities
Thorough knowledge and understanding of diagnosis-related group (DRGs) and overall hospital billing, coding, and documentation.

Knowledge and understanding of Centers for Medicare and Medicaid Services (CMS) guidelines.

Ability to maintain highest level of confidentiality.

Ability to follow-through, meet regulatory deadlines, and anticipate.

Ability to lead in a team environment with minimal supervision.

Strong analytical and problem-solving skills.

Excellent time management and organization skills.

Able to use considerable use of tact, diplomacy, discretion, and judgment.

Systems knowledge of Cerner.

Effective training and presentation skills.

Knowledge of Federal and State regulations related to healthcare billing compliance.



Management
Florida-Miami-Nicklaus Children's Hospital - Main Hospital Campus
COMPLIANCE-1000-910900
:Full Time
Apply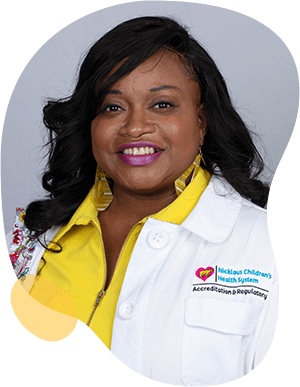 Joining a new organization can be daunting or overwhelming. But at Nicklaus, your colleagues make you feel welcomed. They taught me to celebrate our accomplishments and band together during challenging times. This is not easy to find in healthcare these days, so I'm grateful to have found an amazing place to work with people and leadership who have my well-being in mind.

Lova Renee Brunson

Manager Accreditation & Regulatory
Collaboration leads to success.
Alone we can do so little; together we can do so much. Working together, we find solutions and methods we would never find alone, and at Nicklaus Children's, we have fun doing it.
Responsibility drives us.
We all take responsibility here – for the children, their families, our work and each other. We meet our responsibilities head on and motivate each other to succeed.
Empower yourself, help others.
Nicklaus Children's encourages team members to believe in their ability to affect positive change in the world through everything they do with us.
Advocate for the right way.
Advocate for children. Advocate for families. Advocate for yourself. But most of all, advocate for getting the job done right and you will find nothing but success and support in your career here.
Transformation is growth.
At Nicklaus Children's, change is not to be feared. When you work here, you are always working with the most advanced tools and procedures available.
Empathy is everything.
We expect our team members to have empathy for the patients and families they treat, and in turn, we have empathy for them. We take care of everyone in the Nicklaus Children's family with competitive benefits and our supportive culture.
Join Our Talent Community