Manager Clinical Systems (Cerner Core)
REVENUE CYCLE SYSTEMS
Florida-Miami-Waterford Offices
Miami, Florida
Requisition ID 25655
Responsible for managing IT Cerner Core team staff, provide mentoring/daily coaching to staff and identify ongoing training and development needs of staff. Manages the development, acquisition, implementation, integration and support of complex clinical application and system software. Collaborates with hospital's clinical, revenue and operational staff and other IT groups to provide support for the planning, acquisition, management and implementation of the systems and applications necessary to support the clinical and operational needs.
Minimum Job Requirements:
Bachelor of Science Degree in Computer Sciences, Information Systems, or related major required

3 - 5 years of supervisory experience

7 years of experience in supporting healthcare clinical systems

Experience setting policies, procedures, equipment standards, and documentation standards

Experience with project management, with solid understanding of milestones, deliverables and resource scheduling

Experience with service providers, negotiating contracts and resolving service issues to minimize impact
Essential Duties and Responsibilities
Ensures that design specification requirements are met. Prepares complete test plans and test methodologies.

Establishes standards to ensure that communication to the client regarding the status of problems, enhancements and development projects occurs in a consistent manner and on a regular basis.

In conjunction with the Director, creates an annual operating and capital budget for the areas they support. Ensures preparation of the initial draft of the plan, including budgeting and staffing requirements.

Maintains relationships with other leaders and vendors to understand new business opportunities, priorities and products.

Manages and maintains a formal tracking process for projects for client, Information Technology staff and management.

Manages the detailed analysis, design, coding, testing, implementation and maintenance of vendor supplied and in-house developed software.

Provides assistance to the Director in the development of projected timetables for proposed projects.

Provides leadership in the development and dissemination of key information and best practices.

Recruits and develops staff and manages group of consultants, analysts, support staff and managers who provide analytic, planning and consulting services to internal clients. Directly evaluates immediate subordinates. Provides support and guidance in the development of staff. Positively influences team member's performance through orientation, monitoring, feedback, education and counseling.

Supervises and directs the team's work flow to provide effective and timely information systems services to clients.
Knowledge/Skills/Abilities
Ability to analyze and resolve complex application systems problems, provide resolutions, and recommendations.

Ability to forge strong working partnerships within Information Technology, vendors, as well as the business units they support.

Ability to work with an enterprise perspective.

Excellent oral communications and customer relations skills.

Excellent written skills and experience with documentation of issues and resolutions.

Knowledge of Cerner Millennium product line is desired.

Proficient in implementing, enhancing and maintaining healthcare information systems.

Working knowledge of HL7 and custom interface products.
(EOE DFW)
Management
Florida-Miami-Waterford Offices
REVENUE CYCLE SYSTEMS-1000-921903
:Full Time
Apply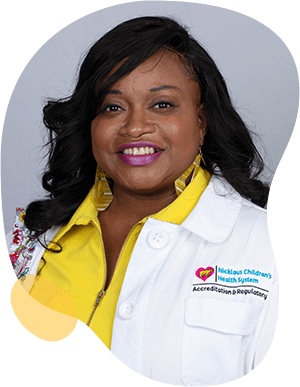 Joining a new organization can be daunting or overwhelming. But at Nicklaus, your colleagues make you feel welcomed. They taught me to celebrate our accomplishments and band together during challenging times. This is not easy to find in healthcare these days, so I'm grateful to have found an amazing place to work with people and leadership who have my well-being in mind.

Lova Renee Brunson

Manager Accreditation & Regulatory
Collaboration leads to success.
Alone we can do so little; together we can do so much. Working together, we find solutions and methods we would never find alone, and at Nicklaus Children's, we have fun doing it.
Responsibility drives us.
We all take responsibility here – for the children, their families, our work and each other. We meet our responsibilities head on and motivate each other to succeed.
Empower yourself, help others.
Nicklaus Children's encourages team members to believe in their ability to affect positive change in the world through everything they do with us.
Advocate for the right way.
Advocate for children. Advocate for families. Advocate for yourself. But most of all, advocate for getting the job done right and you will find nothing but success and support in your career here.
Transformation is growth.
At Nicklaus Children's, change is not to be feared. When you work here, you are always working with the most advanced tools and procedures available.
Empathy is everything.
We expect our team members to have empathy for the patients and families they treat, and in turn, we have empathy for them. We take care of everyone in the Nicklaus Children's family with competitive benefits and our supportive culture.
Join Our Talent Community