Manager Collections/Patient Financial Services (PFS)
NCHS-PATIENT FINANCIAL SERVICE
Florida-Miami-NCHS Corporate Headquarters
Miami, Florida
Requisition ID 21557
Job Summary:
Oversees the daily activities of collections and staff in the Patient Financial Services Department.
Minimum Job Requirements:
Bachelor's degree in Health Services, Business Administration, or related field.
5 years of medical, hospital, or physician office experience as a Supervisor, Coordinator, or Lead role (collections, billing/receivables, insurance authorization, eligibility assistance, registration, or admitting, etc.)
Intermediate proficiency in Microsoft Word, Excel, Power Point, and Outlook.
Job Specific Duties:
Develops and maintains professional relationships/contacts with each of the managed-care companies and third party administrators.
Keeps abreast of all managed care regulations and standards to ensure compliance with orders or directives issued by duly constituted governmental/regulatory agencies ­or third party payers.
Informs Director of any issues hindering the collection process due to contractual agreements.
Manages all aspects of collection and reimbursement to comply with all appropriate federal and state guidelines.
Manages the collection activities with managed care companies, third party payers, and guarantors to collect monies within the prompt payment statutes of the state.
Manages the collection operations and ensuring accounts receivables meet the standards established by the hospital.
Manages the staff, monitors the staff's performance to meet departmental needs, and achieve productivity goals.
Hires, coaches, counsels, and evaluates employees on their job performance, makes recommendations for corrective action, and monitors/follow-up to include termination, if required, while following Talent Management & Effectiveness Department policies and procedures.
Oversees the automated payroll records for staff under supervision according to MCHS policies and procedures; edits Kronos transactions in a timely manner and within established guidelines.
Serves as PFS custodian of records for purposes of depositions relating to subrogation arising from automobile accidents.
Manage and coordinates the billing and collection of Middle East Gulf States Embassies.
Common Duties:
Maintains accountability by ensuring compliance thru timely completion of licensures, certifications, all competencies, health requirements (PPD, N95, Flu, etc.), and education requirements.
Maintains accountability and timekeeping expectations as outlined by MCHS Timekeeping and Attendance policy & procedures. Ensures behavior is compliant with communication standards.

Ensures behavior meets and/or exceeds targeted service scores as measured by the Service Index and/or the internal departmental service survey.
Knowledge/Skills/Abilities:
Working knowledge of Medicaid collection and hospital billing; Medicaid and Medicare contracts; electronic healthcare record systems and revenue cycle.
Knowledge of third party liability and subrogation claims.
Able to communicate effectively both verbally and in writing in a clear, concise, and courteous manner.
Able to establish necessary professional relationships, and interact effectively with internal and external customers.
Able to motivate, coach, train, provide constructive feedback; lead staff to ensure the achievement of department's goals.
Able to work in a fast pace environment; effectively manage and use resources to successfully meet the competing deadlines of a variety of tasks, problems, and projects.
Able to follow written and/or verbal instructions to solve complex problems.
Able to adapt and react calmly under stressful conditions in a pleasant manner.
Able to relate cooperatively and constructively with customers, co-workers, and subordinates.
Able to maintain confidentiality of sensitive information.

Able to use analytical thinking to examine, interpret, and problem-solving for a broad range of department operations related issues.
(EOE DFW)
5/26/17
Management
Florida-Miami-NCHS Corporate Headquarters
NCHS-PATIENT FINANCIAL SERVICE-1000-900907
:Full Time
Apply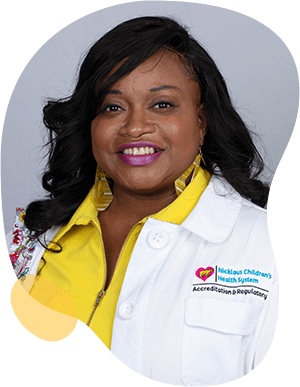 Joining a new organization can be daunting or overwhelming. But at Nicklaus, your colleagues make you feel welcomed. They taught me to celebrate our accomplishments and band together during challenging times. This is not easy to find in healthcare these days, so I'm grateful to have found an amazing place to work with people and leadership who have my well-being in mind.

Lova Renee Brunson

Manager Accreditation & Regulatory
Collaboration leads to success.
Alone we can do so little; together we can do so much. Working together, we find solutions and methods we would never find alone, and at Nicklaus Children's, we have fun doing it.
Responsibility drives us.
We all take responsibility here – for the children, their families, our work and each other. We meet our responsibilities head on and motivate each other to succeed.
Empower yourself, help others.
Nicklaus Children's encourages team members to believe in their ability to affect positive change in the world through everything they do with us.
Advocate for the right way.
Advocate for children. Advocate for families. Advocate for yourself. But most of all, advocate for getting the job done right and you will find nothing but success and support in your career here.
Transformation is growth.
At Nicklaus Children's, change is not to be feared. When you work here, you are always working with the most advanced tools and procedures available.
Empathy is everything.
We expect our team members to have empathy for the patients and families they treat, and in turn, we have empathy for them. We take care of everyone in the Nicklaus Children's family with competitive benefits and our supportive culture.
Join Our Talent Community