Manager Integration Services
ENTERPRISE BUS INTELLIGENCE
Florida-Miami-Waterford Offices
Miami, Florida
Requisition ID 21268
Job Summary
Manages the interfaces and integration systems for NCHS including design and development of interfaces for the various systems. Interacts with the user community, developers, and technical departments to promote information sharing through "sources of truth," coordinate enterprise integration architecture, develop interface code, assist in the development of processes and procedures governing the use of integration, and provide integration systems operation management.
Job Specific Duties
Coordinates the detailed analysis, design, coding, testing, implementation, and maintenance of vendor supplied and in-house developed interfaces and integration systems.

Designs and develops integrated systems test plans relevant to interface implementations.

Establishes standards to ensure communication to the client regarding the status of problems, enhancements, and development projects occurs in a consistent manner and on a regular basis.

Hires qualified staff. Directly evaluates immediate subordinates. Provides support and guidance in the development of staff. Positively influences subordinates' performance through orientation, monitoring, feedback, education, and counseling.

Improves the implementation, design, and maintenance process by evaluating the adequacy of the tool sets and introducing new tools, techniques, and practices to ensure efficiency and productivity.

In conjunction with the Director, creates an annual financial systems plan. Ensures preparation of the initial draft of the plan including budgeting and staffing requirements.

Maintains a formal tracking process for projects for client and Information Technology staff and management.

Manages installation, implementation, and the team responsible for maintaining all interfaces and integration systems. Supervises and directs the team's work flow to provide effective and timely information systems services to clients.

Develops interface design and code for clinical, administrative, and financial information systems.

Provides assistance to the Director in the development of projected timetables for proposed projects .

Researches, proposes, and implements innovative usage of cutting edge technology to advance the mission and goals of NCHS.

Sets design, test, documentation, and implementation standards in accordance with HIPAA and other patient data management policies and ensures interfaces and integration systems adhere to them.

In support of NCHS's strategic initiatives, leaders must effectively manage the Performance Pillar Metrics on their Monthly Scorecard. Regular rounding is critical to gathering feedback and making effective decisions that will improve leader's metrics on their Monthly Scorecard.

Adhere to the Code of Business and Legal Conduct, the Ethics and Compliance Program and the no retaliation policies. Comply with all laws regulations and company policies governing the delivery of quality health care services.
Minimum Job Requirements
Bachelor's Degree

in

Computer Sciences, Information Systems, related major, or at least 5 years' experience in integration management 

3 years of supervisory experience of a team of 3 or more

7-10 years

of e

xperience in design, implementation, and maintenance of integration engines and interface code

Experience setting policies, procedures, equipment standards, and documentation standards

Experience with project management with solid understanding of milestones, deliverables, and resource scheduling

Experience with service providers, negotiating contracts, and resolving service issues to minimize impact on NCHS staff
Knowledge, Skills, and Abilities
Ability to analyze and resolve complex application systems problems relating to integration or interfaces and provide resolutions and recommendations.

Ability to forge strong working partnerships within Information Technology, as well as, the business.

Ability to work at an enterprise perspective.

Ability to manage, monitor, and develop code in one or more of the following: Corepoint, Cerner OpenEngine, Cerner HUB, eLink, etc.

Excellent verbal communications and customer-relations skills.

Excellent written skills and experience with documentation of issues and resolutions.

Knowledge of data extraction from databases and other systems.

Knowledge of HL7 and EDI or FHIR standards.
Management
Florida-Miami-Waterford Offices
ENTERPRISE BUS INTELLIGENCE-1000-921906
:Full Time
Apply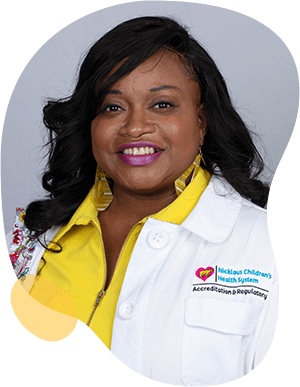 Joining a new organization can be daunting or overwhelming. But at Nicklaus, your colleagues make you feel welcomed. They taught me to celebrate our accomplishments and band together during challenging times. This is not easy to find in healthcare these days, so I'm grateful to have found an amazing place to work with people and leadership who have my well-being in mind.

Lova Renee Brunson

Manager Accreditation & Regulatory
Collaboration leads to success.
Alone we can do so little; together we can do so much. Working together, we find solutions and methods we would never find alone, and at Nicklaus Children's, we have fun doing it.
Responsibility drives us.
We all take responsibility here – for the children, their families, our work and each other. We meet our responsibilities head on and motivate each other to succeed.
Empower yourself, help others.
Nicklaus Children's encourages team members to believe in their ability to affect positive change in the world through everything they do with us.
Advocate for the right way.
Advocate for children. Advocate for families. Advocate for yourself. But most of all, advocate for getting the job done right and you will find nothing but success and support in your career here.
Transformation is growth.
At Nicklaus Children's, change is not to be feared. When you work here, you are always working with the most advanced tools and procedures available.
Empathy is everything.
We expect our team members to have empathy for the patients and families they treat, and in turn, we have empathy for them. We take care of everyone in the Nicklaus Children's family with competitive benefits and our supportive culture.
Join Our Talent Community