Manager IT Project Management
BUS ANALYSIS & PROJ CONSULTING
Florida-Miami-Waterford Offices
Miami, Florida
Requisition ID 22702
Job Summary
Oversees and manages all projects for the management of multiple IT global technology-based projects and programs in support of business units.
Minimum Job Requirements:
Minimum of 7 experience in direct project management.
Minimum of 3 or more years of supervisory experience of a team of 3 or more members.

BS in Computer Sciences, Information Systems, or related major; or at least 5 years of experience in Information Technology.
ESSENTIAL JOB DUTIES:
Responsible for the daily operations of the project management team.
Continually assess project risks and seek ways to mitigate risks. Make prioritization recommendations based on estimated return and/or benefit to the business analysis.  Ascertain and document business objectives and requirements.
Designs and implements a project management process, culture, and discipline for the research gathering and management activities across multiple programs and facilities.
Oversee all projects for particular BU(s) or Program(s). Conducts business analysis for assigned projects. Develops a relationship and management plan to communicate and support BU strategic technology plan. Responsible for full ownership for assigned BU, and oversees all initiatives that impact assigned BU(s).
Oversees program management for the IT organization. Maintains a formal tracking process for projects for client and Information Technology staff and management.
Plans, schedules, prioritizes, and monitors project activities, resources, and budgets.  Negotiate tradeoffs on scope vs. timeline and budget.
Proactively monitor initiatives in other BU's to ensure alignment to BU(s)' applications project scoping (for BU & cross-BU initiatives).  Works with BU personnel to determine technical solution, assess impact, refine scope, business needs, and estimate project effort project management.
Recommends process, organizational, and system changes to support objectives.  Mentor, guide, and manage direct and indirect reports. Hire, train, and develop staff.

Manages and directs the team's workflow to provide effective and timely information systems services to clients. Provides support and guidance in the development of staff.
Knowledge/Skills/Abilities:
Master's degree is preferred.
Excellent customer relation skills.
Excellent written skills and experience with documentation of issues and resolutions.
Experience setting policies, procedures, equipment standards, and documentation standards.
Experience with service providers, negotiating contracts, and resolving service issues to minimize impact on MCHS staff.
Proven track record in meeting business objectives and improvement of business processes.
Ability to forge strong working partnerships within Information Technology as well as the business partners.

Ability to work at an enterprise perspective
(EOE DFW)
2/15/17
Management
Florida-Miami-Waterford Offices
BUS ANALYSIS & PROJ CONSULTING-1000-921915
:Full Time
Apply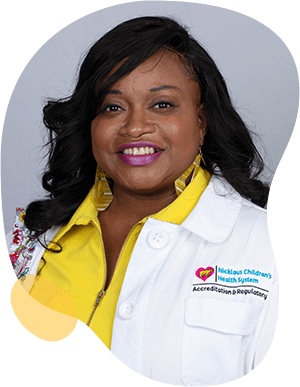 Joining a new organization can be daunting or overwhelming. But at Nicklaus, your colleagues make you feel welcomed. They taught me to celebrate our accomplishments and band together during challenging times. This is not easy to find in healthcare these days, so I'm grateful to have found an amazing place to work with people and leadership who have my well-being in mind.

Lova Renee Brunson

Manager Accreditation & Regulatory
Collaboration leads to success.
Alone we can do so little; together we can do so much. Working together, we find solutions and methods we would never find alone, and at Nicklaus Children's, we have fun doing it.
Responsibility drives us.
We all take responsibility here – for the children, their families, our work and each other. We meet our responsibilities head on and motivate each other to succeed.
Empower yourself, help others.
Nicklaus Children's encourages team members to believe in their ability to affect positive change in the world through everything they do with us.
Advocate for the right way.
Advocate for children. Advocate for families. Advocate for yourself. But most of all, advocate for getting the job done right and you will find nothing but success and support in your career here.
Transformation is growth.
At Nicklaus Children's, change is not to be feared. When you work here, you are always working with the most advanced tools and procedures available.
Empathy is everything.
We expect our team members to have empathy for the patients and families they treat, and in turn, we have empathy for them. We take care of everyone in the Nicklaus Children's family with competitive benefits and our supportive culture.
Join Our Talent Community