Manager of Compensation
TOTAL REWARDS & HRIS
Florida-Miami-NCHS Corporate Headquarters
Miami, Florida
Requisition ID 20668
Job Summary
Accountable for the daily operations of the Compensation functions and team management. Liaison among cross-functional groups and departments. Responsible for the design, implementation, and administration of compensation pay strategies that support organizational goals and objectives and includes job evaluations, job description management, incentive programs, and compensation planning. Maintains a total rewards pay program that is competitive, objective, equitable, and rewarding. Ensure the organizations compensation philosophy and guiding principles for base and variable pay programs are designed to attract, retain, and motivate high performing individuals.
Job Specific Duties
Lead the analysis and design of new compensation programs. Develop sound practices relating to job analysis, salary surveys, benchmarking reviews, salary grades structures, and base pay administration.

Maintain a three year compensation review cycle by evaluating every position or job family for market competitiveness and internal equity. Prepare rate adjustments recommendations for approval.

Ensure our compensation practices drive our diversity, equity, and inclusion outcomes through thoughtful and innovative approaches to every phase of the Total Rewards Compensation cycle.

C

ollaborate with the operational leaders and HR business partners to develop and review job descriptions, compensation plans, and other compensation initiatives.

Oversee the annual planning, execution, and review of salary adjustments, merit, and bonus programs. Prepare cost modeling and impact analysis of various scenarios to assist leadership in decision-making process.

Monitors trends and regulatory developments in the external market that impact our compensation programs.

Direct the job evaluation process and compensation analysis requests to ensure timeliness of responses to our business partners and leaders.

Maintain the third-party compensation survey data and market pricing applications current and utilize the compensation software tools to its fullest potential.

Develops, implements, and administers annual, quarterly and ad hoc bonus programs. Ensures bonus programs are communicated and distributed accurately. Conducts regular analyses to determine effectiveness and financial impact of programs.

Develop and maintain effective communication strategies to drive employee awareness and understanding of compensation programs.

Lead, coach, train, and develop a team of motivated, bright and highly competent compensation professionals including succession planning.

Develops appropriate metrics and tracking mechanisms to measure results, satisfaction, and cost effectiveness of all programs. Ensuring it's achieving the desired results.
Minimum Job Requirements
Bachelor's Degree HR Management, Information Systems, Business Administration, Finance, or other related field

3+ years as a Compensation Manager with experience in leading a team

5+ years of experience in administration of compensation plans

Advanced experience in compensation analytics, benchmarking principles, job evaluations methodologies, financial modeling, and utilizing compensation survey tools

Experience with advanced Excel, PeopleSoft HCM, or other major equivalent HRIS systems
Knowledge, Skills, and Abilities
Healthcare industry preferred.

Self-starter with ability to work with little direction and produce results.

Able to thrive in highly dynamic settings.

Lead and execute multiple projects concurrently.

Knowledge of compensation principles (salary structures, pay grade ranges, and job slotting).

Creating and managing innovative compensation programs in a fast-paced work environment; comfortable with building out of the box solutions to solve problems.

Understands how to interpret compensation survey, market benchmark data, and utilize tools to evaluate compensation packages.

Collaborative in role as a team player; delivers results and balances priorities under pressure.

Understands applicable laws including DOL, FLSA, and other related regulatory requirements.

Strong analytical and problem solving skills; attention to detail.

Excellent negotiation and consulting skills.

Ability to adapt communication style to audience (executives, employees, and external vendors).

Strong verbal and written communication with experience presenting and interacting with leaders.

Experience with project management approaches, tools, and phases of the project lifecycle.
Management
Florida-Miami-NCHS Corporate Headquarters
TOTAL REWARDS & HRIS-1000-952970
:Full Time
Apply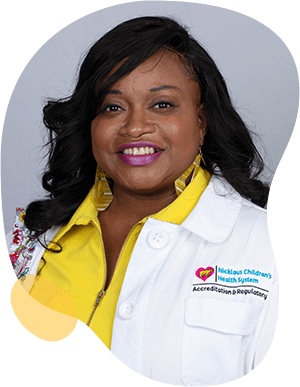 Joining a new organization can be daunting or overwhelming. But at Nicklaus, your colleagues make you feel welcomed. They taught me to celebrate our accomplishments and band together during challenging times. This is not easy to find in healthcare these days, so I'm grateful to have found an amazing place to work with people and leadership who have my well-being in mind.

Lova Renee Brunson

Manager Accreditation & Regulatory
Collaboration leads to success.
Alone we can do so little; together we can do so much. Working together, we find solutions and methods we would never find alone, and at Nicklaus Children's, we have fun doing it.
Responsibility drives us.
We all take responsibility here – for the children, their families, our work and each other. We meet our responsibilities head on and motivate each other to succeed.
Empower yourself, help others.
Nicklaus Children's encourages team members to believe in their ability to affect positive change in the world through everything they do with us.
Advocate for the right way.
Advocate for children. Advocate for families. Advocate for yourself. But most of all, advocate for getting the job done right and you will find nothing but success and support in your career here.
Transformation is growth.
At Nicklaus Children's, change is not to be feared. When you work here, you are always working with the most advanced tools and procedures available.
Empathy is everything.
We expect our team members to have empathy for the patients and families they treat, and in turn, we have empathy for them. We take care of everyone in the Nicklaus Children's family with competitive benefits and our supportive culture.
Join Our Talent Community