Manager of Service Excellence (Full Time, Day shift)
PATIENT & GUEST SERVICES
Florida-Miami-Nicklaus Children's Hospital - Main Hospital Campus
Miami, Florida
Requisition ID 25259
Job Summary
Manages the development of service excellence best practice programs and training. Collaborates with leadership to establish a sustainable partnership amongst clinical and non-clinical personnel, providing focused support where needed to drive the delivery of system-wide service excellence, and increase level of customer satisfaction.


Minimum Job Requirements
Bachelor's Degree Health Services Administration, Communication, Business, or related field

3-5 years Experience in customer service
Knowledge, Skills, and Abilities
 Customer service experience in hospital setting preferred.

 Bilingual in Spanish preferred.

 Ability to communicate effectively both verbally and in writing.

 Ability to appropriately interact with patients, caregivers, physicians, and multidisciplinary coworkers in all work related situations.

 Analytical ability necessary to evaluate, interpret, and analyze data.

 Translates data findings into demonstrable actions that will drive process improvement.

 Maintain confidentiality of sensitive information.

 Able to relate cooperatively and constructively with customers.

 Reacts positively to unplanned circumstance, demands, and challenges.

 Able to solve a broad range of problems.

 Ability to use mathematical techniques to budget and provide productivity assessment reports.
Job Specific Duties
 Under the guidance and strategy designed by the Leader, expand, and develop the service excellence program at the Health System to support strategic initiatives.

 Utilizes the customer satisfaction data to work with appropriate leadership and staff to facilitate interpretation of data and problem solving.

 Identify target areas of concentration and establish action plans to drive improvements in customer service.

 Develops and encourages the sharing of customer service "best practices" between departments, off-site campuses, physician practices, and others within the organization.

 Key stakeholder in the dyad/triad model established to create sustainable change to drive service excellence in clinical areas.

 Manages the observation program in clinical and non-clinical areas which includes analyzing data collected, providing best practice, and follow through on action plans.

 Actively participates in departmental meetings and huddles to promote service excellence index and priority analysis awareness.

 Manages and supports the collaborative rounding process between patient representatives and area leaders in support of service goals.

 Hires, coaches, counsels, and evaluates employees on their job performance, makes recommendations for corrective action, and carries them out.

 Provides timely mentoring to staff and volunteers; ensures excellent patient experience; fosters staff empowerment; leads and guides staff to build an empowered and engaged team.

 Responsible for the Greeter Program to ensure all visitors are welcomed and that appropriate wayfinding is facilitated




Professional
Florida-Miami-Nicklaus Children's Hospital - Main Hospital Campus
PATIENT & GUEST SERVICES-1000-868001
:Full Time
Apply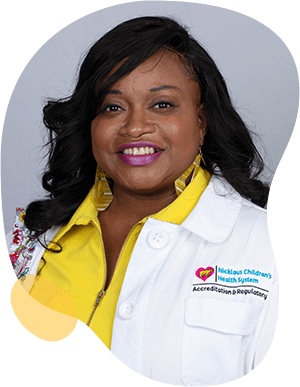 Joining a new organization can be daunting or overwhelming. But at Nicklaus, your colleagues make you feel welcomed. They taught me to celebrate our accomplishments and band together during challenging times. This is not easy to find in healthcare these days, so I'm grateful to have found an amazing place to work with people and leadership who have my well-being in mind.

Lova Renee Brunson

Manager Accreditation & Regulatory
Collaboration leads to success.
Alone we can do so little; together we can do so much. Working together, we find solutions and methods we would never find alone, and at Nicklaus Children's, we have fun doing it.
Responsibility drives us.
We all take responsibility here – for the children, their families, our work and each other. We meet our responsibilities head on and motivate each other to succeed.
Empower yourself, help others.
Nicklaus Children's encourages team members to believe in their ability to affect positive change in the world through everything they do with us.
Advocate for the right way.
Advocate for children. Advocate for families. Advocate for yourself. But most of all, advocate for getting the job done right and you will find nothing but success and support in your career here.
Transformation is growth.
At Nicklaus Children's, change is not to be feared. When you work here, you are always working with the most advanced tools and procedures available.
Empathy is everything.
We expect our team members to have empathy for the patients and families they treat, and in turn, we have empathy for them. We take care of everyone in the Nicklaus Children's family with competitive benefits and our supportive culture.
Join Our Talent Community