Sr. Manager Outpatient Ctr Operations (Midtown & Doral Centers)
ACC - REGIONAL ADMINISTRATION
Florida-Miami-Nicklaus Children's Hospital - Main Hospital Campus
Miami, Florida
Requisition ID 21508
Job Summary

Oversees, directs, and is responsible for ensuring efficient departmental operations for two or more Outpatient Centers or Areas. Ensure the highest quality services for both internal and external customers. Partners with other operational and clinical leaders to drive access focused initiatives that create and support optimal patient access service, while advancing the organization's Mission, Vision, and Values. Responsible for setting the tone to create an empowered culture for multiple facilities, managing and overseeing the physical environment, safety, and emergency preparedness to promote state of readiness. Manages the financial affairs for multiple departments to ensure fiscal efficiency and productivity. Provides support for the organization strategic growth initiatives, program enhancements, service expansions, and improvements. Collaborates with others to affect changes in the system, processes, culture, and policies to advance the centers' goals in support of the NCHS mission.
Minimum Job Requirements
Bachelor's Degree Business Administration, Healthcare Management, or related field
3-5 years Supervisory experience in a hospital, patient access department, or large physician group
Proficiency with Microsoft Office Products (Outlook, Word & Excel)
Knowledge, Skills, and Abilities
Master's degree preferred.
Fluency in Spanish preferred.
Knowledge of financial systems, business operations, and revenue cycle processes to analyze fiscal processes for multiple facilities and patient access areas.
Ability to develop, forecast, and manage multiple departmental budgets for multiple locations.
Ability to communicate effectively, verbally and in writing, in a clear, concise, and professional manner.
Able to maintain confidentiality of sensitive information.
Ability to interpret, adapt, and react calmly under stressful conditions.
Able to relate cooperatively and constructively with customers, peers, and leadership.
Able to work in a fast-paced environment, effectively manage, and use resources to successfully meet the competing deadlines of a variety of tasks, problems, and projects.
Able to effectively supervise, coach, mentor, and develop staff and new emerging leaders across the network.
Understanding of management and healthcare operations.
Job Specific Duties
Manages registration and staff to support multiple outpatient service lines as applicable to each outpatient center (urgent care, X-ray, MRI, ultrasound, neuroscience, laboratory, rehabilitation, etc.).
Manages contracted security and environmental services to foster a safe and standardized experience for patients, families, and staff. Oversight of hospital support staff, such as IT, Clinical Engineering, and Plant Operations to support the facility, environment of care, and regulatory requirements according to hospital, state, federal, and accrediting bodies. Responsible for ensuring all deficiencies are corrected in a timely manner.
Initiates vendor contracts and maintenance agreements, including contract addendums and quality metrics in collaboration with supply chain and legal to ensure validation and execution.
Responsible for compliance of all facility standards and required hospital, state, federal, and accrediting licenses and certifications mandated by Accreditation, Risk Management, Safety, Infection Control, and external agencies. Manages the renewals of local and state required permits, certificates, and licenses.
Responsible for the development of the facility and Patient Access budget for two or more Outpatient Centers or areas. Creates, forecasts, develops, and manages capital and operational budgets with input from services lines and director approval.
Responsible for expense control and efficiencies by adhering to KPI targets including productivity.
Responsible for ensuring environment of care rounding is being conducted.
Leads activation for all facility construction and other identified projects in partnership with key stakeholders.
Responsible for collaborating with security to ensure access points are secure, accessible, and responds to panic, burglar, and fire emergency calls 24/7.
Responsible for all facilities maintenance and repairs to ensure safety and compliance in collaboration with plant operations and/or contracted vendors.
Serves as leadership approver for point of service collection and patient access matters that require escalation during all operating hours in two or more outpatient centers/areas.
Manages staff hiring, position justification, and identification of patient access talent, including employment separation. Tracks employee attendance, productivity, and other performance markers.
Coordinates patient access staffing to ensure compliance with EMTALA guidelines for the urgent care service line. Reacts effectively and efficiently to unplanned circumstances, demands, and challenges facing the department.
Manages all Patient Access functions and point of service revenue cycle for all service lines. Oversees cash collection reconciliation and deposit process.
Ensures registration processes are in-line with best practice and appropriate data points are in place for expected reimbursement by insurance payors.
Manages multiple department key performance indicators for various service lines including registration accuracy, point of service collection rates, claim denials, prescription accuracy, and scheduling turnaround times to drive performance at two or more outpatient centers/areas.
Performs service recovery efforts, inclusive of billing discrepancies, at two or more outpatient centers/areas in collaboration with Patient and Guest Relations and/or Patient Financial Services to address patient complaints and grievances in a timely manner.
Supports physician practice processes by facilitating leases for PSA non-NCHS physicians, providing guidance on facility processes, adjusting ancillary support services as needed, and collaborating with legal on rent allocations. Ensures non-NCHS physicians meet distribution strategy for organization prior to execution of leases.
Enhances center's visibility through involvement by serving as a community outreach ambassador. Collaborates with Marketing in planning, coordinating, and implementing special events. Reviews and validates promotional materials and signage.
Management
Florida-Miami-Nicklaus Children's Hospital - Main Hospital Campus
ACC - REGIONAL ADMINISTRATION-2100-500950
:Full Time
Apply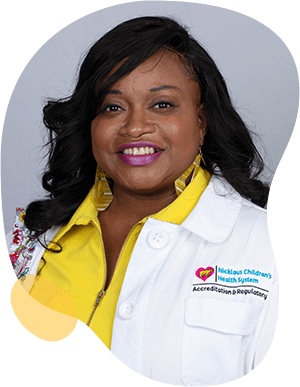 Joining a new organization can be daunting or overwhelming. But at Nicklaus, your colleagues make you feel welcomed. They taught me to celebrate our accomplishments and band together during challenging times. This is not easy to find in healthcare these days, so I'm grateful to have found an amazing place to work with people and leadership who have my well-being in mind.

Lova Renee Brunson

Manager Accreditation & Regulatory
Collaboration leads to success.
Alone we can do so little; together we can do so much. Working together, we find solutions and methods we would never find alone, and at Nicklaus Children's, we have fun doing it.
Responsibility drives us.
We all take responsibility here – for the children, their families, our work and each other. We meet our responsibilities head on and motivate each other to succeed.
Empower yourself, help others.
Nicklaus Children's encourages team members to believe in their ability to affect positive change in the world through everything they do with us.
Advocate for the right way.
Advocate for children. Advocate for families. Advocate for yourself. But most of all, advocate for getting the job done right and you will find nothing but success and support in your career here.
Transformation is growth.
At Nicklaus Children's, change is not to be feared. When you work here, you are always working with the most advanced tools and procedures available.
Empathy is everything.
We expect our team members to have empathy for the patients and families they treat, and in turn, we have empathy for them. We take care of everyone in the Nicklaus Children's family with competitive benefits and our supportive culture.
Join Our Talent Community