Manager Physician Revenue Cycle Management
NCPS-PHYSICIAN REV CYCLE MGMT
Florida-Miami-Nicklaus Children's Hospital - Main Hospital Campus
Miami, Florida
Requisition ID 24232
Job Summary
Manages portions of the analysis and documentation of physician practices processes, while focusing on specific areas of concern identified by MCH RCM methodologies. Understand and provide best practice guidance and recommendations for physician revenue cycle operations.
Minimum Job Requirements
Bachelor's degree in Business Administration, Healthcare Services, Finance or related field (OR) 7-10 years of Healthcare experience

7-10 years of physician billing/receivables or medical collections experience as a Supervisor, Coordinator, or lead role

7-10 years of progressive healthcare reimbursement experience to include developing business processes, people management, and Standard Operating Procedures

Previous healthcare industry and pharmacy billing experience with government payers

Medical reimbursement processes and workflows experience
Essential Duties and Responsibilities
Manages portions of the analysis and documentation of physician practices processes, while focusing on specific areas of concern identified by MCH RCM methodologies.

Understand and provide best practice guidance and recommendations for physician revenue cycle operations.

Recognize and identify process challenges in a physician practice settings and escalate concerns timely.

Summarize findings and report to and physician operations leadership as required.

Work directly with Physician leadership, as needed.

Manage the analysis and identification of opportunities to improve cash flow, net revenue and cost containment through creative process management approaches.

Develops project plans and recommendations in support of MCH objectives and leads implementation; tracks and reports on the status of the project. Ascertain, categorize and manage projects in relation to company priorities.

Develops and recommends effective business improvement initiatives.

Documents and presents project management results through the development of criteria (established with client); issue analysis papers and reports; ensures that projects meet established objectives such as financial goals, and creates an evaluation plan to ensure that the implementation plan achieves goals.

Coordinates development and implementation of policies and procedures as well as development of compliance measurements. Controls and monitors project effectiveness; updates project plans as necessary.

Represents RCM in meetings with external parties including consultants, vendors, and others. May include the management of vendor/outsourced relationships.

Assists with analysis and development of business processes to ensure quality, cost effectiveness, timeliness of customer service, and regulatory requirements and mandates are met.

Evaluates project risks, developing contingency plans and responding to change in risk as the project progresses and develops escalation process to channel issues and concerns to appropriate parties as needed.

Develops and tracks budgets, operating plans and financial cost forecasts to support the objectives of the project.

Directly supervises staff including hiring, orientation, training, coaching, counseling, mediation, performance appraisal, terminating and payroll within established guidelines. Trains staff in customer service skills, values and career development to ensure employee engagement and retention goals are achieved.
Knowledge/Skills/Abilities
Strong understanding of insurance and billing for various physician payers.

Extensive knowledge of Medicaid and private payer insurance programs as it relates to prior authorization of medical services, eligibility and insurance billing.

Excellent research, problem-solving and analytical skills as it relates to claims, billings, reimbursement, rate approvals and collections.

Motivate others to take actions that support and reflect MCH's core values.

Ability to problem solves and creates alignment across several internal functions to achieve business objectives.

Ability to manage multiple tasks on time and on budget.

Leadership/managerial skills.

Knowledge of electronic billing processes and procedures such as Current Procedural Terminology (CPT), Healthcare Common Procedure Coding System (HCPCS) and International Classification Disease (ICD-9 & ICD-10) coding systems, electronic claims filing and billing systems and Microsoft Office programs (Word, Excel)

Strong planning and organizational skills with the ability to manage multiple priorities.

Ability to handle numerous requests from patients, customers, and other internal departments in a courteous, professional and collaborative manner.

Time management skills.

High level of independence and initiative.

Strong people leadership skills.
(EOE DFW)
Management
Florida-Miami-Nicklaus Children's Hospital - Main Hospital Campus
NCPS-PHYSICIAN REV CYCLE MGMT-3100-490902
:Full Time
Apply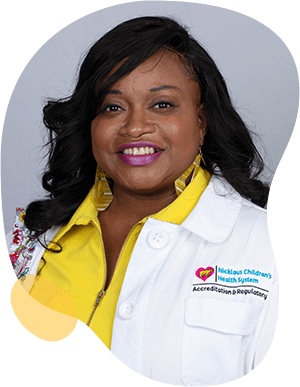 Joining a new organization can be daunting or overwhelming. But at Nicklaus, your colleagues make you feel welcomed. They taught me to celebrate our accomplishments and band together during challenging times. This is not easy to find in healthcare these days, so I'm grateful to have found an amazing place to work with people and leadership who have my well-being in mind.

Lova Renee Brunson

Manager Accreditation & Regulatory
Collaboration leads to success.
Alone we can do so little; together we can do so much. Working together, we find solutions and methods we would never find alone, and at Nicklaus Children's, we have fun doing it.
Responsibility drives us.
We all take responsibility here – for the children, their families, our work and each other. We meet our responsibilities head on and motivate each other to succeed.
Empower yourself, help others.
Nicklaus Children's encourages team members to believe in their ability to affect positive change in the world through everything they do with us.
Advocate for the right way.
Advocate for children. Advocate for families. Advocate for yourself. But most of all, advocate for getting the job done right and you will find nothing but success and support in your career here.
Transformation is growth.
At Nicklaus Children's, change is not to be feared. When you work here, you are always working with the most advanced tools and procedures available.
Empathy is everything.
We expect our team members to have empathy for the patients and families they treat, and in turn, we have empathy for them. We take care of everyone in the Nicklaus Children's family with competitive benefits and our supportive culture.
Join Our Talent Community