Manager Sterile Processing (Full Time, Day Shift)
STERILE PROCESSING SUPPLY
Florida-Miami-Nicklaus Children's Hospital - Main Hospital Campus
Miami, Florida
Requisition ID 23004
Job Summary:
Manages staff that are responsible for preparing, storing, and distributing OR instruments. Oversees departmental activities to ensure quality services for patients, physicians, and internal departments. Serves as a resource to and collaborates with others to advance the MCHS System mission. Focuses on planning and implementation of policies and systems that adhere to DNV, AAMI, APIC, and AORN standards.
Minimum Job Requirements
AA/AS Degree
Sterile Processing Mgmt Cert - maintain active and in good standing throughout employment
2-4 years of Surgical Technologist and/or Sterile Processing experience in a fast-paced environment
ESSENTIAL JOB DUTIES:
Safety and Quality
Complies with Infection control, DNV, AAMI, and APIC Standards to develop and create policies related for instrumentation with OR biologicals.

Responsible for application of Key Quality Indicators (wet loads, biologicals). Proactively monitors and implements systems to achieve and/or surpass team productivity/goals (CEI).

Identifies and manages lean processes in department overseen by director.

Maintains a comprehensive staffing plan (SPD, Peri-op Aides) and model that aligned with budget and key quality indicators.

Manages and maintains a complete inventory of supplies necessary for surgery and leads process to secure additional equipment through the capital budgeting process while working with vendor review.

Manages the repair and preventive maintenance for instruments and equipment.
Leadership
Oversees and supervises day to day operations and staffing; reacting effectively to unplanned circumstances and challenges while assuring quality services, and patient directed care. Performs administrative functions with data collection, analysis, and reporting.

Directly manages personnel resources from hiring to employment separation while supervising staff through orientation, training, and annual reviews within established guidelines and scope of responsibility.

Manages procedures including payroll, time/attendance, and progressive disciplinary action in a timely and accurate manner.

Provides training, coaching, counseling, and mediation as necessary to ensure the staff (SPD and Peri-op Aides) work effectively. Provides training on department procedures.

Responsible for the department day-to-day operations, implements standards, and financial practices.  Plans, develop, and implements methods and procedures. Responsible for department budget and overall expenses.

Ensures highest integrity for the business operations. Oversees the development of capital and operating budgets through collaboration with Leader; presents department budgets to leadership.

Strategically positions the department to react effectively to unplanned circumstances, demands, and challenges facing the industry while creating revenue enhancements and cost reduction practices.

Monitor and evaluate staff competencies, regulatory requirements, credentials, and completeness of paperwork.

Utilize performance improvement data to plan for staff development and continuing education.  Responsible for and promotes/practices cost containment.
Common Duties
Professional accountability to ensure compliance thru timely completion of certifications, competencies, health requirements (PPD, N95, Flu), initial competencies, and education requirements 

Maintains professional accountability and timekeeping expectations as outlined by the MCHS Timekeeping Policy.  Complies with the Attendance Guidelines and procedures per MCHS Attendance Policy.  Ensures behavior is compliant with communication standards.

Knowledge, Skills, and Abilities
 Certified Surgical Tech preferred
 Knowledge of AAMI standards, Association of Professional Infection Control (APIC), and Association of Operating Room Nurses (AORN).
Ability to problem solves department issues and maintains clinical practices.
Ability to communicate verbally and in writing.
Able to maintain confidentiality of sensitive information.
Competent in leadership for designated scope of responsibility.
Ability to remain calm under stressful situations.
Management
Florida-Miami-Nicklaus Children's Hospital - Main Hospital Campus
STERILE PROCESSING SUPPLY-2100-719000
:Full Time
Apply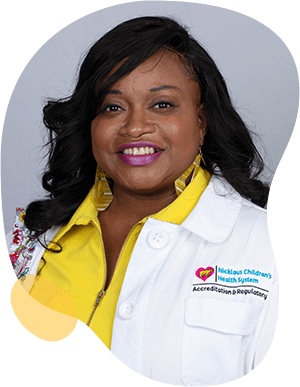 Joining a new organization can be daunting or overwhelming. But at Nicklaus, your colleagues make you feel welcomed. They taught me to celebrate our accomplishments and band together during challenging times. This is not easy to find in healthcare these days, so I'm grateful to have found an amazing place to work with people and leadership who have my well-being in mind.

Lova Renee Brunson

Manager Accreditation & Regulatory
Collaboration leads to success.
Alone we can do so little; together we can do so much. Working together, we find solutions and methods we would never find alone, and at Nicklaus Children's, we have fun doing it.
Responsibility drives us.
We all take responsibility here – for the children, their families, our work and each other. We meet our responsibilities head on and motivate each other to succeed.
Empower yourself, help others.
Nicklaus Children's encourages team members to believe in their ability to affect positive change in the world through everything they do with us.
Advocate for the right way.
Advocate for children. Advocate for families. Advocate for yourself. But most of all, advocate for getting the job done right and you will find nothing but success and support in your career here.
Transformation is growth.
At Nicklaus Children's, change is not to be feared. When you work here, you are always working with the most advanced tools and procedures available.
Empathy is everything.
We expect our team members to have empathy for the patients and families they treat, and in turn, we have empathy for them. We take care of everyone in the Nicklaus Children's family with competitive benefits and our supportive culture.
Join Our Talent Community