Medical Assistant - Alton Road (Full Time, Day shift)
NCPS-MT SINAI
Florida-Miami-NCPS at Alton Road - Mt. Sinai
Miami, Florida
Requisition ID 25571
Job Summary
Assists in examinations and treatment of patient's care under the direction of the physician and/or clinician. Supports patient care management by performing various administrative functions.
Job Specific Duties
Answers telephones, routes calls, takes, and relays accurate phone messages.

If applicable, prepares and administers medications/immunizations to patients as directed by provider.

Communicates all significant changes in patient conditions or behavior to clinicians and physicians.

Ensures all medical record/patient charts contains necessary documentation for medical appointments. Completes charting, collects, and distributes medical record documents related to patient.

Gathers data for general information, special reports, contacting other employees, departments, agencies, and individuals for additional material. May prepare reports for provider approval.

Maintains/prepares billing charge and reconciliation, assist in completing claims forms, and answers patient questions in reference to payment status.

Runs reports for credit cards, super bills, and etc. Prepares final bookkeeping of assigned cash drawer and prepares and makes timely deposits.

Maintains a clean and orderly work area and patient rooms.

Operates and maintains equipment in proper working condition/order. Ensures medical supplies and inventory are maintained.

Performs and documents vital signs and measurements. Provides and documents patient and family education.

Assists physician with simple procedures and patient transport. Collects specimens and distributes to laboratory for results.

Prepares for patient visits by preparing /pulling charts, printing super bills, and informing physician and other clinical staff of changes in schedule.

Schedules appointments, diagnostic, therapeutic, verifies medical appointments, obtains and/or verify authorizations.

Processes medical documentation for office visit and follow-up with patient when required.

Serves as receptionist, conducts patient check-in, registration, collects fee for service/co-payments, and verifies referrals, insurance data, patient's address & other pertinent information.

Tracks all samples per policy before providing to patients to ensure proper coordination with physician orders or requests.

Enters electronic order for lab, x-ray and medication/prescriptions for provider review and approval in electronic medical record.

Process refills as directed by provider and written protocols.
Minimum Job Requirements
Medical Assistant Certification or Diploma/Certificate of completion from an accredited Medical Assistant program (OR) Prior Medical Assistant experience in a physician practice with the ability to produce a Medical Assistant Certification within 6 months of hire (OR) Prior Medical Assistant experience in a physician practice and enrolled in a Medical Assistant training program with the ability to produce a Diploma/Certificate from an accredited Medical Assistant program within 6 months of hire

American Heart Association BLS - maintain active and in good standing throughout employment
Knowledge, Skills, and Abilities
High School education or equivalent preferred.

Ability to communicate verbally and in writing.

Basic computer and math skills.

Excellent patient management, customer service, and interpersonal skills.

2-4 Years physician office experience preferred.

2-4 years of coordinating clinical care for patients preferred.



Nursing- Support (Clinical)
Florida-Miami-NCPS at Alton Road - Mt. Sinai
NCPS-MT SINAI-3100-473009
:Full Time
Apply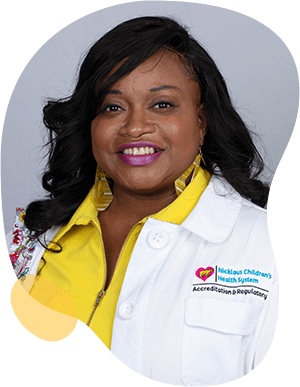 Joining a new organization can be daunting or overwhelming. But at Nicklaus, your colleagues make you feel welcomed. They taught me to celebrate our accomplishments and band together during challenging times. This is not easy to find in healthcare these days, so I'm grateful to have found an amazing place to work with people and leadership who have my well-being in mind.

Lova Renee Brunson

Manager Accreditation & Regulatory
Collaboration leads to success.
Alone we can do so little; together we can do so much. Working together, we find solutions and methods we would never find alone, and at Nicklaus Children's, we have fun doing it.
Responsibility drives us.
We all take responsibility here – for the children, their families, our work and each other. We meet our responsibilities head on and motivate each other to succeed.
Empower yourself, help others.
Nicklaus Children's encourages team members to believe in their ability to affect positive change in the world through everything they do with us.
Advocate for the right way.
Advocate for children. Advocate for families. Advocate for yourself. But most of all, advocate for getting the job done right and you will find nothing but success and support in your career here.
Transformation is growth.
At Nicklaus Children's, change is not to be feared. When you work here, you are always working with the most advanced tools and procedures available.
Empathy is everything.
We expect our team members to have empathy for the patients and families they treat, and in turn, we have empathy for them. We take care of everyone in the Nicklaus Children's family with competitive benefits and our supportive culture.
Join Our Talent Community