Medical Technologist (Full Time, Night shift)
LABORATORY-MAIN LAB
Florida-Miami-Nicklaus Children's Hospital - Main Hospital Campus
Miami, Florida
Requisition ID 25044
Job Summary
Performs laboratory tests for clinical diagnosis while adhering to guidelines of licensing and regulatory agencies. Works under the supervision of the Section Chief, the direction of the Chief of Pathology and Clinical Laboratories and the Director of Operations.
Job Specific Duties
Complies with hospital and laboratory safety regulations.

Maintains temperatures and performs quality control on instrumentation and reagents used daily.

Performs scheduled preventive maintenance and calibrations on instruments and equipment. Maintains cleanliness of instruments, equipment, and area.

Performs internal and external proficiency testing; evaluates and responds to proficiency testing survey results promptly.

Participates in teaching laboratory procedures and policies to students and staff rotations.

Performs and reports laboratory tests accurately in required turnaround time.

Performs quality control/quality improvement processes and maintains required records.

Recognizes and reports critical values within specified timeframes to appropriate patient care personnel.

Conducts parallel studies, evaluates new instrumentation, and implements new test procedures per CAP standards.

Participates in department lean processes overseen by director.

Demonstrates and ensures proper Personal Protective Equipment (PPE) indication and use.

Reviews instrumentation, processes, re-agents, and storage to ensure compliance on a daily basis.

Complies with accrediting agencies (FDA, CAP, DNV, AHCA, CMS , AABB) standards and regulations.
Minimum Job Requirements
 Florida State License is required. Also meets Florida State requirements for licensure and for continuing education for license renewal.
Knowledge, Skills, and Abilities
Provides coverage on assigned rotating weekends as part of lab team.

Bachelor of Arts or Science Degree preferred.

National Certification is preferred.

Ability to communicate in English promptly, clearly, and courteously, both verbally and in writing

Ability to interpret and analyze information to perform laboratory procedures.

Ability to use computer to enter and access patient data.

Able to accurately relay patient test results to appropriate person.

Knowledge of and ability to perform laboratory techniques and use laboratory instruments.

Maintains confidentiality of sensitive information and adheres to HIPAA guidelines.

Able to work cooperatively and constructively with physicians, patients, families and co-workers.

Ability to problem solve to adapt standard clinical procedures to the individual client's need.

Ability to interpret, adapt and react calmly under stressful conditions.
Laboratory
Florida-Miami-Nicklaus Children's Hospital - Main Hospital Campus
LABORATORY-MAIN LAB-2100-702000
:Full Time
Apply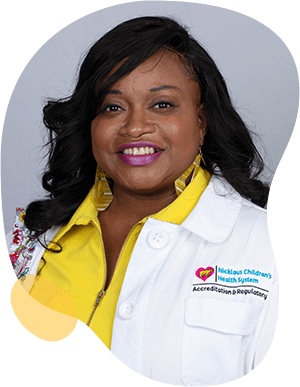 Joining a new organization can be daunting or overwhelming. But at Nicklaus, your colleagues make you feel welcomed. They taught me to celebrate our accomplishments and band together during challenging times. This is not easy to find in healthcare these days, so I'm grateful to have found an amazing place to work with people and leadership who have my well-being in mind.

Lova Renee Brunson

Manager Accreditation & Regulatory
Collaboration leads to success.
Alone we can do so little; together we can do so much. Working together, we find solutions and methods we would never find alone, and at Nicklaus Children's, we have fun doing it.
Responsibility drives us.
We all take responsibility here – for the children, their families, our work and each other. We meet our responsibilities head on and motivate each other to succeed.
Empower yourself, help others.
Nicklaus Children's encourages team members to believe in their ability to affect positive change in the world through everything they do with us.
Advocate for the right way.
Advocate for children. Advocate for families. Advocate for yourself. But most of all, advocate for getting the job done right and you will find nothing but success and support in your career here.
Transformation is growth.
At Nicklaus Children's, change is not to be feared. When you work here, you are always working with the most advanced tools and procedures available.
Empathy is everything.
We expect our team members to have empathy for the patients and families they treat, and in turn, we have empathy for them. We take care of everyone in the Nicklaus Children's family with competitive benefits and our supportive culture.
Join Our Talent Community