Mgr Research Administration (Full Time)
RI - ADMINISTRATION
Florida-Miami-Nicklaus Children's Hospital - Main Hospital Campus
Miami, Florida
Requisition ID 24303
Job Summary
Provides day-to-day operational and administrative support to the research institute. Collaborates with the Office of Sponsored Programs team, Clinical Trials Operations team, and Regulatory Compliance team to ensure clinical research and related activities and functions are performed effectively and efficiently in accordance with all applicable federal regulations and NCHS policies and procedures. Responsible for development and maintenance of relevant systems and databases to support clinical research activities, including the clinical trials management system, eRegulatory system, and electronic health record integration.
Job Specific Duties
Works with the Executive Director of Research, Research Managers, and other stakeholders to support the research mission of NCHS.

Assesses, develops, implements, and evaluates department goals that align with the Health System goals on a yearly basis.

Fosters effective research and infrastructure collaborations that advance the NCHS missions in conjunction with key stakeholders.

Ensures Research Institute Clinical Trial Management System (CTMS) is accurate, up-to-date, and reviewed in accordance with management plans, specifically the study status, research participant enrollment status, and study personnel are accurate and up-to-date.

Ensures Research Institute eRegulatory system is accurate, up-to-date, and reviewed in accordance with management plans/policies, specifically that all current studies are active and up-to-date with all regulatory documents available.

Schedules and participates in re-occurring huddles and meetings with Clinical Research Operations staff to relay important information to the staff and to serve as an open forum for staff feedback and general discussion.

Develops and adapts policies, Standard Operating Procedures (SOP's), guidelines, training manuals, other documents, and processes related to the proper implementation of GCP and ICH guidelines for clinical research in children.

Identify barriers to quality services, compliance, or ineffective processes.

Responsible for Research Administration related capital expenditures and other purchases.

Collaborates with Research IT on Research Administrative related software/system, purchases, and updates.

Collaborates with NCHS Lab and Biomedical Engineering to manage and maintain research equipment calibration schedule and up-to-date lab ranges.
Minimum Job Requirements
Bachelor's Degree in Biomedical Field or Business Management 

CRP - Clinical Research Professional Clinical Research Certification (CCRC, CCRP or CCRA)

4-7 years of clinical research supervisory and management experience in either an academic hospital engaged in research, university, Clinical Research Organization, or Pharmaceutical/Medical Device company setting

4-7 years of Research operations and project management experience
Knowledge, Skills, and Abilities
Expert knowledge of federal regulations governing research.

Ability to effectively lead and manage a diverse team.

Ability to set and effectively communicate priorities.

Problem solving skills.

Ability to interpret, adapt, and respond calmly under stressful conditions.

Able to effectively monitor and develop the abilities of team members and other stakeholders.

Able to relate cooperatively and constructively with a research and/or clinical group or team.

Proficient at using logical and scientific thinking to interpret technical data and solve a broad range of problems.

Knowledge of clinical trials management systems (CTMS) and other system business solutions.

Ability to work as a member of a collaborative and interdisciplinary team to forward the objectives of the Research Institute.

Ability to provide subject matter expertise on research compliance including human subjects' research, research involving animals, scientific misconduct, research integrity, recombinant DNA, conflicts of interest, as well, as compliance related to the DoD, FDA, DEA, PHS, and its agencies.

Highly organized and skilled administrator with the ability to manage and prioritize multiple projects and coordinate cross-discipline research projects and interdisciplinary programs.

Ability to communicate effectively both verbally and in writing.

Skilled communicator with effective speaking and presentation skills.

Ability to consistently deliver a high quality of work including accuracy, timeliness, professionalism, confidentiality, and thoroughness.

Ability to work in a diverse and multi-cultural environment with cultural sensitivity.

Able to maintain confidentiality of sensitive information.

Consistently exhibits professional demeanor and appearance.



Management
Florida-Miami-Nicklaus Children's Hospital - Main Hospital Campus
RI - ADMINISTRATION-2100-380950
:Full Time
Apply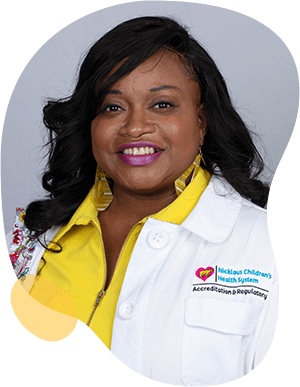 Joining a new organization can be daunting or overwhelming. But at Nicklaus, your colleagues make you feel welcomed. They taught me to celebrate our accomplishments and band together during challenging times. This is not easy to find in healthcare these days, so I'm grateful to have found an amazing place to work with people and leadership who have my well-being in mind.

Lova Renee Brunson

Manager Accreditation & Regulatory
Collaboration leads to success.
Alone we can do so little; together we can do so much. Working together, we find solutions and methods we would never find alone, and at Nicklaus Children's, we have fun doing it.
Responsibility drives us.
We all take responsibility here – for the children, their families, our work and each other. We meet our responsibilities head on and motivate each other to succeed.
Empower yourself, help others.
Nicklaus Children's encourages team members to believe in their ability to affect positive change in the world through everything they do with us.
Advocate for the right way.
Advocate for children. Advocate for families. Advocate for yourself. But most of all, advocate for getting the job done right and you will find nothing but success and support in your career here.
Transformation is growth.
At Nicklaus Children's, change is not to be feared. When you work here, you are always working with the most advanced tools and procedures available.
Empathy is everything.
We expect our team members to have empathy for the patients and families they treat, and in turn, we have empathy for them. We take care of everyone in the Nicklaus Children's family with competitive benefits and our supportive culture.
Join Our Talent Community