Network Systems Analyst II
TECHNOLOGY SERVICES
Florida-Miami-Waterford Offices
Miami, Florida
Requisition ID 22125
Job Summary:
Responsible for the technical design, planning, implementation, and the highest level of performance tuning and recovery procedures for mission critical enterprise systems. Serves as a technical expert in the area of system administration for complex operating systems. Investigates and analyzes feasibility of system requirements and develops system specifications. Participates in technical research and development to enable continuing innovation within the infrastructure. Assists project teams with technical issues/requirements from the initial planning phase through the completion of the project.
Minimum Job Requirements:
Bachelor of Science in Computer Sciences/ Information Systems/related major or 5 years' equivalent work experience with servers or systems infrastructure
4 years of experience in administration, configuration and maintenance of servers and networks in an operations technical role
3 years of Windows Operating Systems and Virtualization experience
3 years of experience managing Microsoft core technologies and LAN networking
Prior experience managing TCP/IP, DNS, WINS, DHCP services in an enterprise infrastructure required
ESSENTIAL JOB DUTIES:
Provides escalation support per request from other support teams and training as needed in the development of the service delivery group.
Researches and recommends innovative, and where possible, automated approaches for system administration tasks. Identifies approaches that leverage our resources and provide economies of scale.
Applies OS patches and upgrades on a regular basis. Upgrades administrative tools and utilities. Performs periodic performance reporting to support capacity planning.
Delivers high-quality integration services to MCHS clients, including configuration of servers, workstations and internetworking equipment on servers and workstations.
 Ensures technical excellence in service delivery to maximize up time and customer satisfaction and to minimize down time.
Ensures the security of all MCHS information systems are in compliance with regulatory guidelines eg HIPAA etc.
Prepares work product documentation, checklists, training materials and standard operating documents to ensure a high quality of service delivery and maximize MCHS efficiency and effectiveness.
Provides support to MCHS users, independently or involving outside vendors, by analyzing the problem and applying a scientific methodology to resolve the problem promptly and cost-effectively.
Tests all work and involves the client in acceptance testing to ensure their needs are met; ensures the client's systems are fully functional.
Performs daily system monitoring, verifies the integrity and availability of all hardware, server resources, systems and key processes, and reviews system and application logs.
Manages the day-to-day operations of the data center and computer host systems and ensures the installation of equipment and storage of suppliers follows standard operation.
Configures the equipment and software to meet client business needs, trains the customer on the solution, and documents the solution for ongoing support.
Reviews ticketing system to ensure assigned system incidents and service request tickets are properly identified and effectively resolved in compliance with policy and service-level agreements.
Knowledge/Skills/Abilities:
Familiarity with disaster recovery planning/methodologies highly preferred
Technical Certification in Microsoft, VMWare, Cisco UCS or Citrix technologies highly preferred
Experience with Microsoft System Center (SCCM/SCOM etc.) highly preferred
Experience with virtualization technologies (Microsoft Hyper-V and VMWare) highly preferred
Experience working in a Network Operation Center or Data Center preferred
Extensive technical knowledge of current server hardware and standards (HP, Dell, and Cisco UCS)
Able to implement and manage Active Directory, network shares, printer management, and network applications
Able to manage Microsoft solutions (exchange, clustering and office suite etc.)
Able to script languages (PowerShell, vbsciprt etc.)
Able to communicate effectively with MCHS clients and staff, and build a positive working relationship
Flexible schedule working in a 24 x 7 x 365 environment, and on call rotation
Strong information gathering, proactive planning, communication, documenting & forecasting skills
Information Technology
Florida-Miami-Waterford Offices
TECHNOLOGY SERVICES-1000-921901
:Full Time
Apply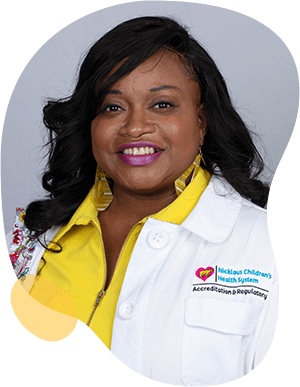 Joining a new organization can be daunting or overwhelming. But at Nicklaus, your colleagues make you feel welcomed. They taught me to celebrate our accomplishments and band together during challenging times. This is not easy to find in healthcare these days, so I'm grateful to have found an amazing place to work with people and leadership who have my well-being in mind.

Lova Renee Brunson

Manager Accreditation & Regulatory
Collaboration leads to success.
Alone we can do so little; together we can do so much. Working together, we find solutions and methods we would never find alone, and at Nicklaus Children's, we have fun doing it.
Responsibility drives us.
We all take responsibility here – for the children, their families, our work and each other. We meet our responsibilities head on and motivate each other to succeed.
Empower yourself, help others.
Nicklaus Children's encourages team members to believe in their ability to affect positive change in the world through everything they do with us.
Advocate for the right way.
Advocate for children. Advocate for families. Advocate for yourself. But most of all, advocate for getting the job done right and you will find nothing but success and support in your career here.
Transformation is growth.
At Nicklaus Children's, change is not to be feared. When you work here, you are always working with the most advanced tools and procedures available.
Empathy is everything.
We expect our team members to have empathy for the patients and families they treat, and in turn, we have empathy for them. We take care of everyone in the Nicklaus Children's family with competitive benefits and our supportive culture.
Join Our Talent Community