Office Coordinator NCPS Cardiology (Full Time, Day Shift)
NCPS-PEDIATRIC CARDIOLOGY
Florida-Miami-Nicklaus Children's Hospital - Main Hospital Campus
Miami, Florida
Requisition ID 24918
Job Summary:
Ensures efficient operation and delivery of goals for all PSA practices. Performs administrative duties and supports the PSA Leaders and team members.
Minimum Job Requirements:
Two to three years of Administrative Assistant or Secretarial experience required.
Advanced proficiency with MS office package (Word, Excel, PowerPoint, Visio, and Outlook).
ESSENTIAL JOB DUTIES:
Prepares letters, reports, spreadsheets, project plans & presentations that may be highly sensitive and confidential in nature and finalize in a timely manner to meet deadline requirements.
Participates in various meetings, prepares agendas, confirms meeting attendees, and takes minutes.  
Coordinates and follows-up on all initiatives and projects as assigned
Maintains and updates various databases, mailing lists, and directories of employees.
Resolves administrative problems by analyzing information; identifying and communicating solutions.
Verifies and submits orders for purchasing requests, IT requests, etc.
Coordinate material and schedules to meet production deadlines and budget goals.
Participates in projects and meetings, coordinating schedules, meetings and teams. Acts as organizer and ambassador for PSA for Senior Leaders, VIPs, guests, and other associates.
Updates and maintains policies, guidelines, and documents within Policy Tech systems. Ensures documents are up to date and in compliance.
Provide exceptional customer service to clients and co-workers by responding in an acceptable time frame. 
Participating in various administrative functions including processing of travel pre-approval, travel reimbursement, expense reimbursement, etc.
Knowledge/Skills/Abilities:
High school education or equivalent preferred.
Executive level administrative support preferred.
Knowledge of accounting skills.
Ability to organize and interpret data for decision making.
Ability to organize, manage, and complete complex projects and tasks with multiple parties under tight deadlines/timeframes.
Independent and strong problem solving skills.
Ability to communicate verbally and in writing.
Ability to work independently and flexibly with minimal supervision.
Able to adapt and react calmly under stressful conditions.
Able to maintain confidentiality of sensitive information.
Able to prioritize and handle multiple concurrent tasks.
Attention to detail.
Represents the department/function in a professional, courteous, and efficient manner.
Physical Demands:
Move - Move about office (to access equipment and other staff)
Speak Or Hear for clear exchange of information - Regularly Required
Use Hands To Finger, Handle, Or Feel (Manual Dexterity) - Regularly Required
Vision - Ability to adjust focus - ability to adjust the eye to bring an object into sharp focus, i.e. shifts gaze from viewing a computer monitor at a distance of several feet to forms that are closer to compare data at close vision
Vision - Close vision - ability to see clearly 20 inches or less
Work Environment:
Outdoor Weather Conditions (Cold, Heat, Wet) - Not Required
Support
Florida-Miami-Nicklaus Children's Hospital - Main Hospital Campus
NCPS-PEDIATRIC CARDIOLOGY-3100-467711
:Full Time
Apply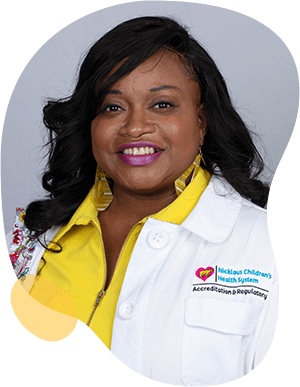 Joining a new organization can be daunting or overwhelming. But at Nicklaus, your colleagues make you feel welcomed. They taught me to celebrate our accomplishments and band together during challenging times. This is not easy to find in healthcare these days, so I'm grateful to have found an amazing place to work with people and leadership who have my well-being in mind.

Lova Renee Brunson

Manager Accreditation & Regulatory
Collaboration leads to success.
Alone we can do so little; together we can do so much. Working together, we find solutions and methods we would never find alone, and at Nicklaus Children's, we have fun doing it.
Responsibility drives us.
We all take responsibility here – for the children, their families, our work and each other. We meet our responsibilities head on and motivate each other to succeed.
Empower yourself, help others.
Nicklaus Children's encourages team members to believe in their ability to affect positive change in the world through everything they do with us.
Advocate for the right way.
Advocate for children. Advocate for families. Advocate for yourself. But most of all, advocate for getting the job done right and you will find nothing but success and support in your career here.
Transformation is growth.
At Nicklaus Children's, change is not to be feared. When you work here, you are always working with the most advanced tools and procedures available.
Empathy is everything.
We expect our team members to have empathy for the patients and families they treat, and in turn, we have empathy for them. We take care of everyone in the Nicklaus Children's family with competitive benefits and our supportive culture.
Join Our Talent Community