Operations Manager PCC (South Dade)
NCPS-PROFESSIONAL SERVICES
Florida-Miami-Nicklaus Children's Hospital - Main Hospital Campus
Miami, Florida
Requisition ID 24214
Job Summary
Manages the day-to-day operations of multiple Pediatric Care Clinics. Performs administrative, supervisory, and public relations duties. Organizes and oversees special events.

Minimum Job Requirements
3-5 years Supervisory experience in hospital or medical setting
2-4 years Physician practice or medical/clinical office experience
Essential Duties and Responsibilities
Assists Leader with managing contract approval, purchasing, and A/P processes. Maintains building fiscal documents and spreadsheet for budget requirements. Makes bank deposits as needed. Manages reports, personnel records, licenses & permits renewals for the Center and/or NCHS.
Manages staff including hiring/firing, performance reviews, staffing, Kronos, and payroll. Acts as a liaison to the TM&E department. Provides orientations for new employees and checkout process for terminated employees.
Manages and implements special events at the Primary Care Clinics and in the community on behalf of the Primary Care Services. Serves as a community outreach liaison.
Ensures patient revenues are captured accurately and posted within the time frame established by NCHS guidelines. Manages the business processes such as revenue posting, insurance verification, and point of service collections.
Manages and delegates the daily operations of the Primary Care Clinics including patient flow, customer service, ordering of supplies, coordination of needs between hospital and other centers. Ensures safety and quality standards are met. Ensures staffing needs are met.
Oversees or delegates Plant Operations work orders and process. Works with NCHS Security, Plant Operations, Environmental Services, and other support services departments to ensure a safe and comfortable environment for patients, families, and employees.
Oversees or delegates the registration process of the Centers and delegates or directly supervises the Registrars and office support staff. Provides training, coaching, counseling, and mediation as necessary to ensure PCC staff works effectively and efficiently. Provides training and/or coordination of training on general office procedures, registration, scheduling, and customer service.
Resolves patient complaints and related issues. Serves as liaison between patients, physicians, and departments.
Manages or delegates referral process to ensure timely turn around for patient needs.
Continuously evaluate operations and implement process improvements that reduce or eliminate waste and increase efficiency, quality, safety, satisfaction, and cost-effectiveness. Promotes/practice cost containment.
Assists Leader in leading and executing on the strategy for Primary Care Services.
Ensures the assigned Primary Care Clinics meet customer satisfaction metrics.
Assists Leader in budget development and ensures budget for the assigned clinics is met.
Incentivizes and keeps staff engaged throughout operations and changes; coaches and promotes staff as needed.
Knowledge/Skills/Abilities
Bachelor's degree in Healthcare, Business Administration, or related field preferred.
Knowledge of financial systems, automated processes, and ambulatory health care services.
Able to react effectively to unplanned circumstance and demands in a clinical service environment.
Able to relate cooperatively and constructively with customers, physicians, patients, families, staff members, and other NCHS personnel.
Able to understand health care operations and regulations involved in the oversight of day-to day clinic operations.
Working knowledge of insurance industry practices including Medicaid, Managed Care, and other third party payers.
Excellent written and verbal communication and organizational skills.
Able to delegate to supervisors or coordinators to ensure continuity of effective operations while away from the office.
Knowledge of budget process and appropriate management techniques to ensure budgets are met.
Able to engage and inspire staff to adopt process changes.
(EOE DFW)
Management
Florida-Miami-Nicklaus Children's Hospital - Main Hospital Campus
NCPS-PROFESSIONAL SERVICES-3100-490000
:Full Time
Apply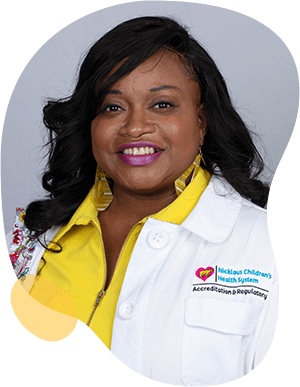 Joining a new organization can be daunting or overwhelming. But at Nicklaus, your colleagues make you feel welcomed. They taught me to celebrate our accomplishments and band together during challenging times. This is not easy to find in healthcare these days, so I'm grateful to have found an amazing place to work with people and leadership who have my well-being in mind.

Lova Renee Brunson

Manager Accreditation & Regulatory
Collaboration leads to success.
Alone we can do so little; together we can do so much. Working together, we find solutions and methods we would never find alone, and at Nicklaus Children's, we have fun doing it.
Responsibility drives us.
We all take responsibility here – for the children, their families, our work and each other. We meet our responsibilities head on and motivate each other to succeed.
Empower yourself, help others.
Nicklaus Children's encourages team members to believe in their ability to affect positive change in the world through everything they do with us.
Advocate for the right way.
Advocate for children. Advocate for families. Advocate for yourself. But most of all, advocate for getting the job done right and you will find nothing but success and support in your career here.
Transformation is growth.
At Nicklaus Children's, change is not to be feared. When you work here, you are always working with the most advanced tools and procedures available.
Empathy is everything.
We expect our team members to have empathy for the patients and families they treat, and in turn, we have empathy for them. We take care of everyone in the Nicklaus Children's family with competitive benefits and our supportive culture.
Join Our Talent Community