Orthopedic Tech (Full Time, Day shift)
NCPS-ORTHOPEDICS & SUPPORT
Florida-Miami-Nicklaus Children's Hospital - Main Hospital Campus
Miami, Florida
Requisition ID 25543
Job Summary
Performs surgical and non-surgical orthopedic procedures under the direction of the Leader or Physician.
Minimum Job Requirements
Previous work experience in a hospital, clinic, or medical office providing direct orthopedic technology care to patients (OR) completion of Technical Orthopedic Technologist program.
Essential Duties and Responsibilities
Applies, adjusts, and removes all common orthopedic devices.

Assists physicians and performs patient care activities as scheduled or as needed.

Cleans equipment after each use and maintains a safe and clean work environment.

Completes assigned patients rounds in a timely manner.

Completes program-related documentation according to departmental guidelines.

Apply, modify, and remove upper and lower extremity casts.

Exhibits aseptic techniques in dressing change, removal of sutures or staples, and setting up surgical fields and functional application of skin and skeletal traction.

Enters charges, required patient information, and other data into the computer in an accurate and timely manner according to departmental guidelines.

Establishes and maintains effective communication and reporting relationships with the Chief Orthopedic Technologist.

Interprets, with guidance and supervision, simple fractures and dislocations on x-ray films.

Performs in an operating room environment under the direct supervision of a surgeon.
Knowledge/Skills/Abilities
Certified by NAOT or eligible for certification highly preferred.

CPR: HeartSaver highly preferred.

Completed orthopedic technologist training preferred.

Ability to apply casts with appropriate molding as per standard protocol or as directed by Practitioner.

Ability to apply the following: clubfoot cast, shoulder spica, hip spica, etc.

Ability to apply/set up skeletal/skin traction.

Ability to organize and prioritize routines to maximize effectiveness and efficiency.

Ability to problem solves to adapt standard procedures to the individual client's needs.

Interpret, adapt and react calmly under stressful conditions.

Ability to relate cooperatively and constructively with patients, families and co-workers.

Excellent oral and written communication skills.

Able to maintain confidentiality of sensitive information.

Knowledge of cast wedging as directed by practitioner.
(EOE DFW)
2/9/16
Support
Florida-Miami-Nicklaus Children's Hospital - Main Hospital Campus
NCPS-ORTHOPEDICS & SUPPORT-3100-466790
:Full Time
Apply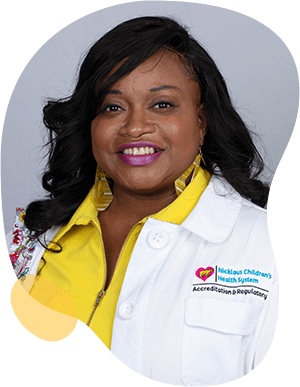 Joining a new organization can be daunting or overwhelming. But at Nicklaus, your colleagues make you feel welcomed. They taught me to celebrate our accomplishments and band together during challenging times. This is not easy to find in healthcare these days, so I'm grateful to have found an amazing place to work with people and leadership who have my well-being in mind.

Lova Renee Brunson

Manager Accreditation & Regulatory
Collaboration leads to success.
Alone we can do so little; together we can do so much. Working together, we find solutions and methods we would never find alone, and at Nicklaus Children's, we have fun doing it.
Responsibility drives us.
We all take responsibility here – for the children, their families, our work and each other. We meet our responsibilities head on and motivate each other to succeed.
Empower yourself, help others.
Nicklaus Children's encourages team members to believe in their ability to affect positive change in the world through everything they do with us.
Advocate for the right way.
Advocate for children. Advocate for families. Advocate for yourself. But most of all, advocate for getting the job done right and you will find nothing but success and support in your career here.
Transformation is growth.
At Nicklaus Children's, change is not to be feared. When you work here, you are always working with the most advanced tools and procedures available.
Empathy is everything.
We expect our team members to have empathy for the patients and families they treat, and in turn, we have empathy for them. We take care of everyone in the Nicklaus Children's family with competitive benefits and our supportive culture.
Join Our Talent Community