Outpatient Therapist - Intensive Outpatient Program (Full Time, Day Shift)
INTENSIVE OUTPATIENT PROGRAM
Florida-Miami-Nicklaus Children's Hospital - Main Hospital Campus
Miami, Florida
Requisition ID 23082
Job Summary

Provides behavioral individual and/or family therapy through the outpatient clinic, under the supervision of the Chief Psychologist. Responsible for supporting and facilitating the IOP Program.
Minimum Job Requirements
Master's Degree Behavioral Healthcare field (Required)
CPI - Crisis Prevention Institute (Crisis Intervention Training) – maintain active and in good standing throughout employment. required within 7 days of hire date.
CPR BLS -American Heart Association – Maintain active and in good standing throughout employment - required within 7 days of hire date.
Level II Background Check and Affidavit of Good Moral Character.
Knowledge, Skills, and Abilities
Prior experience in individual, group, and family therapy with a pediatric population preferred.
Able to relate cooperatively and constructively with patients, families, and co-workers.
Ability to communicate effectively both verbally and in writing.
Able to maintain confidentiality of sensitive information.
Ability to interpret, adapt, and react calmly under stressful conditions.
Ability to problem solve to formulate a plan for treatment, education, or nutrition.
Able to evaluate the patient's response to the implementation of the plan.
Demonstrates expert knowledge and skills necessary to provide care appropriate to the age of the patients served on the assigned unit/area.
Job Specific Duties
Counsel and educate patients and families.
Create and sustain a therapeutic and ethically sound relationship with patients.
Facilitate inpatient process groups (adolescent process group/children's process group).
Acts as a liaison and maintains contacts with outside agencies for continuity of care.
Contacts parents of patients to coordinate follow up family therapy appointments.
Completes an initial psychosocial evaluation including a DSM-IV diagnosis, clinical observations, and recommendations in the form of a treatment plan.
Completes documentation and progress notes immediately after each visit. Documentation is reflective of the patients' treatment goals and response to therapy.
Informs Chief Psychologist of patient care concerns.
Provides assigned psychological treatments and assessment procedures.
Provides evidence based care to patients and families.
Works effectively with physicians and other health care professionals as a member or leader of a health care treatment team or other professional group.
Perform individual assessments for each patient for IOP program.
Group leader for IOP Program Adolescent process group, Movement group, and Multi-Family Group.
Completes clinical documentation (H&P, notes, results, etc.) for IOP groups and daily patient check-ins accurately and in a timely manner of 24 hours.
Documents within the scope of practice all electronic medical record (EMR) meaningful use required fields in an effort to optimize utilization.
Provides mentoring in precepting Psych students; actively provides feedback and detailed description of areas.
Attends team, Psychiatry team, and case review meetings.
Accountable to follow all Infection Control standards and practices per MCHS policy & procedures to ensure safe patient care.
Provides education to patient/families on the continuing plan of care to include reviewing therapeutic follow up treatment plan; updates patient/families daily on Plan of Care (POC).
Provides continuous supervision, observation of behavioral health patients, and adheres to non-violent crisis intervention strategies (CPI).
Rehab/Therapy
Florida-Miami-Nicklaus Children's Hospital - Main Hospital Campus
INTENSIVE OUTPATIENT PROGRAM-2100-631000
:Full Time
Apply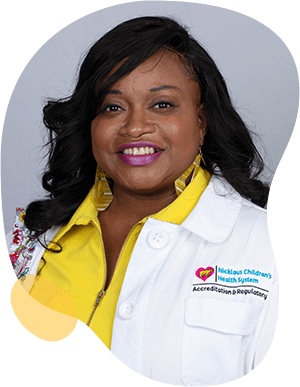 Joining a new organization can be daunting or overwhelming. But at Nicklaus, your colleagues make you feel welcomed. They taught me to celebrate our accomplishments and band together during challenging times. This is not easy to find in healthcare these days, so I'm grateful to have found an amazing place to work with people and leadership who have my well-being in mind.

Lova Renee Brunson

Manager Accreditation & Regulatory
Collaboration leads to success.
Alone we can do so little; together we can do so much. Working together, we find solutions and methods we would never find alone, and at Nicklaus Children's, we have fun doing it.
Responsibility drives us.
We all take responsibility here – for the children, their families, our work and each other. We meet our responsibilities head on and motivate each other to succeed.
Empower yourself, help others.
Nicklaus Children's encourages team members to believe in their ability to affect positive change in the world through everything they do with us.
Advocate for the right way.
Advocate for children. Advocate for families. Advocate for yourself. But most of all, advocate for getting the job done right and you will find nothing but success and support in your career here.
Transformation is growth.
At Nicklaus Children's, change is not to be feared. When you work here, you are always working with the most advanced tools and procedures available.
Empathy is everything.
We expect our team members to have empathy for the patients and families they treat, and in turn, we have empathy for them. We take care of everyone in the Nicklaus Children's family with competitive benefits and our supportive culture.
Join Our Talent Community