Patient Access Trainer - NCPS (Full Time, Day shift)
NCPS-PROFESSIONAL SERVICES
Florida-Miami-Nicklaus Children's Hospital - Main Hospital Campus
Miami, Florida
Requisition ID 25731
Job Summary
The NCPS Patient Access Trainer is responsible for training front-end staff on revenue-cycle and operational activities to ensure streamlined and efficient departmental operations for the entire physician group. The trainer will partner with operational leaders to create standard work and processes for all front-end Patient Access positions and performs quality assurance audits to ensure efficient operations. The trainer will train staff across departments/campuses and provides real time feedback to staff and leadership. The trainer will provide monthly leadership level summary of results from audits including action plans to elevate performance.
Job Specific Duties
Serves as a subject matter expert, resource, and trainer to all front-end Patient Access Services (PAS) staff for the entire physician group.

Completes side-by-side training and development of auditing & training tools aimed at enhancing NCPS access to care, throughput, and revenue cycle performance.

Creates Standard Work on front-end job duties with detailed knowledge of all systems, software and workflows in which patients are processed.

Acts as liaison between front-end departments and leadership team to provide resolution to issues that come up.

Performs audits on front-end workflows. Scores interactions according to standard approach; assesses & aggregates data for opportunity.

Participates in design sessions centered on advancing and increasing margin.

Work with leadership to drive results on key areas of focus for improvement, and provides monthly summary of progress.

Conducts random audits within specified timelines and individually manages completion of the target number of audits required per Access/front-end staff member.

Reviews scheduling, registration, and authorization encounters utilizing NCPS Standard Work and guidelines to ensure that quality/adherence policies & procedures are being met.

Compiles and tracks performance at team and individual levels.

Analyzes and prepares internal/external quality reports for management that identifies & communicates trends & areas of opportunity for individuals, specific teams, & NCPS department.

Adjusts quality auditing tool in a dynamic manner based on achievement of desired performance outcomes and the need to more closely monitor areas where performance is subpar to expectations.

Prepares monthly summaries for Access Center leadership to assist with their ability to communicate with individual employees.

Participates as a core team member in process improvement sessions to advance the design of the quality performance systems, training, tools, and processes.

Provides data analytics in process improvement sessions to drive scope and success criteria of initiatives in alignment with division strategy.

Participates in live call shadowing sessions to hear firsthand the needs and expectations of patients.

Provides ad hoc data as requested that is presented in an actionable format.

Participates in projects associated with increasing margin as well as elevating the quality of service to both internal and external customers.

Collaborates with leaders to aggregate statistics, and ensures data accuracy of system reports by verifying, testing, and validating with IT department.

Completes financial projects for Access leaders to monitor department productivity, key performance indicators, and volumes.
Minimum Job Requirements
1-3 years of experience in Patient Access services in a physician office setting, including but not limited to, obtaining authorizations, insurance verification/scheduling techniques.




Prior experience with designing and delivering training or customer service analytics




Basic proficiency in Microsoft Word, Excel, PowerPoint and Outlook
Knowledge, Skills, and Abilities
Bachelor's degree preferred.




Strategic planning and analytic skills.




Excellent problem solving and service recovery skills.




Ability to work in a fast paced environment.




Strong organization, multi-tasking, planning and time management skills in order to manage multiple projects.




Strong interpersonal, organizational, and presentation skills with the ability to work independently under minimal supervision and collaboratively across functions with a results-driven orientation.




Dynamic learner, results oriented.




Exceptional listening and analytical skills.




Ability to influence and support leaders to implement best practices.




System savvy, particularly with automated data collection and reporting.




Excellent verbal, written, professional communication skills.




Highly collaborative team player with strong sense of initiative.




Alternative teaching methods that enhances user learning.




Discretion in handling confidential information.
Clerical/Administrative
Florida-Miami-Nicklaus Children's Hospital - Main Hospital Campus
NCPS-PROFESSIONAL SERVICES-3100-490000
:Full Time
Apply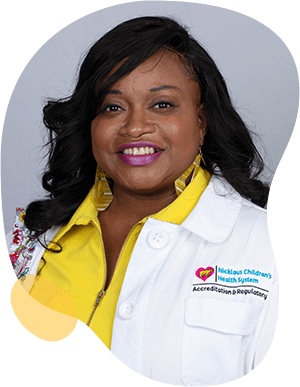 Joining a new organization can be daunting or overwhelming. But at Nicklaus, your colleagues make you feel welcomed. They taught me to celebrate our accomplishments and band together during challenging times. This is not easy to find in healthcare these days, so I'm grateful to have found an amazing place to work with people and leadership who have my well-being in mind.

Lova Renee Brunson

Manager Accreditation & Regulatory
Collaboration leads to success.
Alone we can do so little; together we can do so much. Working together, we find solutions and methods we would never find alone, and at Nicklaus Children's, we have fun doing it.
Responsibility drives us.
We all take responsibility here – for the children, their families, our work and each other. We meet our responsibilities head on and motivate each other to succeed.
Empower yourself, help others.
Nicklaus Children's encourages team members to believe in their ability to affect positive change in the world through everything they do with us.
Advocate for the right way.
Advocate for children. Advocate for families. Advocate for yourself. But most of all, advocate for getting the job done right and you will find nothing but success and support in your career here.
Transformation is growth.
At Nicklaus Children's, change is not to be feared. When you work here, you are always working with the most advanced tools and procedures available.
Empathy is everything.
We expect our team members to have empathy for the patients and families they treat, and in turn, we have empathy for them. We take care of everyone in the Nicklaus Children's family with competitive benefits and our supportive culture.
Join Our Talent Community