Patient Representative (Full Time, Day Shift)
PATIENT & GUEST SERVICES
Florida-Miami-Nicklaus Children's Hospital - Main Hospital Campus
Miami, Florida
Requisition ID 23496
Job Summary:
Supports Miami Children's Health System service excellence initiatives by working with leaders and supporting their service improvement action plans. Interacts with customers as unbiased facilitators, and assists department leaders in the resolution of concerns/complaints/grievances. Performs daily rounding with area leaders for customer service and customer service recovery opportunities. Provides comfort care to patients and families.
Minimum Job Requirements:
3 years of working experience dealing with patients and families in a customer service healthcare environment.
Job Specific Duties:
Responds to emails and telephone messages in a helpful, proactive, and timely manner, and documents concerns/complaints addressed on daily logs within 24 hours of receipt.
Enters customers' demographics and next steps in the Client Relations Management System for each customer complaint phone call.
Communicates information regarding Miami Children's Health System services, and presents and/or interprets policy and procedures information to customers.
Documents all interaction with patients on daily rounding logs; notates all patient complaints, grievances, and/or compliments in accordance with MCHS policy and procedure guidelines. 
Follows up with appropriate staff to ensure all concerns and complaints are addressed in a timely fashion and follow up is done to ensure complaint closure.
Makes daily rounds of assigned patient units/waiting areas; visits and greets every patient room in unit; meets with all new admissions; maintains objectivity, and keeps lines of communication open.
Maintains visibility to staff; works cooperatively with staff in a supportive ­way exemplifying "CREATE" behaviors in order to troubleshoot and quickly resolve issues
Notifies hospital staff, directors, and administration of problems or complaints as needed, and reports unusual events regarding patient care issues on a timely basis to Risk Management.
Meets regularly with the units' directors, participates in one department meeting a month in the unit, and facilitates customer service support.
Acts as a service excellence champion, reviews assigned units' customer service target goals and priority questions, and shares best practices with staff and unit director.
Prepares packages, puts together agenda, and takes minutes at Grievance Task Force meeting.
Collects data, and prepares weekly, monthly, and quarterly complaints/grievances reports for the organization.
Participates in the planning, and prepares quarterly patient satisfaction celebrations and annual employee service recognition awards.
Common Duties:
Maintains accountability by ensuring compliance thru timely completion of licensures, certifications, all competencies, health requirements (PPD, N95, Flu, etc.), and education requirements.
Maintains accountability and timekeeping expectations as outlined by MCHS Timekeeping and Attendance policy and procedures.  Ensures behavior is compliant with communication standards.
Ensures behavior meets and/or exceeds targeted service scores as measured by the Service Index and/or the inter-departmental service survey.
Knowledge/Skills/Abilities:
Associate degree in a related field preferred.
Intermediate proficiency in Microsoft Word, Excel, and Outlook.
Working experience in thinking and reacting quickly, calmly and in a pleasant manner when dealing with people in stressful situations.
Able to communicate effectively in English both verbally and in writing in a clear, concise, and empathetic way.
Able to communicate effectively in Spanish and/or other languages both verbally and in writing in a clear, concise, and empathetic way.
Able to listen carefully, request feedback from customers, and confirm understanding is accurate.
Displays a professional appearance, and presents themselves as a role model to the Miami Children's Health System staff.
Knowledge of Patient Rights and Responsibilities Chapter, and other applicable laws.
Possesses awareness of hospital systems and procedures, location of all departments, treatment areas, and other patient services.
Possess awareness and sensitivity of cultural diversity.
Able to relate cooperatively and constructively with customers and co-workers.
Able to learn work related software application(s), and effectively use them.
Able to maintain confidentiality of sensitive information.
Able to follow complex written and/or verbal instructions to solve problems.
Able to establish necessary professional relationships, and interact effectively with internal and external customers.
(EOE DFW)
8/8/17
Professional
Florida-Miami-Nicklaus Children's Hospital - Main Hospital Campus
PATIENT & GUEST SERVICES-2100-868001
:Full Time
Apply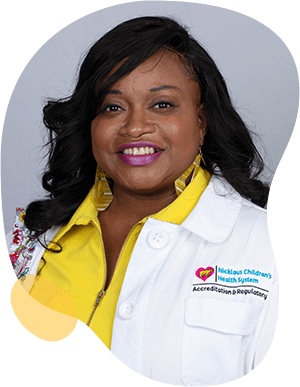 Joining a new organization can be daunting or overwhelming. But at Nicklaus, your colleagues make you feel welcomed. They taught me to celebrate our accomplishments and band together during challenging times. This is not easy to find in healthcare these days, so I'm grateful to have found an amazing place to work with people and leadership who have my well-being in mind.

Lova Renee Brunson

Manager Accreditation & Regulatory
Collaboration leads to success.
Alone we can do so little; together we can do so much. Working together, we find solutions and methods we would never find alone, and at Nicklaus Children's, we have fun doing it.
Responsibility drives us.
We all take responsibility here – for the children, their families, our work and each other. We meet our responsibilities head on and motivate each other to succeed.
Empower yourself, help others.
Nicklaus Children's encourages team members to believe in their ability to affect positive change in the world through everything they do with us.
Advocate for the right way.
Advocate for children. Advocate for families. Advocate for yourself. But most of all, advocate for getting the job done right and you will find nothing but success and support in your career here.
Transformation is growth.
At Nicklaus Children's, change is not to be feared. When you work here, you are always working with the most advanced tools and procedures available.
Empathy is everything.
We expect our team members to have empathy for the patients and families they treat, and in turn, we have empathy for them. We take care of everyone in the Nicklaus Children's family with competitive benefits and our supportive culture.
Join Our Talent Community