Pediatric Social Worker (Full-Time, Days)
PATIENT/FAMILY SERVICES
Florida-Miami-Nicklaus Children's Hospital - Main Hospital Campus
Miami, Florida
Requisition ID 20216
Job Summary:
Provides social work services to pediatric patients and families. Maximizes the benefit of health care services provided and enhances adjustments to diagnosis, prognosis, treatment, and transition to the patient's home and community.
Minimum Job Requirements:
Master's Degree in Social Work required.
Experience in a pediatric health care related setting required.
CPR: HeartSaver in good standing and active throughout employment.
Job Specific Duties:
Completes in-depth psychosocial assessments and formulates plans to include clinical impressions, establishing relationships with families, and providing therapeutic interventions
Conducts initial pre-screenings within 24 hours of admission for patient discharge needs. In collaboration with the multidisciplinary team, implements safe and timely discharge planning.
Documents inpatient's Electronic Health Record within 24 hours; completes initial assessments and follow-up notes; generates diverse social work activity reports.
Makes decisions in a self-directed manner, consults with supervisor on complex cases, and discusses cases with peers.  
Effectively manages caseload while prioritizing cases based on urgency and impact. Documents all assessments within 24 hours of admission. Thoroughly presents and transfers case information.
Participates in diverse departmental or hospital projects/activities, committees, initiatives and support/educational groups.
Responds promptly to crisis situations. Thoroughly addresses end of life concerns, completes death packet, refers to life alliance, and assists families with funeral resources.
Accountable to take lead on trauma, child abuse, and domestic violence cases. Reports cases to appropriate community agencies for further investigation per hospital policies.
Prioritizes and completes assigned medical service/unit caseload as well as off service case assignments and assists with departmental staffing/scheduling needs. Responsible to take on-call duties.
Responds and assists to requests for information/referrals. Serves as a resource to families and team members regarding social work services and community agencies.
Participates in the orientation of new social workers, interns, bereavement volunteers and multidisciplinary team members. Serves as a field instructor for social work interns.
Common Duties:
Maintains accountability by ensuring compliance thru timely completion of licensures, certifications, all competencies, health requirements (PPD, N95, Flu, etc.), and education requirements.
Maintains accountability and timekeeping expectations as outlined by MCHS Timekeeping and Attendance policy & procedures. Ensures behavior is compliant with communication standards.

Ensures behavior meets and/or exceeds targeted service scores as measured by the Service Index and/or the internal departmental service survey.
Knowledge/Skills/Abilities:
1 year internship or work experience in an acute health care related field; social work setting highly preferred. 
Ability to adapt and react calmly in stressful situations.
Performs and completes assessments according to departmental policy and procedure.
Previous training focusing on end of life decisions, grief, and bereavement. 
Expertise in crisis intervention and risk assessment preferred. 
Ability to demonstrate strong patient and family advocacy skills.
Expertise in pediatric growth and development preferred.
Expertise in coordinating and facilitating support groups.
Knowledge of diverse cultural and spiritual perspectives regarding death and bereavement.
Knowledge of community resource systems, diverse treatment approaches, Florida state laws regarding child abuse and domestic violence, Baker Act procedures, HIV/AIDS related guidelines, and Social Work theories and practices.
Ability to maintain confidentiality of sensitive information.

Ability to communicate effectively in English and Spanish both verbally and in writing.
(EOE DFW)
5/22/17
Social Work
Florida-Miami-Nicklaus Children's Hospital - Main Hospital Campus
PATIENT/FAMILY SERVICES-2100-864000
:Full Time
Apply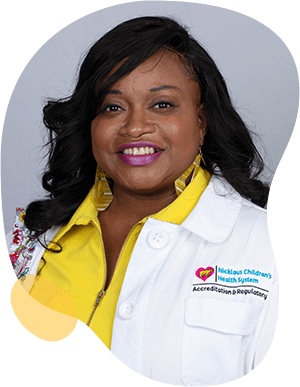 Joining a new organization can be daunting or overwhelming. But at Nicklaus, your colleagues make you feel welcomed. They taught me to celebrate our accomplishments and band together during challenging times. This is not easy to find in healthcare these days, so I'm grateful to have found an amazing place to work with people and leadership who have my well-being in mind.

Lova Renee Brunson

Manager Accreditation & Regulatory
Collaboration leads to success.
Alone we can do so little; together we can do so much. Working together, we find solutions and methods we would never find alone, and at Nicklaus Children's, we have fun doing it.
Responsibility drives us.
We all take responsibility here – for the children, their families, our work and each other. We meet our responsibilities head on and motivate each other to succeed.
Empower yourself, help others.
Nicklaus Children's encourages team members to believe in their ability to affect positive change in the world through everything they do with us.
Advocate for the right way.
Advocate for children. Advocate for families. Advocate for yourself. But most of all, advocate for getting the job done right and you will find nothing but success and support in your career here.
Transformation is growth.
At Nicklaus Children's, change is not to be feared. When you work here, you are always working with the most advanced tools and procedures available.
Empathy is everything.
We expect our team members to have empathy for the patients and families they treat, and in turn, we have empathy for them. We take care of everyone in the Nicklaus Children's family with competitive benefits and our supportive culture.
Join Our Talent Community