PeopleSoft Specialist
FINANCIAL SYSTEMS
Florida-Miami-Waterford Offices
Miami, Florida
Requisition ID 22870
Job Summary
Provides first level system technical support for assigned PeopleSoft HCM modules including Compensation, Benefits, e-Performance, Payroll and HR modules by gathering business requirements, configuring modules, and maintaining system using a variety of technologies. Develops system-wide queries and builds interfaces & reports to support information management needs.
Job Specific Duties
Provides first level system technical support of Payroll and HR modules in PeopleSoft ERP system by working with end users.

Develops system-wide queries to support information management needs.

Provides support for assigned applications using a variety of technologies. Assesses plans and works with PeopleSoft Analysts to design, implement, and maintain Payroll and HR modules.

Adheres to IT standards and implements appropriate security safeguards in report development in order to maintain confidentiality and privacy of information.

Assists project leader and department leadership in establishing project team goals, objectives & budget and identifies, coordinates, and acquires resources to reach them.

Assists users and IT personnel with training and development of user documentation.

Prepares complete test plans and test methodologies.

Serves as an internal consultant for systems supported.

Provides ongoing troubleshooting and internal support for HCM modules specifically for the TM&E department and payroll modules for the Payroll department.

Creates technical design document based on functional design.

Responsible for workflow automation, integration, and building interfaces & reports using SQR & XML.
Minimum Job Requirements
1 year of developer experience

1 year of SQL reporting experience
Knowledge, Skills, and Abilities
1 year experience in development, design, implementation, and support of PeopleSoft HRMS including Core HR, 

Benefits, Admin, and/or Payroll highly preferred.

Knowledge of PeopleSoft HCM including HR, PY, BN, CS, and EP modules.

Knowledge of  technical tools delivered by PeopleSoft including App Designer, People Code, App engine, CI, IB, SQR, etc preferred.

Taleo Connect Client (TCC) knowledge preferred.

Healthcare experience is highly desired.

Able to communicate effectively, both verbally and in writing.

Able to work effectively on project teams.

Excellent time management skills.

Able to maintain confidentiality of sensitive information.
Information Technology
Florida-Miami-Waterford Offices
FINANCIAL SYSTEMS-1000-921916
:Full Time
Apply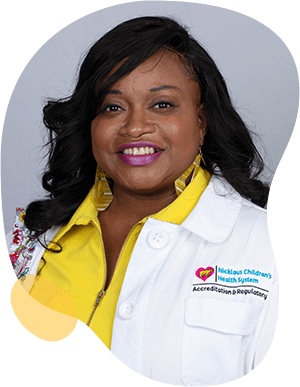 Joining a new organization can be daunting or overwhelming. But at Nicklaus, your colleagues make you feel welcomed. They taught me to celebrate our accomplishments and band together during challenging times. This is not easy to find in healthcare these days, so I'm grateful to have found an amazing place to work with people and leadership who have my well-being in mind.

Lova Renee Brunson

Manager Accreditation & Regulatory
Collaboration leads to success.
Alone we can do so little; together we can do so much. Working together, we find solutions and methods we would never find alone, and at Nicklaus Children's, we have fun doing it.
Responsibility drives us.
We all take responsibility here – for the children, their families, our work and each other. We meet our responsibilities head on and motivate each other to succeed.
Empower yourself, help others.
Nicklaus Children's encourages team members to believe in their ability to affect positive change in the world through everything they do with us.
Advocate for the right way.
Advocate for children. Advocate for families. Advocate for yourself. But most of all, advocate for getting the job done right and you will find nothing but success and support in your career here.
Transformation is growth.
At Nicklaus Children's, change is not to be feared. When you work here, you are always working with the most advanced tools and procedures available.
Empathy is everything.
We expect our team members to have empathy for the patients and families they treat, and in turn, we have empathy for them. We take care of everyone in the Nicklaus Children's family with competitive benefits and our supportive culture.
Join Our Talent Community