Perfusionist- Operating Room (Full Time, Day shift)
OPERATING ROOM
Florida-Miami-Nicklaus Children's Hospital - Main Hospital Campus
Miami, Florida
Requisition ID 25802
Job Summary
Provides perfusion coverage for all open heart procedures, stand by on all closed heart procedures, and stand by for the Cardiac Cath Lab. Available for ECMO start-up and trouble shooting and CPS. Acts as educator in areas when needed.
Minimum Job Requirements:
Bachelor's Degree Graduate from an accredited perfusion school of Science in perfusion technology or equivalent degree
CPR BLS -American Heart Association BLS American Heart Association (AHA) BLS - must maintain active and in good standing throughout employment.
OTHER Eligible to sit for national boards or actively pursuing certification (CCP), if not already certified
Essential Job Duties:
 Provides perfusion coverage per perfusion policy & guidelines for all open heart procedures, stand by on all closed heart procedures, & stand by for the Cardiac Cath Lab.
 Available for Extracorporeal Membrane Oxygenation (ECMO) start-up and trouble shooting and Cardiopulmonary support (CPS). 
 Assists in submitting data for yearly departmental capital and operating budget process to secure updated equipment.
 Calculates and administers medications to patient per the perfusion drug administration policy.
 Completes patient assessment and documents appropriately on perfusion record; completes appropriate records during operative procedures utilizing the pre-bypass checklist.
 Coordinates and participates in the training of students, staff, and peers.
 Coordinates, evaluates, and adjusts specifics of care with staff, physicians, and supporting personnel.
 Maintains departmental policies and procedures for area of specialty.
 Orders, restocks, and inventories supplies and maintains perfusion equipment and supplies. 
 Performs handoff to incoming/outgoing perfusionist to ensure continuity of care and safety goals are maintained.
 Collaborates with a multi-disciplinary team in daily care planning, as appropriate, and fosters a Family Centered Care Environment.
 Follows physician's orders, administers to the field, and adheres to six rights of medication administration per medication administration policy.
 Monitors patient vitals. Maintains targeted hemodynamics in accordance with perfusion safety policy.
 Communicates and documents critical lab results per Health System policy and procedures.
Knowledge/Skills/Abilities:
2 years of experience in perfusion preferred
Ability to relate cooperatively and constructively with patients, families and co-workers
Ability to apply principles of evidence-based practice, analytical thinking and service excellence in practice
Effective oral and written communication skills
Able to maintain confidentiality of sensitive information
Able to interpret, adapt, and react calmly under stressful conditions
Ability to positively influence, hold self and others accountable
Able to work effectively in collaborative environment
(EOE DFW)
4/9/18
Professional
Florida-Miami-Nicklaus Children's Hospital - Main Hospital Campus
OPERATING ROOM-2100-760000
:Full Time
Apply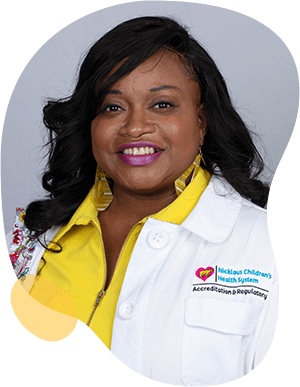 Joining a new organization can be daunting or overwhelming. But at Nicklaus, your colleagues make you feel welcomed. They taught me to celebrate our accomplishments and band together during challenging times. This is not easy to find in healthcare these days, so I'm grateful to have found an amazing place to work with people and leadership who have my well-being in mind.

Lova Renee Brunson

Manager Accreditation & Regulatory
Collaboration leads to success.
Alone we can do so little; together we can do so much. Working together, we find solutions and methods we would never find alone, and at Nicklaus Children's, we have fun doing it.
Responsibility drives us.
We all take responsibility here – for the children, their families, our work and each other. We meet our responsibilities head on and motivate each other to succeed.
Empower yourself, help others.
Nicklaus Children's encourages team members to believe in their ability to affect positive change in the world through everything they do with us.
Advocate for the right way.
Advocate for children. Advocate for families. Advocate for yourself. But most of all, advocate for getting the job done right and you will find nothing but success and support in your career here.
Transformation is growth.
At Nicklaus Children's, change is not to be feared. When you work here, you are always working with the most advanced tools and procedures available.
Empathy is everything.
We expect our team members to have empathy for the patients and families they treat, and in turn, we have empathy for them. We take care of everyone in the Nicklaus Children's family with competitive benefits and our supportive culture.
Join Our Talent Community