Physical Therapist - Palmetto Bay Outpatient Ctr. (Part Time, Day Shift, w/Benefits)
PALMETTO BAY PHYSICAL THERAPY
Florida-Miami-Palmetto Bay
Miami, Florida
Requisition ID 22718
Job Summary
Responsible for the evaluation, re-evaluation, development, and implementation of a plan of care in accordance with the departmental policies and procedures and preferred practice patterns.
Minimum Job Requirements
Bachelor's Degree in Physical Therapy

CPR

BLS -American Heart Association

-

maintain active and in good standing throughout employment

Florida

Professional Physical Therapist license - maintain active and in good standing throughout employment

Level II Finger printing background and Good Moral Character Affidavit must be initiated within 15 days of hire date and finalized within 90 days of hire date
**** Generous Sign On Bonus
Essential Duties and Responsibilities
Maintains and documents productivity standards set by the Rehabilitative Services Director.

Records daily patient documentation, statistics, and charges according to departmental standards.

Develops a Plan of Care outlining area of deficit, target activity, context, assistance needed, functional, realistic, and measurable goal(s), and/or status ongoing goal(s).

Recommends and provides treatment based upon medical, clinical, functional, and observational findings.

Follows TRAAC. Initiates, documents, & prepares the patient/family for discharge at the time of the evaluation based on maximum potential and/or when benefit of therapy is reached.

Continually documents active &supportive education with the patient, parents, and others concerned, regarding progress, problems, home programs, & other issues related to the therapeutic process.

Maintains ongoing continuing education to maintain professional licensure and clinical excellence.

Supervises Assistants, Rehabilitation Aides, and others (i.e., interns/students) according to experience.
Knowledge/Skills/Abilities
Masters or Doctoral degree preferred

APTA and FAPTA memberships highly recommended

Pediatric Internship highly preferred.

2 years minimum of pediatric experience preferred.

Ability to appropriately interact with patients, parents/guardians and other health care professionals in all work related situations.

Ability to communicate effectively both verbally and in writing.

Able to maintain confidentiality of sensitive information.

At least 2 years of experience necessary to treat infants (0-15 months) independently as determined by meeting departmental clinical competencies established for physical therapy.

Able to relate cooperatively and constructively with patients, families and co-workers.

Ability to problem solve to formulate a plan of care and evaluate the patient's response to care.

Ability to interpret, adapt and react calmly under stressful conditions.

Serve as clinical instructor for students assigned by CCCE after 2 years of clinical experience.
Updated 7-2-2015
Rehab/Therapy
Florida-Miami-Palmetto Bay
PALMETTO BAY PHYSICAL THERAPY-2100-510728
:Part Time with Benefits
Apply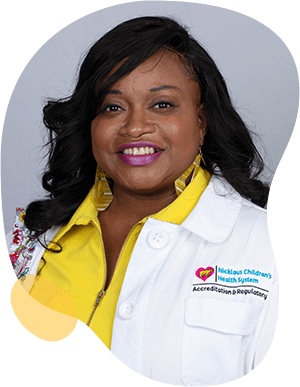 Joining a new organization can be daunting or overwhelming. But at Nicklaus, your colleagues make you feel welcomed. They taught me to celebrate our accomplishments and band together during challenging times. This is not easy to find in healthcare these days, so I'm grateful to have found an amazing place to work with people and leadership who have my well-being in mind.

Lova Renee Brunson

Manager Accreditation & Regulatory
Collaboration leads to success.
Alone we can do so little; together we can do so much. Working together, we find solutions and methods we would never find alone, and at Nicklaus Children's, we have fun doing it.
Responsibility drives us.
We all take responsibility here – for the children, their families, our work and each other. We meet our responsibilities head on and motivate each other to succeed.
Empower yourself, help others.
Nicklaus Children's encourages team members to believe in their ability to affect positive change in the world through everything they do with us.
Advocate for the right way.
Advocate for children. Advocate for families. Advocate for yourself. But most of all, advocate for getting the job done right and you will find nothing but success and support in your career here.
Transformation is growth.
At Nicklaus Children's, change is not to be feared. When you work here, you are always working with the most advanced tools and procedures available.
Empathy is everything.
We expect our team members to have empathy for the patients and families they treat, and in turn, we have empathy for them. We take care of everyone in the Nicklaus Children's family with competitive benefits and our supportive culture.
Join Our Talent Community