Physician Assistant - Lead/Educator Emergency Dept (Full Time, Variable Shifts)
NCPS-EMERGENCY ROOM PHYSICIANS
Florida-Miami-Nicklaus Children's Hospital - Main Hospital Campus
Miami, Florida
Requisition ID 24983
Job Summary
The ED Lead APP/Educator has oversight and direction of the education for all Emergency Department (ED) advanced practice providers in collaboration with the APP ED Supervisor to coordinate the competency and education processes, including fiscal and human resources processes. Provides leadership while meeting the educational needs of new ED APPs, experienced APPs, and advanced practice students rotating through the department. Assists ED advanced practice providers to demonstrate and validate competency in required advanced practice privileges. Proactively supports efforts that ensure delivery of safe patient care and services and promote a safe environment at Nicklaus Children's. Prioritizes projects, work assignments, project planning and follow up. Evaluates educational programs and addresses opportunities for improvements and measures results. Proactively engages the ED APP team to ensure the best and most current practices are being utilized in the organization.
Job Specific Duties
Serves as an expert clinical resource and role model for APPs in the ED department.

Works with the ED APP Supervisor to prioritize organizational initiatives and goals.

Supports the coordination of all ED APP workflow and staffing for the assigned department.

Recognizes opportunities for improvement in the assigned clinical area and organizes initiatives to improve quality of care and decrease length of stay for inpatients .

Helps to ensure ED APPs are aware of and compliant with departmental, hospital, and medical staff policies and educate staff on regulatory issues and requirements.

Ensure appropriate credentialing, orientation, and training of ED APPs in compliance with hospital policies and consistent with departmental needs.

Evaluates the clinical performance of all ED APPs in tandem with the ED APP Supervisor. Works in collaboration with the ED APP Supervisor to asses the ongoing competence of the ED APPs. Promotes clinical and professional development.

Provides real-time education for nursing and ancillary staff as needed.

Leads the implementation and evaluation or New Provider Orientation (NPO), including integrating into the organization planned in accordance with the APP ED Supervisor.

Provides comprehensive patient care management at an advanced practice level to children and their families through assessment, clinical management, collaboration, coordination, education, research, and system participation.

Organizes and leads APP team meetings as needed.

Utilizes critical analysis in formulating a goal directed, prioritized plan of care.

Determines need for/order/obtains/interprets appropriate diagnostic studies.

Makes a medical diagnosis based upon interpretation of assessment, history, physical exam and diagnostic findings.

Prescribes, evaluates therapeutic effect and modifies medications.

Recognizes need for physician consultation and guidance as indicated within experience and scope of practice.

Acts as a clinical resource in assessing complex patient care or other varied situations and in determining interventions, as appropriate.

Performs selected clinical skills and procedures as delineated in their specific Medical Staff privileges (Delineation of privileges).

Collaborates with other specialties to ensure interdisciplinary management and continuity of care for both inpatients and outpatients.

Assist in the preparation of protocols, policies and procedures in areas of direct clinical responsibilities.

Proactively initiates gap analysis and needs assessment to define new areas for competency assessment and maintenance.

Leads the Transition to Practice program for newly hired ED APPs based on clinical areas to guide new APP to job competency; using a variety of teaching methods and strategies including online learning, simulation, didactic and clinical experiences.

Develops programs to promote academic growth such as post graduate Pediatric Emergency Department PA Fellowships.

Partners with Learning Services for APP student placement and experience.

Incorporates research, evidence-based practice, practice-based evidence and benchmarked best-practices into educational planning and to guide practice decisions.

Continuously scans the environment to identify and analyze practice gaps, plan effective education, evaluate outcomes and cost-effectiveness of educational programs within the Emergency Department.

Leads the development of the annual education plan, including identifying desired learning outcomes. Sets milestones and oversees the timely delivery of high quality, engaging professional education utilizing principles of project management.

Provides leadership to the ED APPs and determines current and future educational needs within professional sphere of influence in collaboration with ED leadership.

Participates and supports education initiatives at the system level and assists with educational activities programs for community outreach.

Synthesizes program evaluation data to guide decision-making about educational programming and informs key stakeholders.
Minimum Job Requirements
Master's Degree of an approved program leading to eligibility for licensure as a Physician Assistant 

Physician Assistant Florida license - maintain active and in good standing throughout employment

NCCPA - Ntl Commission on Certif of PA Certification by The National Commission on Certification of Physician Assistants (NCPAA)

American Heart Association PALS - maintain active and in good standing throughout employment

American Heart Association BLS - maintain active and in good standing throughout employment

Minimum of 5 years of ED APP experience
Knowledge, Skills, and Abilities
Doctorate Degree preferred.

One (1) year of leadership experience preferred.

Able to relate cooperatively and constructively with patients, families, and co-workers.

Ability to effectively communicate both verbally and in writing.

Able to maintain confidentiality of sensitive information.

Ability to problem solve to formulate a plan of care and evaluate the patient's response to care.

Ability to interpret, adapt and react calmly under stressful conditions.
Professional
Florida-Miami-Nicklaus Children's Hospital - Main Hospital Campus
NCPS-EMERGENCY ROOM PHYSICIANS-3100-451670
:Full Time
Apply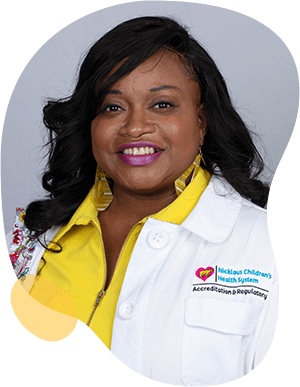 Joining a new organization can be daunting or overwhelming. But at Nicklaus, your colleagues make you feel welcomed. They taught me to celebrate our accomplishments and band together during challenging times. This is not easy to find in healthcare these days, so I'm grateful to have found an amazing place to work with people and leadership who have my well-being in mind.

Lova Renee Brunson

Manager Accreditation & Regulatory
Collaboration leads to success.
Alone we can do so little; together we can do so much. Working together, we find solutions and methods we would never find alone, and at Nicklaus Children's, we have fun doing it.
Responsibility drives us.
We all take responsibility here – for the children, their families, our work and each other. We meet our responsibilities head on and motivate each other to succeed.
Empower yourself, help others.
Nicklaus Children's encourages team members to believe in their ability to affect positive change in the world through everything they do with us.
Advocate for the right way.
Advocate for children. Advocate for families. Advocate for yourself. But most of all, advocate for getting the job done right and you will find nothing but success and support in your career here.
Transformation is growth.
At Nicklaus Children's, change is not to be feared. When you work here, you are always working with the most advanced tools and procedures available.
Empathy is everything.
We expect our team members to have empathy for the patients and families they treat, and in turn, we have empathy for them. We take care of everyone in the Nicklaus Children's family with competitive benefits and our supportive culture.
Join Our Talent Community