Physician Liaison (Full Time, Day Shift)
PHYSICIAN OUTREACH
Florida-Miami-Nicklaus Children's Hospital - Main Hospital Campus
Miami, Florida
Requisition ID 20635
Job Summary

Responsible for increasing volume to the organization, identifying service gaps and resolving issues from assigned territory and targeted physician practices. Primary activities include face-to-face communication, creating and fostering relationships with internal and external community providers and office staff for the purpose of identification of service improvement opportunities, promoting core and specialty services, hospital services and physicians to the physician community. Also responsible for individually planning weekly visits.
Minimum Job Requirements
Bachelor's Degree in related field
3-5 years of healthcare sales experience
Experience using Customer Relation Management tools or Physician Relation Management tools
Active and valid State of Florida driver's license with an approved driving record pursuant to our policy and maintained throughout employment and proof of automobile insurance to include liability and property damage
Knowledge, Skills, and Abilities
Hospital sales experience highly preferred.
Bilingual English/Spanish preferred.
Professional sales training and skills preferred.
Excellent communication skills, including verbal, written, and public speaking.
Strong internal and external relationship management.; Ability to develop and sustain relationships and loyalty to the health system.
Ability to travel to cover regional territory 80-90% of the time.
Able to relate cooperatively and constructively with all levels in the organization.
Ability to maintain confidentiality of sensitive information.
Ability to problem solve to adapt standard procedures to the individual client's needs.
Ability to interpret, adapt, and react calmly under stressful conditions.
Ability to use logical and scientific thinking to interpret technical data and solve a broad range of problems.
Strong internal and external relationship management.
Strong organizational skills.
Knowledge of third party payer eligibility and authorization requirements.
Strong understanding of the pediatric healthcare environment, current trends, and the impact on the physician community
Ability to work flexible schedule to meet the demands of the position
Ability to verbally articulate service line and hospital programs and service offerings.
Job Specific Duties
Maintains a thorough understanding of service lines and associated products in order to effectively communicate to current and new physician groups within assigned territory.
Develops and maintains relationships with new/existing referring physicians and their clinical/office staff via outreach office visits, correspondence, and phone calls.
Supports department/system goals through proactive communication & interface with key internal customers, providing relevant updates related to collaborative visits, outcomes, & market intelligence.
Utilizes the PRM software to track and monitor progress towards goals and makes adjustments as necessary in approach to outreach visits and planning.
Develops and executes a defined sales plan for purposes of improving physician satisfaction, increasing awareness of NCHS offerings, and maintaining current referral sources.
Effectively organizes, assembles, and arranges events and provides resources to meet department goals.
Identifies new physicians/clinicians in assigned territories to provide proactive outreach to introduce hospital's clinical offerings and programs.
Provides weekly, monthly, and quarterly progress on defined department and system goals.
Conducts 25-30 outreach visits a week.
Identifies, documents, and prioritizes identified issues and supports issue resolution through collaborative efforts with internal and external stakeholders.
Assists with the coordination of physician related events and special programs.
Responsible for managing targeted list in database to make highest impact and meet assigned goals.
Update physician profiles in PRM to track market intelligence between hospital and physician.
Documents all physician outreach visits, collaborative visit, issues concerns and compliments and market intelligence in PRM.
Identifies key sales opportunity to enhance referral relationships with assigned physicians and office staff.
Professional
Florida-Miami-Nicklaus Children's Hospital - Main Hospital Campus
PHYSICIAN OUTREACH-2100-955040
:Full Time
Apply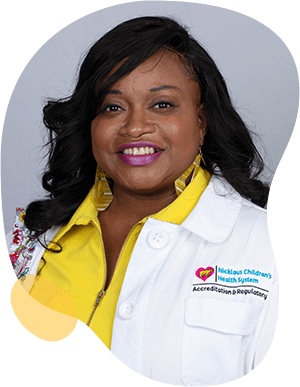 Joining a new organization can be daunting or overwhelming. But at Nicklaus, your colleagues make you feel welcomed. They taught me to celebrate our accomplishments and band together during challenging times. This is not easy to find in healthcare these days, so I'm grateful to have found an amazing place to work with people and leadership who have my well-being in mind.

Lova Renee Brunson

Manager Accreditation & Regulatory
Collaboration leads to success.
Alone we can do so little; together we can do so much. Working together, we find solutions and methods we would never find alone, and at Nicklaus Children's, we have fun doing it.
Responsibility drives us.
We all take responsibility here – for the children, their families, our work and each other. We meet our responsibilities head on and motivate each other to succeed.
Empower yourself, help others.
Nicklaus Children's encourages team members to believe in their ability to affect positive change in the world through everything they do with us.
Advocate for the right way.
Advocate for children. Advocate for families. Advocate for yourself. But most of all, advocate for getting the job done right and you will find nothing but success and support in your career here.
Transformation is growth.
At Nicklaus Children's, change is not to be feared. When you work here, you are always working with the most advanced tools and procedures available.
Empathy is everything.
We expect our team members to have empathy for the patients and families they treat, and in turn, we have empathy for them. We take care of everyone in the Nicklaus Children's family with competitive benefits and our supportive culture.
Join Our Talent Community