Process Improvement Engineer
PROCESS IMPROVEMENT DEPT
Florida-Miami-Nicklaus Children's Hospital - Main Hospital Campus
Miami, Florida
Requisition ID 24901
Job Summary
Serves as an internal consultant for departments and units implementing continuous process improvements. Accountable for ensuring quality management, process improvement and project management methodologies are delivered to achieve significant sustainable quality, and operational results for Nicklaus Children's Health System. Applies continuous improvement methods and techniques to lead transformational change, and supports improvement opportunities across the organization.
Job Specific Duties
Coordinates resources, improvement projects, and education efforts which promotes the Health System's Quality Plan, healthcare initiatives and mission.

Delivers quality science, and process improvement classes to all levels of staff to include segments of a Lean Six Sigma Green belt class.

Responsible for ensuring the timely progress of teams focused on project execution, project management, and status reporting within the organization.

Utilizes advanced statistical and data-based decision making methodologies to ensure scientific problem solving and sustainable process redesign.

Carries out embedded advisory and leadership responsibilities for one or more organizational Vice Presidents to facilitate the advancement of process improvement methodologies in their areas.

Provides guidance to senior leaders to assist in organizational alignment among competing and multiple priorities and projects.

Leads process improvement teams from project inception to final report out at the SWRO. Scopes project phases to be completed within 90 days of inception, & achieves a high rate of project completion.

Presents to the board of directors and senior leadership team (SLT) on the financial and operational implications of key process improvement initiatives.

Communicates project status and deliverables with leadership. Responsible for documentation of improvement activities.

Facilitates current and future state VSM/Process Map improvement teams to redesign processes across multiple departments or business functions.

Participates in team building and commits to excellent customer service.

Proactively manages changes in project scope, identifies potential crises, and devises contingency plans.

Utilizes and modifies data systems such as sharepoint to gather information, and to provide transparent and real-time updates of project status and progress.

Serves as a team member by mentoring and coaching less experienced teams.
Minimum Job Requirements
Bachelor's Degree in Engineering, Healthcare Administration/ Informatics, Business Administration or related field.

Lean Six Sigma Black belt/Green Belt or equivalent certification.

3-5 years of prior experience in process improvement using Lean, Six Sigma or related quality science methodology.

3-5 years of prior experience in project management required preferably in healthcare environments.
Knowledge, Skills, and Abilities
3-5 years of prior experience managing, and developing operational programs and staff preferred.

Knowledgeable in quality science, Lean Six Sigma, and Project Management methodology.

Excellent oral/written communication, interpersonal and organizational skills.

Proficiency with any of these statistical software: Minitab, SPSS, R-studio, Qlick sense or SAS

Self-starter and self-motivated.

Strong problem solving capabilities with proven track record of achieving effective results

Maintains awareness of new and emerging technologies.

Ability to teach quality science and Lean Six sigma and provide project mentorship and coaching.

Ability to develop and manage process improvement projects, and intensive improvement events.
Professional
Florida-Miami-Nicklaus Children's Hospital - Main Hospital Campus
PROCESS IMPROVEMENT DEPT-1000-903905
:Full Time
Apply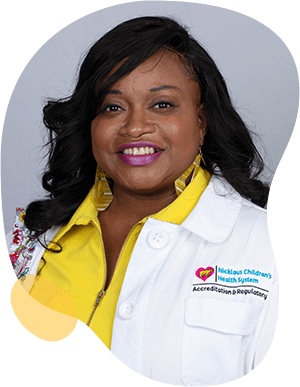 Joining a new organization can be daunting or overwhelming. But at Nicklaus, your colleagues make you feel welcomed. They taught me to celebrate our accomplishments and band together during challenging times. This is not easy to find in healthcare these days, so I'm grateful to have found an amazing place to work with people and leadership who have my well-being in mind.

Lova Renee Brunson

Manager Accreditation & Regulatory
Collaboration leads to success.
Alone we can do so little; together we can do so much. Working together, we find solutions and methods we would never find alone, and at Nicklaus Children's, we have fun doing it.
Responsibility drives us.
We all take responsibility here – for the children, their families, our work and each other. We meet our responsibilities head on and motivate each other to succeed.
Empower yourself, help others.
Nicklaus Children's encourages team members to believe in their ability to affect positive change in the world through everything they do with us.
Advocate for the right way.
Advocate for children. Advocate for families. Advocate for yourself. But most of all, advocate for getting the job done right and you will find nothing but success and support in your career here.
Transformation is growth.
At Nicklaus Children's, change is not to be feared. When you work here, you are always working with the most advanced tools and procedures available.
Empathy is everything.
We expect our team members to have empathy for the patients and families they treat, and in turn, we have empathy for them. We take care of everyone in the Nicklaus Children's family with competitive benefits and our supportive culture.
Join Our Talent Community