Project Lead Marketing (Full Time, Day Shift)
MARKETING, OUTREACH & PR
Florida-Miami-Nicklaus Children's Hospital - Main Hospital Campus
Miami, Florida
Requisition ID 20595
Job Summary

Works closely with director to track, drive forward, and ensure successful execution of Foundation marketing projects, which includes setting project goals and timelines for event marketing, print collateral, vendor management and promotional item inventory. Assists in creative development of marketing materials, including writing and design of print/digital communications.
Job Specific Duties
Manages all incoming Foundation marketing requests/projects, creating a production schedule and assigning team members to tasks with estimated time needed to complete each phase.
Works directly with print, design, and promotional item vendors on larger marketing projects. Tasks include requesting quotes, preparing specs, sharing project details, reviewing creative for accuracy and alignment with brand standards, setting up vendor payment, and ensuring projects are on schedule.
Develops and designs materials for signature events, promotions for grassroots events, Children's Miracle Network Hospitals programming, marketing materials for development officers and outreach programs.
Assists in developing written content for various print and digital marketing/communications projects, including direct mail pieces, flyers, e-newsletters and social media, as needed.
Executes updates to online donation pages, forms, and other front-facing web platforms in support of online fundraising opportunities.
Processes requests for vendor purchase orders, keeps track of open orders, and settles billing discrepancies with vendors.
Anticipates potential issues and develops a plan of action to prevent delays in project workflow. Troubleshoots issues to ensure the project or process remains on schedule.
Ensures all marketing materials receive final approval prior to print.
Keeps track of expenses per marketing project and reports to the department director at delivery.
Creates and maintains printing and design archive for future reference.
Maintains inventory of current Foundation marketing materials and promotional items system-wide. Works with vendors to order new promotional items as needed.
Stays up to date on print/direct mail marketing trends and cultivates strong group of marketing vendors to help meet organizational needs.
Minimum Job Requirements
Bachelor's Degree Mass Communications, Marketing/Communications, Digital Marketing, or related field required   (Required)
2-4 years of experience required in a professional marketing/communications position
Experience working with creative development of marketing/communications projects required
Knowledge, Skills, and Abilities
Experience with project management software a plus.
Able to communicate in Spanish a plus (verbal & written)
Experience working with Canva and Adobe Creative Cloud (Photoshop, Illustrator, InDesign, etc.) and website content management systems.
Experience working with creative portfolio for review.
Strong creative, written, design, verbal and presentation skills and experience required.
Self-starter, attention to detail, strong interpersonal and organizational skills.
Team player with positive and collaborative attitude.
Knowledge of all aspects of printing including application, vendor management, and production cycle.
Excellent communication skills.
Able to multi-task, and be flexible with changing priorities in order to ensure all projects are executed accurately and on time.
Marketing
Florida-Miami-Nicklaus Children's Hospital - Main Hospital Campus
MARKETING, OUTREACH & PR-1000-953901
:Full Time
Apply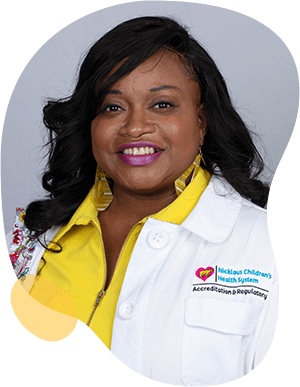 Joining a new organization can be daunting or overwhelming. But at Nicklaus, your colleagues make you feel welcomed. They taught me to celebrate our accomplishments and band together during challenging times. This is not easy to find in healthcare these days, so I'm grateful to have found an amazing place to work with people and leadership who have my well-being in mind.

Lova Renee Brunson

Manager Accreditation & Regulatory
Collaboration leads to success.
Alone we can do so little; together we can do so much. Working together, we find solutions and methods we would never find alone, and at Nicklaus Children's, we have fun doing it.
Responsibility drives us.
We all take responsibility here – for the children, their families, our work and each other. We meet our responsibilities head on and motivate each other to succeed.
Empower yourself, help others.
Nicklaus Children's encourages team members to believe in their ability to affect positive change in the world through everything they do with us.
Advocate for the right way.
Advocate for children. Advocate for families. Advocate for yourself. But most of all, advocate for getting the job done right and you will find nothing but success and support in your career here.
Transformation is growth.
At Nicklaus Children's, change is not to be feared. When you work here, you are always working with the most advanced tools and procedures available.
Empathy is everything.
We expect our team members to have empathy for the patients and families they treat, and in turn, we have empathy for them. We take care of everyone in the Nicklaus Children's family with competitive benefits and our supportive culture.
Join Our Talent Community