Public Safety Officer (Full Time, Evening Shift)
SECURITY
Florida-Miami-Nicklaus Children's Hospital - Main Hospital Campus
Miami, Florida
Requisition ID 22974
Job Summary
Polices hospital buildings, grounds, and offsite locations to prevent fire, theft, vandalism and to prevent injury and accidents. Works under the direction of the Shift Supervisor and the Manager.
Job Specific Duties
Adheres to attendance policy, guidelines, and expectations as outlined ensuring proper handoff, coverage for shift, team collaboration, and patient/staff safety.

Provides exceptional customer service to all customers, patients, and co-workers, as measured by the shared department result customer service survey.

Escorts visitors, patients, and employees to different areas within the main hospital grounds when needed.

Investigates incidents of unusual circumstances reported by hospital staff, visitors, physicians, or patients. Writes incident reports and documents investigations based on hospital standards.

Maintains logs/checklists (including security call, dispatcher, cameras, doors, etc).

Patrols and secures buildings on the main campus. Limits after hour accessibility to hospital and areas designated as sensitive by making sure that all doors are locked and secure.

Reports all safety and fire hazards observed on routine patrols and inspections.

Responds to calls from medical staff and provides support per hospital guideline and CPI training (assisting clinical staff with Baker acts, holding patients for medical treatment, etc.).

Responds to alarms such as panic alarms and all emergency codes within the appropriate timeframes.

Writes detailed narrative incident reports and document investigations based on hospital standards and maintains daily activity reports.

Conducts Fire Watches for areas under construction every 1 to 2 hours, or 24 hours depending on projects.

Conduct ALSM Rounding for areas under construction once a day depending on project duration.

Responds to elevator malfunctions ensuring safety of patients, families and employees.

Monitors visitor registration areas ensuring proper sign-in procedures for FastPass systems ensuring safety and security for all patients, families, and employees.

Responds to any and all emergency situations alerted timely and following all of the guidelines depending on Codes called. i.e. Code Red, Code Strong, etc.

Escorts medical staff with the transporting of deceased patients.

Escorts and monitors psych evaluation patients to ensure they are not a threat to themselves or others as per hospital standards & Baker Act guidelines to include assistance with holding.

Secures helipad for the helicopter when patients are flown in.

Conducts monthly AED checks during 2nd or 3rd shift or as needed to meet compliance.

Provides continuous supervision, observation of behavioral health patients, and adheres to non-violent crisis intervention strategies (CPI).
Minimum Job Requirements
CPR AED - American Heart Association AED - maintain active and in good standing throughout employment

CPI - Crisis Prevention Institute - maintain active and in good standing throughout employment  within 90 days of hire

DL - Driver's License Active and valid State of Florida driver's license with an approved driving record pursuant to our policy and maintained throughout employment
Knowledge, Skills, and Abilities
High school education or equivalent preferred.

Security Class D license preferred.

IAHSS certification preferred.

Experience in security within a hospital setting preferred.

Experience with customer service within a hospitality industry preferred.

Bi-lingual preferred.

Basic proficiency in Microsoft Word and Excel.

Ability to communicate effectively in English both verbally and in writing.
Security
Florida-Miami-Nicklaus Children's Hospital - Main Hospital Campus
SECURITY-2100-842000
:Full Time
Apply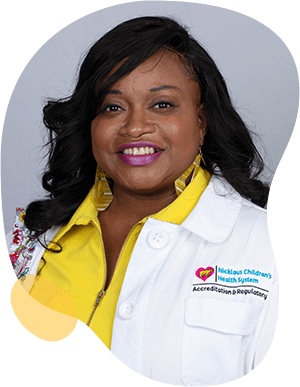 Joining a new organization can be daunting or overwhelming. But at Nicklaus, your colleagues make you feel welcomed. They taught me to celebrate our accomplishments and band together during challenging times. This is not easy to find in healthcare these days, so I'm grateful to have found an amazing place to work with people and leadership who have my well-being in mind.

Lova Renee Brunson

Manager Accreditation & Regulatory
Collaboration leads to success.
Alone we can do so little; together we can do so much. Working together, we find solutions and methods we would never find alone, and at Nicklaus Children's, we have fun doing it.
Responsibility drives us.
We all take responsibility here – for the children, their families, our work and each other. We meet our responsibilities head on and motivate each other to succeed.
Empower yourself, help others.
Nicklaus Children's encourages team members to believe in their ability to affect positive change in the world through everything they do with us.
Advocate for the right way.
Advocate for children. Advocate for families. Advocate for yourself. But most of all, advocate for getting the job done right and you will find nothing but success and support in your career here.
Transformation is growth.
At Nicklaus Children's, change is not to be feared. When you work here, you are always working with the most advanced tools and procedures available.
Empathy is everything.
We expect our team members to have empathy for the patients and families they treat, and in turn, we have empathy for them. We take care of everyone in the Nicklaus Children's family with competitive benefits and our supportive culture.
Join Our Talent Community