Purchasing Contract Manager
SUPPLY CHAIN ADMIN
Florida-Miami-NCHS Corporate Headquarters
Miami, Florida
Requisition ID 24377
Job Summary
Manages the timely review and quality control for contracts for supplies, capital, and services. Negotiates and ensures purchasing contracts meet the organizational business and regulatory criteria, analyzes and develops targets of opportunity to reduce organizational operating costs. Annually develops targets of opportunity to reduce organizational operating costs.
Job Specific Duties
Manages the review of purchasing and service contracts in coordination with Legal Services and Supply Chain Administrative teams.

Discusses and negotiates purchasing contract terms; obtains revised agreements to meet internal legal requirements and considers/communicates potential impact of business relationship.

Supervises the direct reports and observes and provides recommendations.

Interacts with the Value Analysis Coordinator's and Value Analysis committee to develop opportunities to improve patient care and reduce costs.

Assists in the development of standard contract language, vendor credentialing criteria, RFP and RFI standard documents, technology deployment supporting contracting and supply chain, and maintenance of documents in approved archives.

Manages the calendar of contract review or renewal for the broad scope of supplies, capital, equipment maintenance, purchased services, and consulting agreements.

Functions as a reviewer of project and construction agreements.

Assists in coordinating bid process and document preparation following the RFP policy.

Facilitates the coordination of the execution of contracts and communicates to all concerned.

Prepares reports or presentations as requested, including production of special project reports for contracts and expense management initiatives in Supply Chain on behalf of the organization.

Understands and adheres to the Code of Business and Legal Conduct, Ethics and Compliance Program, and organization policies and procedures. Complies with all laws, regulations, and company policies governing the delivery of quality health care services to include DNV standards.

Interacts with members of the Health System Community, legal profession, officials of the state and federal government, group purchasing organization and others.
Minimum Job Requirements
Bachelor's Degree Business, Healthcare, or related field 

4-7 years Experience as a Purchasing Contract Manager

4-7 years Experience with procurement, supplier contracts, negotiations, and document review

3-5 years Experience in the areas of hospital operations, physician practice operations, and/or healthcare regulations
Knowledge, Skills, and Abilities
Master's degree preferred.

Florida licensed attorney preferred.

Ability to communicate effectively both verbally and in writing.

Ability to grasp issues quickly and translate them in understandable terms.

Ability to think from a critical and analytical standpoint.

Ability to work under stress imposed by deadlines and multiple projects.

Demonstrated proficiency with computer other digital media.

Excellent organizational skills and ability to manage multiple projects simultaneously.

Exceptional interpersonal skills and ability to motivate others on behalf of a cause.

Highly dependable and trustworthy.

Ability to work effectively with all levels of management, management multiple projects, and meet deadlines with high quality work products.

Demonstrated project management and organizational skills.

Excellent verbal and written communication skills

Ability to analyze facts and identify issues.

Knowledge of federal and state law, regulatory law including the Stark law and Anti-kickback Statue, Medicare Conditions of Participation, False Claims Act, EMTALA, HIPAA, HITECH, licensure, and laws impacting research and human subject protection.

Contract drafting and negotiating experience.

Strong relationship-building skills.



Management
Florida-Miami-NCHS Corporate Headquarters
SUPPLY CHAIN ADMIN-1000-908950
:Full Time
Apply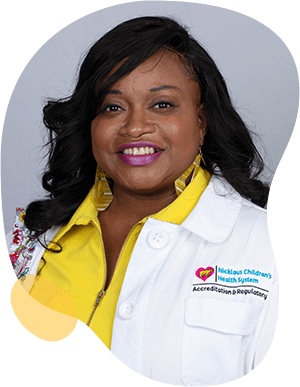 Joining a new organization can be daunting or overwhelming. But at Nicklaus, your colleagues make you feel welcomed. They taught me to celebrate our accomplishments and band together during challenging times. This is not easy to find in healthcare these days, so I'm grateful to have found an amazing place to work with people and leadership who have my well-being in mind.

Lova Renee Brunson

Manager Accreditation & Regulatory
Collaboration leads to success.
Alone we can do so little; together we can do so much. Working together, we find solutions and methods we would never find alone, and at Nicklaus Children's, we have fun doing it.
Responsibility drives us.
We all take responsibility here – for the children, their families, our work and each other. We meet our responsibilities head on and motivate each other to succeed.
Empower yourself, help others.
Nicklaus Children's encourages team members to believe in their ability to affect positive change in the world through everything they do with us.
Advocate for the right way.
Advocate for children. Advocate for families. Advocate for yourself. But most of all, advocate for getting the job done right and you will find nothing but success and support in your career here.
Transformation is growth.
At Nicklaus Children's, change is not to be feared. When you work here, you are always working with the most advanced tools and procedures available.
Empathy is everything.
We expect our team members to have empathy for the patients and families they treat, and in turn, we have empathy for them. We take care of everyone in the Nicklaus Children's family with competitive benefits and our supportive culture.
Join Our Talent Community