Recruiter/Talent Acquisition Specialist
HR & TALENT ACQUISITION
Florida-Miami-NCHS Corporate Headquarters
Miami, Florida
Requisition ID 22238
Job Summary
Assists in the planning, development and implementation of recruitment and staffing strategies for assigned departments and position searches with special emphasis on a well qualified and diverse pool of candidates, timeliness and cost effectiveness. Responsible for screening, interviewing and referring qualified applicants for some technical, administrative, professional level and management positions as well as other assigned open positions throughout the organization. Builds candidate pools and proactively pipelines for hard to fill and niche positions to ensure timely recruitment and pro-active recruitment strategies. Sources for passive job seekers ensuring "best fit" for the organization. Provides a high level of customer service in internal consulting with and guiding hiring managers in comprehensive recruitment, selection and staffing issues, policies, practices and processes. Establish, cultivate, and maintain ongoing relationships with hiring managers in order to understand the business unit and its recruitment needs within the context of their unit; develop and maintain a strong rapport with key leaders in the departments and organization.
Job Specific Duties
Consistently collects and analyzes data on demographics and hiring activity for use in the design of future recruitment plans and manage budget.

Effectively promotes MCH at a variety of recruitment functions such as job fairs, university and college career days and career events targeted for special populations (i.e.: Nursing, Allied Health and other professional level positions). Build relationships and serve as the point-of-contact for university career center personnel and faculty as well.

Ensure proper screenings are administered for skill evaluations related to work experience and all the proper backgrounds are completed efficiently and effectively.

Ensures compliance with EEO and AA regulations as required by State and Federal laws.

High volume sourcing, interviewing and screening of candidates to maintain a pipeline of qualified diverse available candidate database for high turnover and hard to recruit positions. Manage volume of applicants through strategic recruitment plans, including b

ut not limited to: alignment with workforce strategies, resume mining and sourcing, posting, social media, referral programs, cost effectiveness, reviews applications and following the applicant status criteria. Urgency to drive results is key and required aiming for quality of match.

Manages external sources and vendor relations related to recruitment needs by sourcing, recommending and initiating recommended source and communication with hiring managers. Serves as a liaison with area employment agencies, advertising agencies and search firms as needed.

Provide exceptional customer service to customers and co-workers, by demonstrating excellent communication in responses that enhance the customer's perception of Talent Management. Responds in an acceptable time frame.

Provides consultation and training as the subject matter expert for hiring managers and leaders regarding effective recruitment and hiring, orientation, PI/PRO and compensation. Provides basic benefits information to candidates.

Weekly reports on employment activity. Tracks, analyzes and reports candidate pipeline and hiring status, recruitment trends, key performance indicators, budget and other defined HR metrics. Analyzes employee turnover to identify retention issues.

Using feedback from terminating employees and uses results of termination to educate hiring for better employee selection.
Minimum Job Requirements
4-7 years Experience as a full cycle recruiter preferably in a fast paced high volume environment
Knowledge, Skills, and Abilities
Ability to act independently upon information and make decisions that achieve optimal results. Sound discretionary judgment and decision making ability.

Ability to travel 20% of the mostly within driving distance in the State of FL. Ability to understand full recruitment cycle.

Certificate in SHRM's PHR/SPHR highly preferred.

Demonstrated ability for resourcefulness and creative analytical thinking to implement measurable recruitment strategies to demonstrate return on investments (ROI).

Demonstrated significant human resources management as a Generalist, as well as, recruitment search experience in handling challenging human resource/ recruitment issues in a diverse and dynamic environment.

Excellent Communications skills both written and spoken with ability to conduct and lead presentations and public speaking.

Experience in the healthcare industry A+ or demonstrated ability to quickly, efficiently and effectively learn healthcare industries recruitment strategies and market.

Experience with Taleo recruitment modules highly preferred or other ATS system.

Intermediate knowledge in use of computers and/or appropriate software applications such as MS office package Word/Excel/PowerPoint.

Web and social media savvy A+.

Noise Tolerance - Quiet (examples: library, private office)
Human Resources/Talent Management
Florida-Miami-NCHS Corporate Headquarters
HR & TALENT ACQUISITION-1000-952900
:Full Time
Apply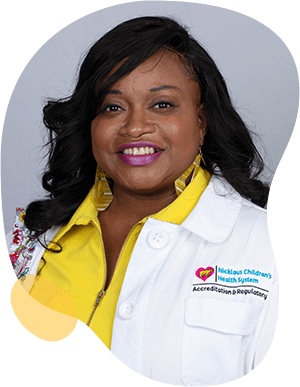 Joining a new organization can be daunting or overwhelming. But at Nicklaus, your colleagues make you feel welcomed. They taught me to celebrate our accomplishments and band together during challenging times. This is not easy to find in healthcare these days, so I'm grateful to have found an amazing place to work with people and leadership who have my well-being in mind.

Lova Renee Brunson

Manager Accreditation & Regulatory
Collaboration leads to success.
Alone we can do so little; together we can do so much. Working together, we find solutions and methods we would never find alone, and at Nicklaus Children's, we have fun doing it.
Responsibility drives us.
We all take responsibility here – for the children, their families, our work and each other. We meet our responsibilities head on and motivate each other to succeed.
Empower yourself, help others.
Nicklaus Children's encourages team members to believe in their ability to affect positive change in the world through everything they do with us.
Advocate for the right way.
Advocate for children. Advocate for families. Advocate for yourself. But most of all, advocate for getting the job done right and you will find nothing but success and support in your career here.
Transformation is growth.
At Nicklaus Children's, change is not to be feared. When you work here, you are always working with the most advanced tools and procedures available.
Empathy is everything.
We expect our team members to have empathy for the patients and families they treat, and in turn, we have empathy for them. We take care of everyone in the Nicklaus Children's family with competitive benefits and our supportive culture.
Join Our Talent Community