Registered Pharmacy Technician (Full Time, Evening shift)
PHARMACY
Florida-Miami-Nicklaus Children's Hospital - Main Hospital Campus
Miami, Florida
Requisition ID 25591
Job Summary

Supports Pharmacists with order processing, preparation of general and specialty medication (Chemotherapy, TPN and Cardiac Preps) IV solutions, syringes, admixtures and/or non- IV doses. Processes floor stock orders, maintains medication inventories, answers the phones, provides customer support, and removes outdated medications and medication deliveries for the Inpatient Pharmacy.
Minimum Job Requirements
Registered in the State of Florida as a Pharmacy Technician- maintain active and in good standing throughout employment.
Knowledge, Skills, and Abilities
High School education or equivalent preferred.
Graduate of an approved pharmacy certification course preferred.
Three years of experience as a hospital pharmacy technician preferred.
Able to read, write, and speak English fluently.
Able to communicate verbally and in writing in a professional manner.
General and specialty (Chemotherapy, TPN and Cardiac IV) admixture preparation experience or trained for inpatient pharmacy preferred.
Knowledge and skills in IV admixture and Unit Dose medication preparation for inpatient pharmacy or bulk dispensing for outpatient pharmacy preferred.
Ability to comprehend and analyze information.
Knowledge of percentage and basic math calculations.
Ability to coordinate the sequence of a process.
Ability to relate cooperatively, courteously, and constructively with patients, nursing personnel, coworkers, physicians, etc.
Knowledge of Metric system of measurement.
Demonstrate knowledge and skills of medication preparation and dispensing for an outpatient pharmacy.
Knowledge of generic and brand medication names.
Able to communicate effectively with the public and internal customers.
Able to deal with pressure to meet deadlines, to be accurate, to handle constantly stressful and changing situations, and to create a positive work environment.
Job Specific Duties
Answers the phone according to departmental standards and directs calls as appropriate using excellent customer service.
Prepares and delivers medications per hospital standards to the designated Nursing Units in a timely manner and picks up returned medications.
Maintains active participation in Lean committee initiatives.
Completes periodic area inspections in a timely manner, as assigned, for removal of outdated medications prior to expiration of medication.
Receives daily shipments of medications from vendors and warehouse and accurately reports medication barcodes into designated computer system.
Assists with stocking, maintaining, cleaning, and organizing the storage room.
Prepares medications accurately and efficiently for individual patient use from stock and bulk supply.
Accurately and efficiently prepares standardized doses of medication including unit dose and cassette fill for patient use.
Prepares specific IV admixtures syringes and large volume IV medications accurately and efficiently using proper USP 797 aseptic technique.
Accurately prepares Parenteral Nutrition (PN), Chemotherapy, OR and Cardiovascular Trays.
Accurately weighs, counts, and measures medications, labels patient specific medications, and places the finished product in a suitable container for pharmacist check.
Responsible for responding to equipment alerts, maintaining the automated dispensing machines, and other routine equipment in the Pharmacy and hospital.
Pharmacy
Florida-Miami-Nicklaus Children's Hospital - Main Hospital Campus
PHARMACY-2100-730000
:Full Time
Apply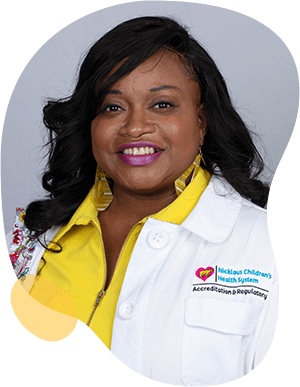 Joining a new organization can be daunting or overwhelming. But at Nicklaus, your colleagues make you feel welcomed. They taught me to celebrate our accomplishments and band together during challenging times. This is not easy to find in healthcare these days, so I'm grateful to have found an amazing place to work with people and leadership who have my well-being in mind.

Lova Renee Brunson

Manager Accreditation & Regulatory
Collaboration leads to success.
Alone we can do so little; together we can do so much. Working together, we find solutions and methods we would never find alone, and at Nicklaus Children's, we have fun doing it.
Responsibility drives us.
We all take responsibility here – for the children, their families, our work and each other. We meet our responsibilities head on and motivate each other to succeed.
Empower yourself, help others.
Nicklaus Children's encourages team members to believe in their ability to affect positive change in the world through everything they do with us.
Advocate for the right way.
Advocate for children. Advocate for families. Advocate for yourself. But most of all, advocate for getting the job done right and you will find nothing but success and support in your career here.
Transformation is growth.
At Nicklaus Children's, change is not to be feared. When you work here, you are always working with the most advanced tools and procedures available.
Empathy is everything.
We expect our team members to have empathy for the patients and families they treat, and in turn, we have empathy for them. We take care of everyone in the Nicklaus Children's family with competitive benefits and our supportive culture.
Join Our Talent Community