Registrar - Neurology (Full Time, Day Shift)
NCPS-NEUROLOGY
Florida-Miami-Nicklaus Children's Hospital - Main Hospital Campus
Miami, Florida
Requisition ID 24135
Job Summary
Greets patients and families in person or on the telephone. Obtains demographic, third party payer information, financial information, medical information, and identification to schedule or register the patient for services. Obtains authorization, referrals, and collects payments as required.

Job Specific Duties
Complies with applicable governmental regulations such as HIPAA (Health Information Portability and Accountability Act of 1996) and EMTALA (Emergency Medical Treatment Active Labor Act).

Greets patients and families in person or on the telephone displaying excellent customer skills and responds to questions and/or problems. Keeps open lines of communication with patients and families.

Interviews patients and families to obtain demographic, third party payer information, financial/medical information, identification to schedule, and pre-register or register patient.

Verifies third party payer information via the web or telephone and seeks appropriate authorization and/or referral for physician and hospital services.

Documents all activity as appropriate in the collection notes in the computer system.

Obtains all necessary consents for treatment of patients either in person or verbally. Directs families to waiting area to be called in.

Verifies patients are accompanied by legal guardian and notifies Risk Management if patient is present with anyone other than legal guardian for any non-emergent visits.

Notifies patient/family of deductibles, co-payments, outstanding balances, and/or deposits required. Collects all out-of-pocket patient responsibility.

Communicates with departments or co-workers if any issues and questions arise or to accommodate any special needs for patients.

Obtains and validates prescription when appropriate.

Responsible for tracking patients arriving to office and correcting any registration errors made utilizing the QA system.

Scans all documents in the appropriate folder in the PEDS system.

Schedules physician or hospital services as appropriate.

Confirms appointments two days prior to visits.
Minimum Job Requirements
1-3 years Customer service experience

Knowledge, Skills, and Abilities
High school education or equivalent preferred.

Medical or healthcare office experience preferred.

Fluent in Spanish preferred.

Basic proficiency in Microsoft Office including Word, Excel, and Outlook.

Ability to communicate effectively verbally and in writing.

Able to accurately enter and interpret data.

Able to adapt and react calmly under stressful conditions.

Able to relate cooperatively and constructively with clients and co-workers.

Able to serve customers with courtesy and respect.

Able to maintain confidentiality of sensitive information.

Ability to follow complex written or verbal instructions to solve problems.

Able to establish necessary relations and interact effectively with internal and external customers.

Able to take and respond to on-call shift or shifts as assigned on weekdays, weekends, and holidays.
Customer Service
Florida-Miami-Nicklaus Children's Hospital - Main Hospital Campus
NCPS-NEUROLOGY-3100-440750
:Full Time
Apply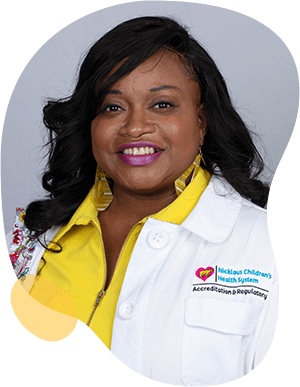 Joining a new organization can be daunting or overwhelming. But at Nicklaus, your colleagues make you feel welcomed. They taught me to celebrate our accomplishments and band together during challenging times. This is not easy to find in healthcare these days, so I'm grateful to have found an amazing place to work with people and leadership who have my well-being in mind.

Lova Renee Brunson

Manager Accreditation & Regulatory
Collaboration leads to success.
Alone we can do so little; together we can do so much. Working together, we find solutions and methods we would never find alone, and at Nicklaus Children's, we have fun doing it.
Responsibility drives us.
We all take responsibility here – for the children, their families, our work and each other. We meet our responsibilities head on and motivate each other to succeed.
Empower yourself, help others.
Nicklaus Children's encourages team members to believe in their ability to affect positive change in the world through everything they do with us.
Advocate for the right way.
Advocate for children. Advocate for families. Advocate for yourself. But most of all, advocate for getting the job done right and you will find nothing but success and support in your career here.
Transformation is growth.
At Nicklaus Children's, change is not to be feared. When you work here, you are always working with the most advanced tools and procedures available.
Empathy is everything.
We expect our team members to have empathy for the patients and families they treat, and in turn, we have empathy for them. We take care of everyone in the Nicklaus Children's family with competitive benefits and our supportive culture.
Join Our Talent Community