Rehab Clinical Operations Coordinator (Staff Relief, Days)-Doral Center
DORAL REHAB
Florida-Miami-Doral
Miami, Florida
Requisition ID 20342
Job Summary
Coordinates the rehabilitation department's office organization and provides assistance with patient care activities. Assists therapist with troubleshooting and problem solving of office issues. Supports access to care operations and operational duties for rehab department. Utilizes infection control policies to routinely maintain cleanliness of equipment and toys. Responsible for assisting with the planning, organizing and implementation of community based marketing events and employee events.
Job Specific Duties
Assists with communication to patients and caregivers with explaining process for evaluation and treatment.
Faxes/mails/receives and monitors Plan of Care "POC" for evaluations, re-evaluation, and additional treatment.
Responsible for tracking, logging, and following-up on POCs with doctors' offices and/or patients/caregivers.
Monitors & assists with patient transfers including queue management, review of records, collaboration with patient access & clinical team, & responding to request (approval or denial of transfer).
Responsible for daily charge reconciliation including daily review, monitoring, and follow-up to address any misses or corrections.
Responsible for collecting, organizing, and scanning of patient documents into the EMR while following HIM requirements.
Responsible for following the discharge process of patients accounts.
Supports in confirming patient appointments and handles any follow up questions in an effort to minimize patient no-shows.
Supports PEDS scheduling and rescheduling of last minute patient or clinician changes.
Coordinates care and supports billing process of Early Steps patients through communication with Early Steps, Patient Access, and Clinical team and adheres to Early Steps requirements based on region requirements (logs, IFSP, etc).
Assists Clinical Team with patient care activities as directed.
Ensures that clean sweeps are completed and submitted accordingly to hospital requirements.
Follows procedures in maintaining environment of care of designated equipment and keeps treatment area clean, organized, and orderly.
Orders and ensures rooms are properly stocked with linen for patient care.
Ensures/maintains cleanliness of assigned areas and equipment; maintains equipment/cleaning logs as per cleaning guidelines.
Reports unsafe equipment or conditions to leaders or Operations Team upon discovery. Assists in recovery and ordering new equipment. Follows process for corrective action.
Monitors inventory and ensures adequate stock for both treatment and office supplies.
Supports other centers as needed to ensure rehab operations continue.
Ensures that standard work is followed to ensure success of daily operations.
Minimum Job Requirements
American Heart Association (AHA) CPR AED – must maintain active and in good standing throughout employment
Previous customer service or clerical experience
Knowledge, Skills, and Abilities
Minimum of 2 years of college level course work preferred
Previous work experience with children preferred; previous healthcare experience highly preferred
Spanish proficiency preferred
Basic knowledge of mechanical skills to perform light repair and maintenance of equipment
Able to take direction from wide variety of professionals in Rehabilitative Services
Able to maintain calm in stressful situations
Excellent customer service skills
Excellent organizational skills
Basic proficiency in Outlook, Word, Excel, and PowerPoint

Rehab/Therapy
Florida-Miami-Doral
DORAL REHAB-2100-540725
:Pool
Apply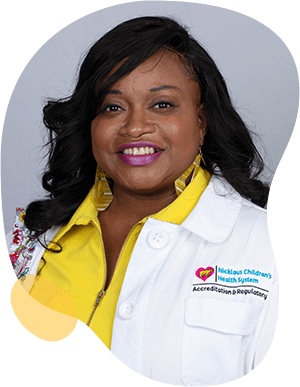 Joining a new organization can be daunting or overwhelming. But at Nicklaus, your colleagues make you feel welcomed. They taught me to celebrate our accomplishments and band together during challenging times. This is not easy to find in healthcare these days, so I'm grateful to have found an amazing place to work with people and leadership who have my well-being in mind.

Lova Renee Brunson

Manager Accreditation & Regulatory
Collaboration leads to success.
Alone we can do so little; together we can do so much. Working together, we find solutions and methods we would never find alone, and at Nicklaus Children's, we have fun doing it.
Responsibility drives us.
We all take responsibility here – for the children, their families, our work and each other. We meet our responsibilities head on and motivate each other to succeed.
Empower yourself, help others.
Nicklaus Children's encourages team members to believe in their ability to affect positive change in the world through everything they do with us.
Advocate for the right way.
Advocate for children. Advocate for families. Advocate for yourself. But most of all, advocate for getting the job done right and you will find nothing but success and support in your career here.
Transformation is growth.
At Nicklaus Children's, change is not to be feared. When you work here, you are always working with the most advanced tools and procedures available.
Empathy is everything.
We expect our team members to have empathy for the patients and families they treat, and in turn, we have empathy for them. We take care of everyone in the Nicklaus Children's family with competitive benefits and our supportive culture.
Join Our Talent Community