Research Contract Specialist (Full Time, Day Shift)
OFFICE OF SPONSORED PROGRAMS
Florida-Miami-Nicklaus Children's Hospital - Main Hospital Campus
Miami, Florida
Requisition ID 23889
Job Summary:
Facilitates preparation and execution of contractual agreements with pharmaceutical, biotechnology, medical device and technology companies, academic institutions, and physician practices. Coordinates efforts to help ensure Research Institute, suppliers, and customers have contractual agreements in place that are clear, fair and legally binding. Oversees and coordinates day to day administrative functions associated with the contracting process within organization's Human Research Protections Program (HRPP) at the Research Institute and the Office of Sponsored Programs (OSP).
Minimum Job Requirements:
Bachelor's Degree Business Administration, or other relevant field required (Required)
2-4 years experience in contract negotiation
Knowledge, Skills and Abilities
Prior experience in clinical trials contract negotiation/execution highly preferred
3 years of research experience preferred
Experience in pediatric clinical research in a hospital setting preferred
Clinical research certification (such as ACRP, MAGI or SOCRA) preferred
Experienced with electronic medical record and clinical trial management software applications preferred
Working knowledge of Federal, State and/or International research regulations
Excellent communication and relationship building skills
Detail-oriented with excellent organizational skills
Self-confident, flexible, and adaptable to change
Demonstrated ability to manage multiple complex projects simultaneously
Proficient with basic software applications including Word, Excel, and PowerPoint
ESSENTIAL JOB DUTIES:
 Ensures clinical research and related activities are performed in accordance with all applicable Federal regulations, Research Institute, NCHS and sponsor policies and procedures.
Creates, drafts, and reviews contractual agreements and grant award documents.
 Performs initial and ongoing review and provides comments on contractual agreements received from clients and suppliers including AAHRPP language.
 Prepares contract approval timelines with all parties involved and leads follow-up efforts to obtain contract approval. 
 Ensures contracts are accurate, complete, signed by the appropriate parties and submitted in a timely manner.
 Conducts contract negotiations and participates in client interactions.
 Engages with Nicklaus Children's Health System's General Counsel as needed to review contract terms and assist with developing research-appropriate contract templates.
 Ensures consistency of terms between informed consent forms and agreements.
 Manages dissemination and filing of contractual agreements through email and contract tracking database.
 Coordinates efforts, as directed, among Research Institute clients (internal and external), suppliers and vendors to facilitate timely execution of agreements
 Maintains up-to-date tracking of all contracts and client correspondence to provide periodic internal updates.
 Prepares ad hoc reports.
 Uses standard computer applications as well as legal/contract software to standardize and improve departmental processes and tracking.
 Reviews, negotiates, and processes vendor agreements and correspondence as requested by Research Institute and OSP leadership.
 Creates and manages study profiles within the Clinical Trial Management System (CTMS).
Assigns internal financial tracking number to each study and communicates with Finance in order to activate the number in Nicklaus Children's Health System's financial system.
Clerical/Administrative
Florida-Miami-Nicklaus Children's Hospital - Main Hospital Campus
OFFICE OF SPONSORED PROGRAMS-2100-310950
:Full Time
Apply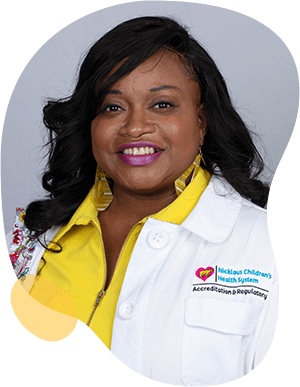 Joining a new organization can be daunting or overwhelming. But at Nicklaus, your colleagues make you feel welcomed. They taught me to celebrate our accomplishments and band together during challenging times. This is not easy to find in healthcare these days, so I'm grateful to have found an amazing place to work with people and leadership who have my well-being in mind.

Lova Renee Brunson

Manager Accreditation & Regulatory
Collaboration leads to success.
Alone we can do so little; together we can do so much. Working together, we find solutions and methods we would never find alone, and at Nicklaus Children's, we have fun doing it.
Responsibility drives us.
We all take responsibility here – for the children, their families, our work and each other. We meet our responsibilities head on and motivate each other to succeed.
Empower yourself, help others.
Nicklaus Children's encourages team members to believe in their ability to affect positive change in the world through everything they do with us.
Advocate for the right way.
Advocate for children. Advocate for families. Advocate for yourself. But most of all, advocate for getting the job done right and you will find nothing but success and support in your career here.
Transformation is growth.
At Nicklaus Children's, change is not to be feared. When you work here, you are always working with the most advanced tools and procedures available.
Empathy is everything.
We expect our team members to have empathy for the patients and families they treat, and in turn, we have empathy for them. We take care of everyone in the Nicklaus Children's family with competitive benefits and our supportive culture.
Join Our Talent Community