Research Data Analyst (Full Time, Day Shift)
RI - ANALYTICS & DATA
Florida-Miami-Nicklaus Children's Hospital - Main Hospital Campus
Miami, Florida
Requisition ID 20089
Job Summary
Works closely with Principle Investigators, Physicians, Research Coordinators, Quality, and Business Intelligence teams; assists with the planning and conduct of epidemiologic, population health and outcomes research; supports a variety of research projects and hospital initiatives. Responsible for assisting with the collection, analysis, and interpretation of statistical data and preparation of educational materials, reports and publications.

Job Specific Duties
Assists in the definition of requirements for data collection.
Reviews research protocols for clinical studies and assists with study design and statistical methods.
Collects data and conducts data formatting, data cleaning, analysis and interpretation of results.
Designs electronic questionnaires for clinical and socio-demographic studies using REDcap and other platforms.
Manages and organizes large datasets using a variety of techniques.
Identifies and solves a range of problems within area of expertise.
Assists team in conducting research and basic analyses of large data sets.
Prepares and designs reports, tables, charts, and graphs with written summaries, conclusions, and recommendations.
Assists with preparation of presentations and scientific publications.
Assists in training and creating educational materials for residents and fellows.

Minimum Job Requirements
Bachelor's degree in statistics, biostatistics, epidemiology, finance or other related field 
1-3 years' Data Analyst experience in the field of biostatistics, epidemiology or related field
1-3 years' experience using R, SPSS, or SAS and various open source analytical software with command line interface (CLI)

Knowledge, Skills, and Abilities
Experience with REDCap and database tools (SQL, ORACLE) preferred.
Excellent oral/written communication and interpersonal skills.
Ability to choose appropriate statistical methods and willingness to learn new software and methods quickly.
Excellent time management skills.
Ability to work on multiple projects.

Professional
Florida-Miami-Nicklaus Children's Hospital - Main Hospital Campus
RI - ANALYTICS & DATA-2100-380862
:Full Time
Apply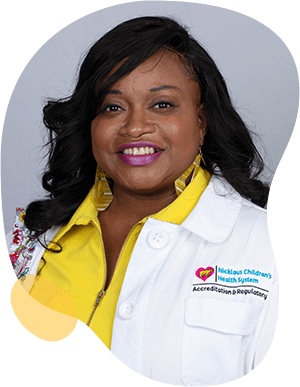 Joining a new organization can be daunting or overwhelming. But at Nicklaus, your colleagues make you feel welcomed. They taught me to celebrate our accomplishments and band together during challenging times. This is not easy to find in healthcare these days, so I'm grateful to have found an amazing place to work with people and leadership who have my well-being in mind.

Lova Renee Brunson

Manager Accreditation & Regulatory
Collaboration leads to success.
Alone we can do so little; together we can do so much. Working together, we find solutions and methods we would never find alone, and at Nicklaus Children's, we have fun doing it.
Responsibility drives us.
We all take responsibility here – for the children, their families, our work and each other. We meet our responsibilities head on and motivate each other to succeed.
Empower yourself, help others.
Nicklaus Children's encourages team members to believe in their ability to affect positive change in the world through everything they do with us.
Advocate for the right way.
Advocate for children. Advocate for families. Advocate for yourself. But most of all, advocate for getting the job done right and you will find nothing but success and support in your career here.
Transformation is growth.
At Nicklaus Children's, change is not to be feared. When you work here, you are always working with the most advanced tools and procedures available.
Empathy is everything.
We expect our team members to have empathy for the patients and families they treat, and in turn, we have empathy for them. We take care of everyone in the Nicklaus Children's family with competitive benefits and our supportive culture.
Join Our Talent Community