Research Financial Analyst (Full Time, Days)
OFFICE OF SPONSORED PROGRAMS
Florida-Miami-Nicklaus Children's Hospital - Main Hospital Campus
Miami, Florida
Requisition ID 22698
Job Summary
Develops, reviews, negotiates, and finalizes clinical research budgets, including research coverage analyses. Reviews and negotiates financial language within research contracts. Reviews financial language within study's informed consent(s). Inputs financial data into the Clinical Trials Management System. Assists with post award management. Assists management and other stakeholders to prepare accurate and timely financial reports. Oversees Research Billing Compliance process.
Job Specific Duties
Develops and negotiates research budgets (with internal and external stakeholders).

Generates coverage analyses for research projects utilizing knowledge of billing codes (i.e. ICD/CPT codes).

Communicates and negotiates with industry sponsors on behalf of RI/OSP regarding budgets and payment terms for industry-sponsored research projects.

Assists staff in developing budgets for grant proposals and, if awarded, re-budgeting as needed.

Reviews informed consent forms to ensure language is consistent with research contracts.

Inputs, maintains, and revises data related to research in the Clinical Trials Management System.

Tracks and reports financial status of clinical trials, including budget status.

Updates budget pipeline and provides periodic updates to key stakeholders regarding status of budget negotiations.

Presents (internally and externally to the broader NCHS community and third parties) updates on the status of drafting and negotiating budgets for clinical research.

Assists in the preparation of financial feasibility studies as requested.

Classifies, sorts, and files correspondence, records, and other documents.

Participates on teams, committees, and special projects both internal and external to the organization.

Develops and maintains a standardized research service pricing list, updating it annually and clarifying budgets in relation to the study protocol, study calendar and other study related documenting in accordance with clinical trials budgeting policy.

Provides primary support and oversight of the health system's clinical trial management system.

Oversees and ensures research billing process to ensure timely payments and compliant billing processes.
Minimum Job Requirements
Bachelor's Degree

in

Accounting, Business Administration, Health Services Administration or related field (OR) 4 years of related progressive research experience

3-5 years

of

experience in medical billing or research budget negotiation

Proficient in excel and accounting software
Knowledge, Skills, and Abilities
1-3 years

of

experience in finance or account setting highly preferred.

Ability to develop and negotiate research budgets.

Ability to generate research project coverage analyses.

Knowledge of specific research billing requirements and regulations (i.e. ICD/CPT codes).

Ability to use complex mathematical techniques to generate budgets and provide productivity assessments.

Understands financial implications of, and negotiates, payment terms within research contracts.

Understands financial language within the research contract and utilizes the language to review and negotiate the language of the study's informed consent form to ensure accuracy and consistency.

Ability to understand and assist with post award management of grants from a variety of sources (i.e. Federal, State, Local, and/or private foundation).

Able to

communicate information clearly and concisely to internal and external groups.

Demonstrates competency in financial/statistical reporting.

Ability to handle multiple projects at the same time and work in a fast paced environment.

Knowledge of and ability to operate at a high level within a Clinical Trials Management System

.

Ability to oversee Research billing and ensure process is compliant.
Accounting/Finance
Florida-Miami-Nicklaus Children's Hospital - Main Hospital Campus
OFFICE OF SPONSORED PROGRAMS-2100-310950
:Full Time
Apply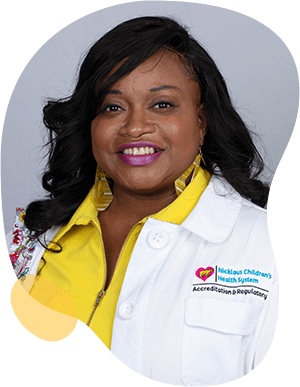 Joining a new organization can be daunting or overwhelming. But at Nicklaus, your colleagues make you feel welcomed. They taught me to celebrate our accomplishments and band together during challenging times. This is not easy to find in healthcare these days, so I'm grateful to have found an amazing place to work with people and leadership who have my well-being in mind.

Lova Renee Brunson

Manager Accreditation & Regulatory
Collaboration leads to success.
Alone we can do so little; together we can do so much. Working together, we find solutions and methods we would never find alone, and at Nicklaus Children's, we have fun doing it.
Responsibility drives us.
We all take responsibility here – for the children, their families, our work and each other. We meet our responsibilities head on and motivate each other to succeed.
Empower yourself, help others.
Nicklaus Children's encourages team members to believe in their ability to affect positive change in the world through everything they do with us.
Advocate for the right way.
Advocate for children. Advocate for families. Advocate for yourself. But most of all, advocate for getting the job done right and you will find nothing but success and support in your career here.
Transformation is growth.
At Nicklaus Children's, change is not to be feared. When you work here, you are always working with the most advanced tools and procedures available.
Empathy is everything.
We expect our team members to have empathy for the patients and families they treat, and in turn, we have empathy for them. We take care of everyone in the Nicklaus Children's family with competitive benefits and our supportive culture.
Join Our Talent Community