Risk Manager (Full Time, Day shift)
RISK MANAGEMENT
Florida-Miami-Nicklaus Children's Hospital - Main Hospital Campus
Miami, Florida
Requisition ID 25794
Job Summary
Assists the Leader in coordinating functions and activities in the department. Conducts investigations for risk mitigation and makes recommendations for loss prevention. Collaborates with department director, Office of the General Counsel, outside defense counsel, third party investigator and other hospital personnel on issues relating to Risk Management. Participates in system wide performance improvement activities.

Job Specific Duties
Advises the Leader regarding pertinent issues and problems relating to risk issues in the operation of the hospital.

Assists with the maintenance and revisions to the incident reporting system.

Develops and provides Risk Management orientation and other educational services for personnel regarding risk issues as required by state statute.

Investigates and reports to DOH all allegations of sexual misconduct as reported by patients, families or employees.

Participates in claims management activities such as responding to requests for productions, interrogatories, etc

Prepares and/or assists in the preparation and presentation of periodic reports regarding Risk Management services, financial activities and other special reports.

Provides information for evaluation and revision of hospital regulations, policies and procedures.

Recommends and implements changes in potential and known risk exposures.

Researches and maintains trending data on Risk Management issues and medical and nursing standards of care identified through incident report and patient grievances.

The Risk Manager, appointed by the NCHS governing board as Designee, is responsible for implementation and oversight of the facility's internal risk management program and who demonstrates competence, through education or experience, in all of the following areas: (a) Applicable standards of health care risk management; (b) Applicable federal, state, and local health and safety laws and rules; (c) General risk management administration; (d) Patient care; (e) Medical care; (f) Personal and social care; (g) Accident prevention; (h) Departmental organization and management; (i) Community interrelationships; (j) Medical terminology.

Minimum Job Requirements
BACKGRD - Level II Background Check

3-5 years Healthcare work experience required

Knowledge, Skills, and Abilities
Bachelor's degree in Healthcare or related field preferred.

 Risk Management experience preferred

 Ability to communicate effectively, both verbally and in writing.

 Able to maintain confidentiality of sensitive information.

 Experience as a Quality Utilization Management reviewer beneficial.

 Knowledge of clinical nursing, negligence and/or insurance, risk management principles preferred.

 Knowledge of Florida Statutes pertaining to Risk Management and Patient Safety, medical malpractice, nursing standards of care, HIPAA, EMTALA, and FDA/medical recalls.

 Able to relate cooperatively and constructively with internal and external customers.

 Ability to identify potential risk/quality issues and to analyze and prepare reports.

 Ability to interpret, adapt and react calmly under stressful situations

(EOE DFW)
7/27/2020
Management
Florida-Miami-Nicklaus Children's Hospital - Main Hospital Campus
RISK MANAGEMENT-1000-940901
:Full Time
Apply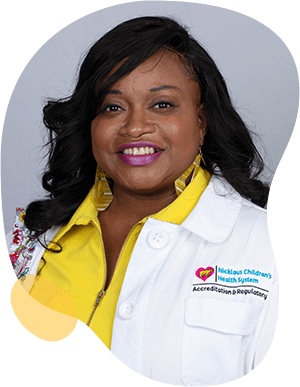 Joining a new organization can be daunting or overwhelming. But at Nicklaus, your colleagues make you feel welcomed. They taught me to celebrate our accomplishments and band together during challenging times. This is not easy to find in healthcare these days, so I'm grateful to have found an amazing place to work with people and leadership who have my well-being in mind.

Lova Renee Brunson

Manager Accreditation & Regulatory
Collaboration leads to success.
Alone we can do so little; together we can do so much. Working together, we find solutions and methods we would never find alone, and at Nicklaus Children's, we have fun doing it.
Responsibility drives us.
We all take responsibility here – for the children, their families, our work and each other. We meet our responsibilities head on and motivate each other to succeed.
Empower yourself, help others.
Nicklaus Children's encourages team members to believe in their ability to affect positive change in the world through everything they do with us.
Advocate for the right way.
Advocate for children. Advocate for families. Advocate for yourself. But most of all, advocate for getting the job done right and you will find nothing but success and support in your career here.
Transformation is growth.
At Nicklaus Children's, change is not to be feared. When you work here, you are always working with the most advanced tools and procedures available.
Empathy is everything.
We expect our team members to have empathy for the patients and families they treat, and in turn, we have empathy for them. We take care of everyone in the Nicklaus Children's family with competitive benefits and our supportive culture.
Join Our Talent Community