RN Case Manager/Utilization Review
CASE MANAGEMENT
Florida-Miami-Nicklaus Children's Hospital - Main Hospital Campus
Miami, Florida
Requisition ID 20725
Job Summary:
Works in partnership with physicians, nurse case managers, and other disciplines to ensure the appropriateness for the corresponding level of care utilizing evidence-based criteria. Responsible for applying severity of illness and intensity of service in determining medical appropriateness for hospitalized patients. Collaborates with the utilization resource management physician advisor for secondary review as needed. Uses a collaborative process to plan, assess, re-assess, implement, monitor, and evaluate the options and services required to meet the healthcare needs of the patients using the functions of Utilization Resource Management, Transition of Care, Discharge Planning, and Case Management in order to facilitate: (1) quality of patient care; (2) cost-effective utilization and outcome management; (3) communication between patients, families, and members of the health care team; (4) expedition of the movement of patients through appropriate levels of care; (5) safe discharge. Assists with the identification of appropriate providers and facilities throughout the continuum of care, to ensure resources of both Nicklaus Children's Health System and the patient are used in a timely and cost-effective manner to meet the healthcare needs.
Minimum Job Requirements:
Bachelor of Science in Nursing or 5 years of Case Management experience.
Current and valid license to practice as a Registered Nurse in the state of Florida.
3 years of Pediatric or Adult acute clinical hospital experience.
3 years of experience in discharge planning, utilization management, case management, performance improvement, managed care reimbursement, or transition of care, care coordination, home health.
ESSENTIAL JOB DUTIES:
Reviews the appropriateness of Severity Index/Intensity of Service for all acute care admissions utilizing evidence-based criteria guidelines within the appropriate time frame.
Notifies admitting MD of all acute care admissions not meeting evidence-based criteria potential/actual denials.
Presents case for patients not meeting criteria for medical necessity for the requested level of care/patient status to CM MD advisor, Director, Manager, CM, UR Case Conference, and MD Directors.
Proactively identifies, and resolves delays and obstacles for safe discharge. Seeks consultation from appropriate disciplines/departments to expedite care and facilitate safe discharge.
Communicates with multiple resources and payors to identify appropriate vendors for obtaining authorization for ancillary/hospital services to facilitate transition to appropriate level of care.
Collaborates with family, health care team, payors, and providers to achieve appropriate resource management to implement safe discharge plan of care established by health care team and family.
Assists in identifying and reporting variances in utilization of resources, avoidable days/denials. Works in collaboration with Appeals Management/Medical Director in the appeals process.
Responsible for the appropriate use of software and applications, and enters case management information accurately and in a timely manner.
Follows up with patient specific plan of care up to and/or after discharge as needed.
Adheres to Medicare and Medicaid regulatory guidelines as it pertains to patient admission/safe discharge.
Provides after hour safe discharge coverage for all hospital units.
Participates in utilization management initiatives/opportunities for improvement through departmental and floor committee assignments.   
Participates in nursing units' case management activities as needed.
Common Duties:
Maintains accountability by ensuring compliance thru timely completion of licensures, certifications, all competencies, health requirements (PPD, N95, Flu, etc.), and education requirements.
Maintains accountability and timekeeping expectations as outlined by MCHS Timekeeping and Attendance policy and procedures. Ensures behavior is compliant with communication standards.
Ensures behavior meets and/or exceeds targeted service scores as measured by the Service Index and/or the inter-departmental service survey.
Knowledge/Skills/Abilities:
Professional certification as a Case Manager, or certification in CPHM, CPHQ, or ACM preferred.
Experience in discharge planning, clinical pathways and continuous quality improvement highly desirable.
Basic proficiency in Microsoft Word, Excel, and Outlook.
Able and available to work a flexible/rotating schedule including holidays and weekends.
Demonstrates commitment to the Partners-in-Caring process and the behavioral expectations in all interactions and in performing all job duties.   
Performs duties in a manner to promote quality patient care.
Able to communicate effectively both verbally and in writing in a clear, concise, and courteous manner.
Fluent in Spanish preferred.
Possess effective negotiation skills.
Working experience with electronic medical records, and/or discharge planning and case management systems.
Able to interpret, adapt, and react calmly under stressful conditions in a pleasant manner.
Able to relate cooperatively and constructively with customers and co-workers.
Able to maintain confidentiality of sensitive information.
Able to establish necessary professional relationships, and interact effectively with internal and external customers.
Able to work in a fast paced environment, and effectively manage and use resources to successfully meet the competing deadlines of a variety of tasks, problems, and projects.
Able to use logical and analytical thinking to interpret technical data, and solve a broad range of problems.
Able to work independently when interacting with organization's clinical and non-clinical customers and outside vendors/payors.
(EOE DFW)
11/28/17
Professional
Florida-Miami-Nicklaus Children's Hospital - Main Hospital Campus
CASE MANAGEMENT-2100-866001
:Full Time
Apply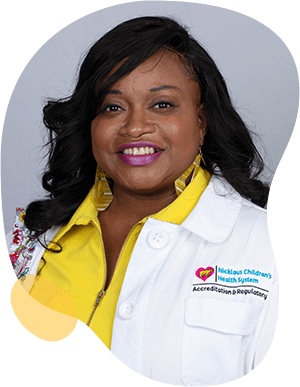 Joining a new organization can be daunting or overwhelming. But at Nicklaus, your colleagues make you feel welcomed. They taught me to celebrate our accomplishments and band together during challenging times. This is not easy to find in healthcare these days, so I'm grateful to have found an amazing place to work with people and leadership who have my well-being in mind.

Lova Renee Brunson

Manager Accreditation & Regulatory
Collaboration leads to success.
Alone we can do so little; together we can do so much. Working together, we find solutions and methods we would never find alone, and at Nicklaus Children's, we have fun doing it.
Responsibility drives us.
We all take responsibility here – for the children, their families, our work and each other. We meet our responsibilities head on and motivate each other to succeed.
Empower yourself, help others.
Nicklaus Children's encourages team members to believe in their ability to affect positive change in the world through everything they do with us.
Advocate for the right way.
Advocate for children. Advocate for families. Advocate for yourself. But most of all, advocate for getting the job done right and you will find nothing but success and support in your career here.
Transformation is growth.
At Nicklaus Children's, change is not to be feared. When you work here, you are always working with the most advanced tools and procedures available.
Empathy is everything.
We expect our team members to have empathy for the patients and families they treat, and in turn, we have empathy for them. We take care of everyone in the Nicklaus Children's family with competitive benefits and our supportive culture.
Join Our Talent Community