RN Community Care Coordinator
CASE MANAGEMENT
Florida-Miami-Nicklaus Children's Hospital - Main Hospital Campus
Miami, Florida
Requisition ID 21832
Job Summary:
Oversees, manages, and evaluates the coordination of service for selected patient population in the community, to improve clinical and financial outcomes. Identifies, coordinates, and manages a panel of clinically at risk/high-risk complex patients and provides oversight for caregivers who manage patients at moderate or low risk. Works in collaboration with specific pediatric service line teams that include but is not limited to: Sickle Cell, Oncology, hematology, BMT, neurology, neurosurgery, orthopedics, cardiology, and other pediatric population in the community.
Minimum Job Requirements:
BSN required
RN - Registered Nurse Florida RN License -  maintain active and in good standing throughout employment
CPR BLS - American Heart Association BLS must maintain active and in good standing throughout employment
2-4 years of clinical experience
2 years of experience in Transitions of Care, Public Health Care, Population Health, Home Health, Care Coordination/Case Management or other related field of work.
Knowledge/Skills/Abilities:
Masters' degree in nursing or equivalent Master of Science degree preferred
Certified Case Management or other clinically sound certification preferred
American Heart Association (AHA) PALS preferred
Clinical experience in myriad of service areas such as hematology and oncology, neurology/neurosurgery, orthopedic, cardiology/cardiac surgery, nephrology, seizure/epilepsy, and/or gastroenterology highly preferred
Demonstrate knowledge of  philosophy/principles of comprehensive, community-based, patient-centered, developmentally appropriate, culturally sensitive, and linguistically appropriate care coordination services
Prior experience in leadership, advocacy, communication, education and counseling
Skill in writing convincing appeals arguments that are sound and supported by evidence that is related to patients' specific clinical attributes
Ability to proficiently read, understand, and abstract information from handwritten patient medical records
Ability to work collaboratively and independently and adapt quickly to changing priorities 
Able to follow instructions and respond to management direction
Able to take responsibility for own actions
Able to complete tasks on time or provide timely notification to management and leadership with an alternate plan
Strong organizational skills
Able to speak clearly and persuasively in positive or negative situations; listens and gets clarification
Demonstrates group presentation skills
Able to write clearly and informatively
Able to read and interpret written information
Demonstrates accuracy and thoroughness
Job Specific Duties:
Assesses & coordinates transition of care service post-acute episode of care including pre-admission, post extended hospitalization stay (from 10 - 12 months) if no surgery, but high risk flag, etc.
Coordinates and links patient and family access to community based services/resources, specialty providers, and provides education to patients on using medical services appropriately.
Coordinates efforts that foster patient/family engagement, and promotes ongoing feedback regarding their experiences about their health care management.
Provides referral, and follow-up with patients, families/caregivers on micro and macro levels.
Responsible for initial and ongoing education of patients and families on Advanced Care Planning including options and progression for completion of advanced directives, and end of life.
Prioritizes & makes outreach calls to coordinate pre-visit planning. Validates & checks appointments in management systems.Work with families to identify issues related to not keeping appointments.
Makes routine and discharge follow up calls to PAC Providers (SNF, Foster Care, Acute/subacute Rehab, Home care, O/P) to ensure ongoing communication/monitoring of patients.
Reassess patients on an ongoing basis to ensure there is appropriate level of care/intervention; takes periodic "roll-call" to high risk population due to access to care, disenrollment, etc.
Assists and creates ongoing program development for patients & families to determine and request the level of care coordination support they desire at any given point in time, including end of life.
Responsible for initial and ongoing education of patients and families on Advanced Care Planning including options and process for completion of advanced directives.
Utilizes established medical record forms, databases, and documentation practices and additional technology platforms for the complete management of care across the continuum.
Professional
Florida-Miami-Nicklaus Children's Hospital - Main Hospital Campus
CASE MANAGEMENT-2100-866001
:Full Time
Apply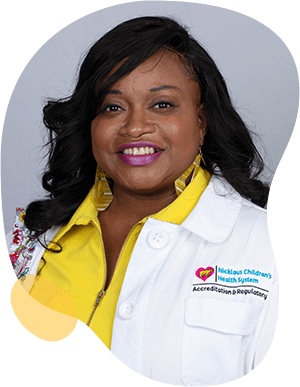 Joining a new organization can be daunting or overwhelming. But at Nicklaus, your colleagues make you feel welcomed. They taught me to celebrate our accomplishments and band together during challenging times. This is not easy to find in healthcare these days, so I'm grateful to have found an amazing place to work with people and leadership who have my well-being in mind.

Lova Renee Brunson

Manager Accreditation & Regulatory
Collaboration leads to success.
Alone we can do so little; together we can do so much. Working together, we find solutions and methods we would never find alone, and at Nicklaus Children's, we have fun doing it.
Responsibility drives us.
We all take responsibility here – for the children, their families, our work and each other. We meet our responsibilities head on and motivate each other to succeed.
Empower yourself, help others.
Nicklaus Children's encourages team members to believe in their ability to affect positive change in the world through everything they do with us.
Advocate for the right way.
Advocate for children. Advocate for families. Advocate for yourself. But most of all, advocate for getting the job done right and you will find nothing but success and support in your career here.
Transformation is growth.
At Nicklaus Children's, change is not to be feared. When you work here, you are always working with the most advanced tools and procedures available.
Empathy is everything.
We expect our team members to have empathy for the patients and families they treat, and in turn, we have empathy for them. We take care of everyone in the Nicklaus Children's family with competitive benefits and our supportive culture.
Join Our Talent Community