RN Quality Improvement Specialist - Surgical Svcs (Full Time, Day shift)
QUALITY
Florida-Miami-Nicklaus Children's Hospital - Main Hospital Campus
Miami, Florida
Requisition ID 24130
Job Summary
Provides support for quality improvement initiatives utilizing clinical knowledge and expertise. Translates data from various registries and collaboratives into meaningful information for quality improvement initiatives relating to patient outcomes. Partners with leadership and clinical subject matter experts to identify, analyze, monitor, and improve key performance indicators.
Job Specific Duties
Works with leadership in the identification/development of PI plans through monitoring of quality data, national collaborative reports, and other processes of quality validation.

Works with leaders on defining appropriate process and patient outcome benchmarks, data capture processes, and dashboards.

Coordinates and collaborates with stakeholders, multidisciplinary teams, and internal and external customers to create collaborative work relationships that drive performance and quality outcomes in a timely and effective manner.

Ensures quality and patient safety standards are incorporated into current processes and development of new system processes.

Works closely with key stakeholders to ensure they receive & review department quality measures/reports for process improvement opportunities.

Establishes a Quality Meeting that incorporates data analysis from multiple sources to drive department quality improvement initiatives related to patient outcomes.

Create reports, graphs, and visual representations from several organizational databases to provide information to stakeholders in a significant way.

Supports department in creating standard approach for quality issues.

Serves as primary contact for quality-related data and reports.

Conducts clinical reviews using sources ranging from medical records, incident reports, best practice guidelines & interviews to monitor quality performance & improvement efforts.

Communicates with a variety of clinical disciplines and physician advisors to clarify criteria and summaries.

Responsible for identifying potential quality and safety issues pertaining to patient care and leading clinical quality improvement projects that are supported by evidence based best practice.
Minimum Job Requirements
Bachelor's Degree

RN Licensure within the State of Florida or Multi-State Enhanced Nursing License Compact (eNLC) – maintain active and in good standing throughout employment

3-5 years of experience in healthcare quality management and performance improvement

3-5 years of experience as a Registered Nurse
Knowledge, Skills, and Abilities
Master's degree highly preferred.

Strong clinical background with the ability to understand medical terminology, diagnosis, and treatment plans pertaining to patient care.

Certification or training in quality preferred.

Ability to establish and maintain a positive working relationship and rapport with medical staff, department heads, staff, and colleagues.

Ability to prioritize work independently and evaluate workload in order to meet deadlines.

Able to collaborate amongst interdisciplinary team members to drive quantifiable quality measures and process improvement projects.

Ability to communicate in a positive, clear, and concise manner to members of all levels of the organization.

Ability to interpret, adapt, and react calmly under stressful conditions.

Utilizes technical skills to create reports, graphs, and visual representations from several organizational databases.

Demonstrated expertise in internal and collaborative quality score carding and benchmarking.

Demonstrated expertise in promoting patient safety in a complex environment.

Able to maintain confidentiality of sensitive information.

Computer literacy in Microsoft Office Suite to include Word, Outlook, Excel, SharePoint, and PowerPoint. Access and Visio preferred.
Professional
Florida-Miami-Nicklaus Children's Hospital - Main Hospital Campus
QUALITY-2100-866000
:Full Time
Apply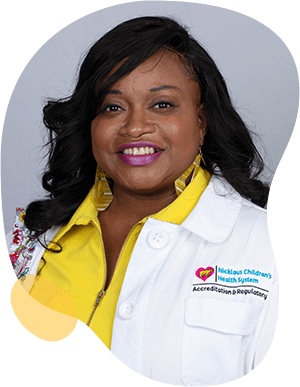 Joining a new organization can be daunting or overwhelming. But at Nicklaus, your colleagues make you feel welcomed. They taught me to celebrate our accomplishments and band together during challenging times. This is not easy to find in healthcare these days, so I'm grateful to have found an amazing place to work with people and leadership who have my well-being in mind.

Lova Renee Brunson

Manager Accreditation & Regulatory
Collaboration leads to success.
Alone we can do so little; together we can do so much. Working together, we find solutions and methods we would never find alone, and at Nicklaus Children's, we have fun doing it.
Responsibility drives us.
We all take responsibility here – for the children, their families, our work and each other. We meet our responsibilities head on and motivate each other to succeed.
Empower yourself, help others.
Nicklaus Children's encourages team members to believe in their ability to affect positive change in the world through everything they do with us.
Advocate for the right way.
Advocate for children. Advocate for families. Advocate for yourself. But most of all, advocate for getting the job done right and you will find nothing but success and support in your career here.
Transformation is growth.
At Nicklaus Children's, change is not to be feared. When you work here, you are always working with the most advanced tools and procedures available.
Empathy is everything.
We expect our team members to have empathy for the patients and families they treat, and in turn, we have empathy for them. We take care of everyone in the Nicklaus Children's family with competitive benefits and our supportive culture.
Join Our Talent Community