Room Service Associate (Staff Relief)
FOOD AND NUTRITION SERVICES
Florida-Miami-Nicklaus Children's Hospital - Main Hospital Campus
Miami, Florida
Requisition ID 24102
Job Summary
Maintains the supplies, general appearance and sanitation of the Room Service Assembly Station and prepares, assembles, and delivers food trays to patients.
Minimum Job Requirements
Prior experience with food production for patients and/or retail
Job Specific Essential Duties:
Assembles, distributes and delivers patient trays within 60 minutes to all nursing units, day care, and any assigned area.
Assists customers/patients in a friendly and polite manner whenever in need of assistance.
Labels, dates, checks and documents food items for freshness and rotates them following the FIFO (First In, First Out) method.
Prepares cold food items, loads on trays, and cuts all fruits required for room services.
Prepares ketogenic, diabetic and eating disorder meals as prescribed by dieticians. Ensures that strict weights and measures are taken to document the portions.
Loads, unloads, cleans and sanitizes the patient food carts per regulatory agency and departmental policy on cross contamination and infection control.
Performs quality assurance on trays by checking temperature, portions, presentation, and documents per standards.
Sets up and portions food according to service tickets; ensures equipment is sanitary and  no cross contamination.
Supplies nursing units with nourishments and supplies (e.g., cups, lids, sugar, juices, popsicles) to be stored as needed in the kitchenette area. 
Ensures the foods for patients are age appropriate and aligned to take into account any changes for food selection based upon patient allergies.
Responsible to participate and attend at least 80% of departmental meetings and in-service training session.
Common Duties:
Maintains accountability by ensuring compliance thru timely completion of licensures, certifications, all competencies, health requirements (PPD, N95, Flu) and education requirements.

Maintains professional accountability and timekeeping expectations as outlined by MCHS Timekeeping and Attendance procedures, and ensures behavior is compliant with communication standards.
Knowledge/Skills/Abilities:
High school education or equivalent preferred
Hospital experience in large dietary team preferred
Ability to communicate sufficiently well in English both verbally and in writing to request supplies and properly label food items
Knowledge of Spanish is helpful
Ability to relate cooperatively and constructively with customers and co-workers
Knowledge of safety and regulatory guidelines set by state with food safety
Able to follow simple verbal instructions to accomplish repetitive tasks
Able to use and maintain food service equipment (e.g., microwave, blender, thermometer, refrigerator, patient food carts, scale)
Knowledge of age appropriate foods for patients
Ability to monitor patient allergies and take proper steps
(EOE DFW)
3/9/17
Food & Nutrition Services
Florida-Miami-Nicklaus Children's Hospital - Main Hospital Campus
FOOD AND NUTRITION SERVICES-2100-800000
:Pool
Apply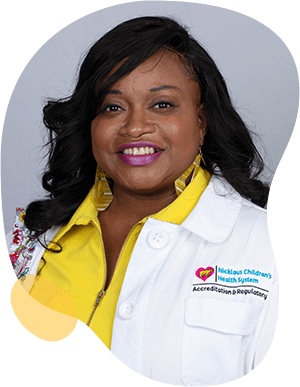 Joining a new organization can be daunting or overwhelming. But at Nicklaus, your colleagues make you feel welcomed. They taught me to celebrate our accomplishments and band together during challenging times. This is not easy to find in healthcare these days, so I'm grateful to have found an amazing place to work with people and leadership who have my well-being in mind.

Lova Renee Brunson

Manager Accreditation & Regulatory
Collaboration leads to success.
Alone we can do so little; together we can do so much. Working together, we find solutions and methods we would never find alone, and at Nicklaus Children's, we have fun doing it.
Responsibility drives us.
We all take responsibility here – for the children, their families, our work and each other. We meet our responsibilities head on and motivate each other to succeed.
Empower yourself, help others.
Nicklaus Children's encourages team members to believe in their ability to affect positive change in the world through everything they do with us.
Advocate for the right way.
Advocate for children. Advocate for families. Advocate for yourself. But most of all, advocate for getting the job done right and you will find nothing but success and support in your career here.
Transformation is growth.
At Nicklaus Children's, change is not to be feared. When you work here, you are always working with the most advanced tools and procedures available.
Empathy is everything.
We expect our team members to have empathy for the patients and families they treat, and in turn, we have empathy for them. We take care of everyone in the Nicklaus Children's family with competitive benefits and our supportive culture.
Join Our Talent Community