Senior - Sponsored Program Specialist (Full Time, Day Shift)
OFFICE OF SPONSORED PROGRAMS
Florida-Miami-Nicklaus Children's Hospital - Main Hospital Campus
Miami, Florida
Requisition ID 22245
Job Summary

Works closely with the Office of Sponsored Programs' (OSP) leadership and institutional stakeholders to grow and maintain the sponsored programs portfolio at Nicklaus Children's Health System (NCHS). Responsible for all pre-award functions, including, but not limited to, identification of funding opportunities, proposal and budget development support, proposal submission, and stakeholder education and training related to sponsored programs activity, as well as post-award functions, including, but not limited to, award management and strategic initiatives related to sponsored programs. Works across disciplines including Research, Quality Improvement, Finance, and other stakeholders to assure organizational compliance in areas such as human subjects, biosafety, and sponsored expenditures.
Minimum Job Requirements
Bachelor's Degree (Required)
5-7 years of experience in pre-award sponsored programs administration
5-7 years of experience working in healthcare or academic medical center
Knowledge, Skills, and Abilities
Demonstrated experience in pre-award activity
Knowledgeable regarding issues of research compliance
Knowledgeable of federal agency practices, regulations and policies
Ability to work effectively, collaboratively, and diplomatically with investigators, program leaders and offices of senior level administration including finance, compliance, procurement and other NCHS administrators
Excellent interpersonal and organizational skills and the willingness to reach out to various stakeholders
Understanding of federal regulations and agency guidelines for grants management and sponsored research, including CMS, HRSA, NIH NSF, and DoD. Some familiarity with Florida State grants, desirable
Ability to work with program officers at State and federal agencies and act as effective liaison between faculty and funding agencies
Evidence of ability to manage budgets effectively
Capability of producing creative and innovative solutions and approaches to common problems
Highly developed written and verbal skills
Proficient with basic software applications including Word, Excel, and Powerpoint
Experienced with database management tools and protocol submission and tracking software
Experienced in reading and interpreting award documents to track and meet post-award deadlines and reporting requirements (including, but not limited to, invoices and programmatic reports).
Job Specific Duties
Provides comprehensive pre/post-award services for OSP at NCHS, including proposal development, submission & tracking, as well as reviewing awards/tracking & complying with post-award deadlines.
Assures internal approvals for resources, facilities, etc. are completed prior to proposal submission.
Supports the development and execution of sub-awards or subcontracts.
Serves as the primary point of contact between NCHS and external funding agencies.
Collaborates with investigators, program leaders, & service lines to develop/submit proposals, develop budgets & to assure compliance with funding agency guidelines, NCHS policies, & applicable law.
Works with investigators, program leaders, and service lines to meet programmatic progress reporting requirements.
Provides review and on-time submission of proposals to assure accuracy and compliance with program announcement, NCHS policies, and federal regulations.
Responsible for the maintenance of intranet and web pages for OSP.
Prepares and maintains official grant files.
Responds to inquiries and provides direct assistance to investigators, program leaders, and departments across the organization.
Designs and implements a comprehensive education program on sponsored programs development, execution and compliance.
Oversees the OSP central mailbox, including document management, distribution of notifications to applicable parties), etc.
Maintains and updates sponsored programs policies and procedures as needed to ensure compliance with applicable regulations.
Prepares and maintains sponsored programs reports and portfolio.
Reviews and oversees the submission of financial and programmatic reporting and invoices, and ensures all post-award deadlines are met.
Oversees management and integrity of OSP's Grants Inventory and records related thereto, provides oversight of burn rate for each award, and prepares reports for leadership throughout NCHS.
Prepares & maintains a sponsored programs training manual for new OSP employees as needed. Trains new Sponsored Programs Specialists & is responsible for division of workload among the team.
Clerical/Administrative
Florida-Miami-Nicklaus Children's Hospital - Main Hospital Campus
OFFICE OF SPONSORED PROGRAMS-2100-310950
:Full Time
Apply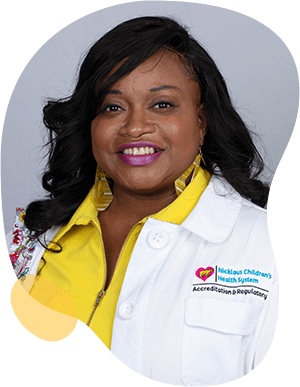 Joining a new organization can be daunting or overwhelming. But at Nicklaus, your colleagues make you feel welcomed. They taught me to celebrate our accomplishments and band together during challenging times. This is not easy to find in healthcare these days, so I'm grateful to have found an amazing place to work with people and leadership who have my well-being in mind.

Lova Renee Brunson

Manager Accreditation & Regulatory
Collaboration leads to success.
Alone we can do so little; together we can do so much. Working together, we find solutions and methods we would never find alone, and at Nicklaus Children's, we have fun doing it.
Responsibility drives us.
We all take responsibility here – for the children, their families, our work and each other. We meet our responsibilities head on and motivate each other to succeed.
Empower yourself, help others.
Nicklaus Children's encourages team members to believe in their ability to affect positive change in the world through everything they do with us.
Advocate for the right way.
Advocate for children. Advocate for families. Advocate for yourself. But most of all, advocate for getting the job done right and you will find nothing but success and support in your career here.
Transformation is growth.
At Nicklaus Children's, change is not to be feared. When you work here, you are always working with the most advanced tools and procedures available.
Empathy is everything.
We expect our team members to have empathy for the patients and families they treat, and in turn, we have empathy for them. We take care of everyone in the Nicklaus Children's family with competitive benefits and our supportive culture.
Join Our Talent Community